I will start by confirming one of your fears: it is not easy to find the perfect name for a web project. It is difficult to find a name for any project, isn't it?
The moment your idea starts to take shape, and you are determined to turn it into a web project, you may face the dreaded blank page syndrome. It tends to appear when you sense that something will have a duration in time and you want to give it the best of names.
With almost 2 billion sites in circulation, the competition for the perfect domain name is getting more demanding and challenging. So how does one get the perfect domain name? In this article, I want to show you some strategies that will help you get closer to that perfect domain name, the possibility of knowing the availability, and how to choose a domain name easily.
How Do Domain Names Work?
Your domain name is your website address. Even if you put a fresh coat of paint on it or change the design, having the wrong address is very inconvenient and could cause you to lose customers before they even get to your site.
However, if you get it right, the name of your web project will open the doors for visitors to come and stay. This will give a sense of professionalism that will undoubtedly bring good results.
Pro Tip by Edgars
Notice that before, I did not talk about the name of the web; I am talking about your web project. I called it this way because the name you choose will be for the web and the sections, but also for the e-mail addresses and all the elements of your web page.
What Are The Differences Between a Domain Name And a URL?
Web domains are composed of a word, or set of words joined together, followed by a dot and an extension. Every time there is a word or extension change, we talk about a different domain name.
For example: ecomjungle.net
On the other hand, the URL stands for Uniform Resource Locator, which is the specific address assigned to each resource available on the network so that it can be located or identified.
For example: https://ecomstrive.com/
In conclusion, the main difference between domain name and URL is that the former is the website's name. At the same time, the latter is used to access a specific website page. Thus, each page, image, or media has a unique URL.
Likewise, Google states that people should avoid using underscores or spaces in their URLs. Instead, they recommend hyphens.
Did you already know that?
Why Do You Need a Perfect Domain Name?
There are countless advantages to owning a high-quality domain name. A well-selected domain name for your type of business or venture will not only protect your brand and make it look more professional. But it will also improve your ranking in search engines, generate more traffic, and is a virtual asset that tends to increase in value over time.
But domain names are much more than a technical shortcut. A short, easy-to-remember domain name for your business can make the difference between creating a successful web presence and getting lost in cyberspace.
Suppose you decide to register a domain name that matches your business concept (rather than your exact business name). In that case, you could attract prospects looking for that topic. For example, a web design agency uses the word "web" at the end of the domain name.
Pro Tip by Edgars
With millions of domains registered on the web, for your website to stand out, it must have a very visual and evocative name, just like the product brands you use every day and trust.
A domain name builds your brand
More than anything else, a domain name can increase your brand recognition. For example, suppose your domain name matches your company name. In that case, it reinforces your brand, making it easier for customers to remember and return. It will also be easier to win business through word of mouth because customers will remember the name and pass it on to their friends.
Define your company's branding
Having a good domain name is like setting up a store in the best shopping areas. With brandable domain names, you get excellent visibility, reputation, and natural traffic without the recurring cost of offline advertising (conventional advertising).
Creates credibility online and offline
Using a high-value domain name for your website and your company's corporate email address helps establish authority, credibility, and professionalism online and offline.
Owning a memorable domain name ensures that your customers notice that your business is legitimate and established. As a result, they will trust you more easily.
Boost your search engine rankings
The more keyword-rich your domain name is, the more likely you rank high in search engines. This is because domains related to your business (product or service) are often packed with high-quality keywords.
Pro Tip by Edgars
To test the clarity of your domain name, share your proposals with family or friends who do not know your project and ask them to guess what it is about.
How To Select a Good Domain Name?
So how to choose a domain name? Here are a few things you need to know to select winning domain names:
Relevance
Research the meanings and connotations of any keywords you want to use.
Brandable domain name
There's not much point in choosing a keyword-rich domain name if your target audience can't remember it, that's why you need a brandable domain name.
Simple
Out of the millions of top websites, on average, they have only nine characters in their domain names. So keep things clear and concise, with words that are easy to spell.
Uniqueness
Choose a unique domain name to stand out from an increasingly congested online crowd. Once you, as a website owner, buy a new domain, you can also check the domain's history and search rankings.
Extension
Although 75% of all websites have a .com extension, you can now choose a perfect domain name specific to your organization or location, such as .co and .store.
Learning how to choose a domain name for your website may seem intimidating initially, but don't worry; by following my tips, you'll do great!
What Is a Domain Name Generator?
A domain name generator is an excellent tool that can provide you with domain name ideas and suggestions based on the words you enter.
A perfect domain name will define your brand in the long run. Therefore, it should be catchy, short, easy to remember, and most importantly, available.
For example, if you want your domain name to include the keywords "food," "tasty," and "cheap,." Let's say you came up with www.foodtastycheap.com: it's a reasonably common domain name and may be too long to pronounce.
This is where a domain generator comes in handy. First, you must enter your keywords and choose your preferred domain extension (.com, .net, .org, etc.). Then, the generator's algorithm will offer many alternatives that you can use: mixing the words according to the domain availability, adding a prefix, etc.
How to use domain registrars?
Domain registrars are very easy to use. Just follow the steps below to use a domain registrar:
Research
Use the domain name generator of your choice to research company names and check available domains instantly. Moreover, you can review the domain history, and look at if the domain is unavailable.
Choose the keywords
Add the keywords and get the results. This way, you'll get a domain name that fits your business and personality before someone else.
Register
Buy your domain name so that it is set aside and registered as your property, so no one else can use it. Likewise, if you want to migrate your website in the future to another web hosting provider, you can migrate your existing domain as well.
Next, you have a list with some of the best domain name generators to try out:

Godaddy is one of the best domain registrars, and they offer a popular domain name generator. All you have to do is enter your keywords, generating many good domain name ideas.
After that, you can click on any domain name to see the details or complete your registration by following the instructions. It is incredibly fast, which helps you find more domain name ideas in less time.
---
Namecheap has a domain name generator when you try the "Beast Mode" domain search. You can enter up to 5000 domains or keywords, and it will generate domain names highlighting their availability. Likewise, Beast Mode also has many filters to narrow down the search results, such as:
Domain Hack – Buyme.com → Buy.me
Drop Last Vowel – Fastdriver.com → Fastdrivr.com
Pluralize nouns – Cheapbook.com → Cheapbooks.com
You can even add suffixes and prefixes to create new domain names.
---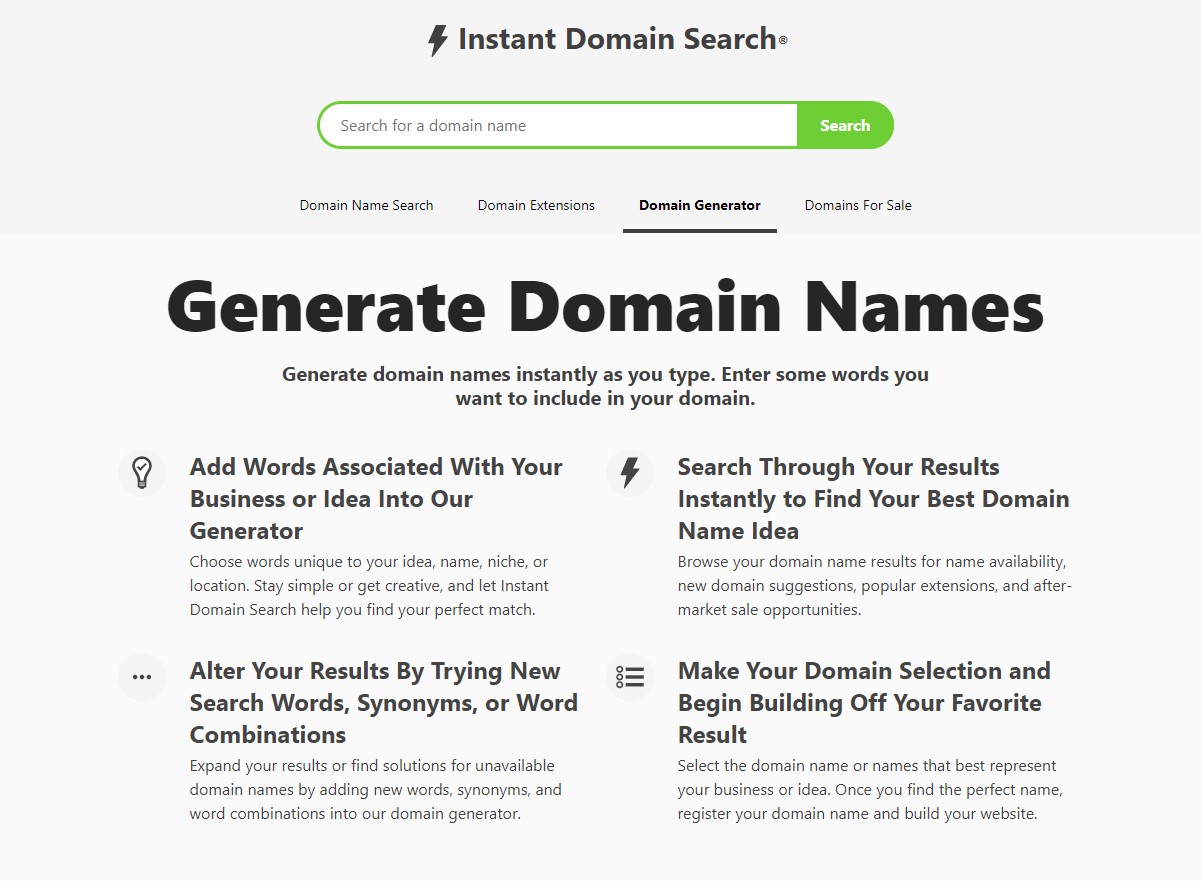 This generator is a perfect tool that allows you to instantly verify relevant information.
However, Instant Domain Search goes even further. It also searches for premium domains, the precious domain names that can generate much more traffic to your site.
---
Pro Tip by Edgars
Once you have registered your domain name, verify that the data with the provider is in order, including your full name or that of the legal representative of your business, so that you and only you are the owners of your domain name.
Pick the right domain name extension
When creating a website, you should think about the domain extension to give a good name to the website.
Don't know what I'm talking about, read on, and find out what domain extensions are!
Domain extensions
Domain extensions are all those letters at the end of the URL of a website, such as .com, .mx, .net, or .edu. These letters tell us the geographic location or the nature of the website.
Some generic extensions that can be adapted to what your company does and that you can use without any restriction are:
.com: It is the most used for commercial or content websites.
.org is the domain name extension most used by non-profit and governmental organizations.
.info: It is used for websites that contain only information about a company, product, or service. It's ideal, like a blog domain name that posts informative content.
.net: It is the abbreviation of network and is a wildcard used for the .com extension when it is already used.
.biz: It is used for companies exclusively dedicated to business and when the .com and .net extensions are already used.
.tv: This extension is used for television or media websites.
.xxx: This is an extension used for websites with adult content.
Conclusion
As you have seen in this article, the domain is the word or group of words that will define your web project. With it, users will recognize you on the Internet. They will use it to send you emails and type them in the web browser to get to your site.
Look for an authentic, straightforward, easy-to-remember domain and register an additional domain that is optimal for your web project.
When your project goes live, you can make the website visible both from the main domain and from the other domains you have registered.
And… don't let them beat you!
Once you have your name proposals, go to the website of a domain registrar and check the availability because, with the competition and the resale of domain registrations, someone could win it from you.
So, what are you waiting for to start?
Frequently Asked Questions
What is a good domain name?
A good domain name should be memorable, be usable on mobile devices and have keywords if it matches. In addition, you have to choose a name that sounds good as a brand. The latter is very valuable and more straightforward to think of than standard terms.
Also, make sure you don't conflict with someone's trademark in the process.
Is .com the best domain?
.com is the quintessential domain extension worldwide. Although it is oriented to commercial websites, it has become so popular that most websites, blogs, online stores, or whatever type of website use it.
What is a domain name used for?
The domain name is the unique and exclusive name assigned to your website on the Internet. It is something like the equivalent of your car's license plate but applied to your website.
Thanks to the domain name you have linked to your website, users who search for you on the Internet by the name of your website will find you quickly and be able to access your content.
Is Google domain safe?
Of course, Google domains, besides having a suffix with which you can be pretty creative, are secure by default since they are already configured to support HTTPS.
Are domain names free?
Generally, domain names are paid; however, many web hosting companies offer a free domain name for one year when you purchase one of their annual packages. Moreover, other websites can provide a free domain. Still, with a not popular extension, you cannot consider a free domain name for a professional project. On the other hand, one option to consider is domain transfers; if you have an existing domain, you can migrate to your new web hosting provider.