Suppose you are planning on entering a new industry, launching new products or services, or redesigning your marketing strategy to generate more traffic or attract more customers. In that case, you need to know who your rivals are.
Why? Competitor analysis allows you to understand the landscape of your niche better, not only to know who can reduce your market share but to see their strengths, weaknesses, and opportunities to overtake them. Discover how to identify business competitors to fine-tune your marketing strategies.
Why Do You Need to Identify Your Competitors?
According to Adloonix, most companies fail in their competitor analysis because they limit their market research to 2 or 3 businesses.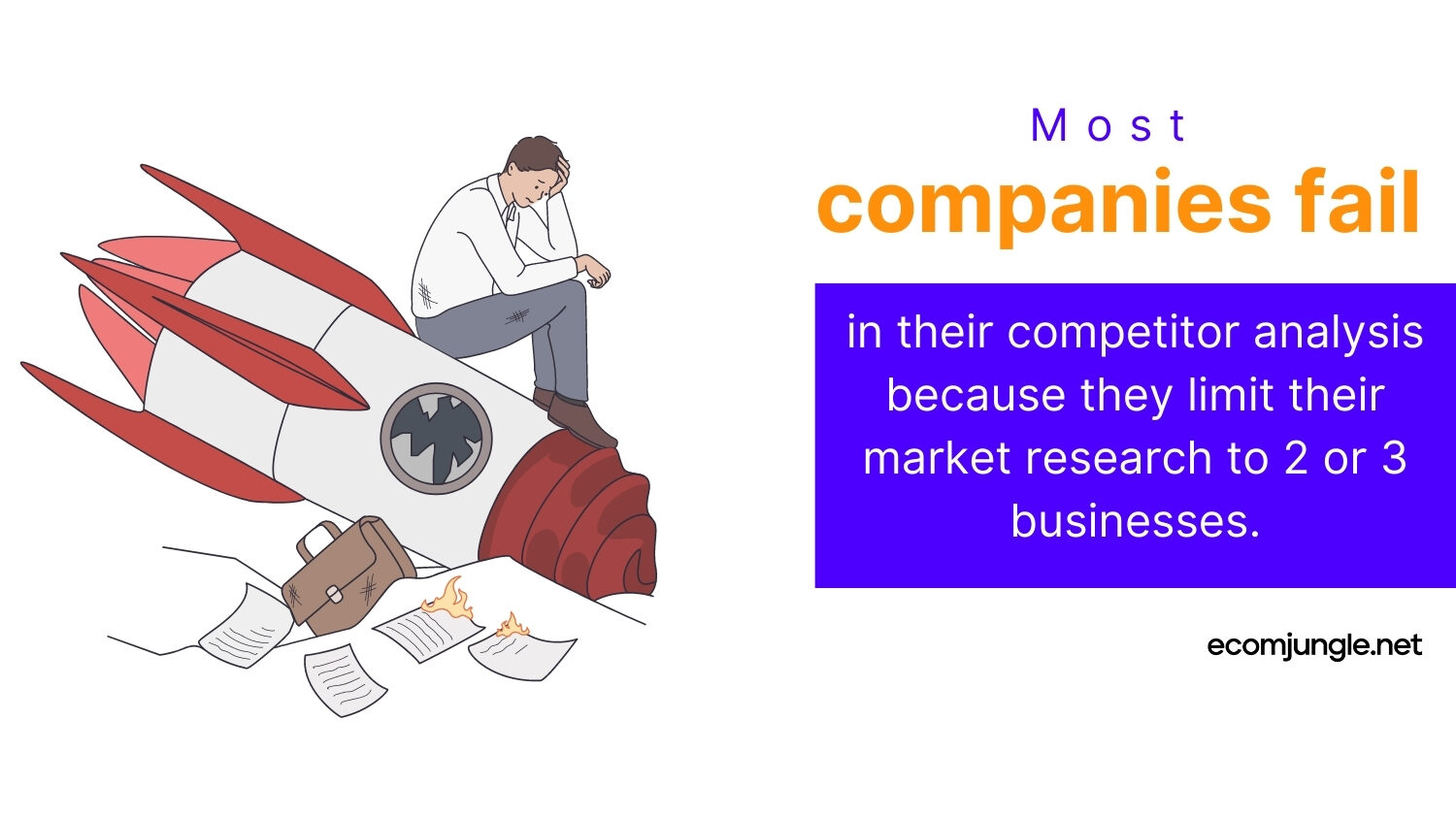 The main reason is that they are not seeing all the advantages that can take from the competitive landscape:
Let you know who your direct competitors are.
You can find a niche market underserved by your competition.
Identify elements in which to differentiate yourself and anticipate your competitor's reaction to your market entry.
Know how your competitors sell their products, services, prices, promotions, offers, and discounts.
Monitor the activity and evolution of your competitors
A competitor analysis lets you know what their market share is.
You can learn if they have upcoming product launches.
You have a better idea of the level of popularity through the number of followers on social networks.
Help you better understand how to achieve your business goals
Before you begin to identify your competition, it is essential to establish the framework of your competitor analysis, i.e., what you can achieve with them:
Check the viability of your new project (the creation of a company, the launch of a new offer).
Identify an opportunity (market niche, new trend).
Adopt a differentiated strategy (better quality, attractive image, and price).
You can see how they send their message to improve your own marketing strategy (media, graphic charter, posts).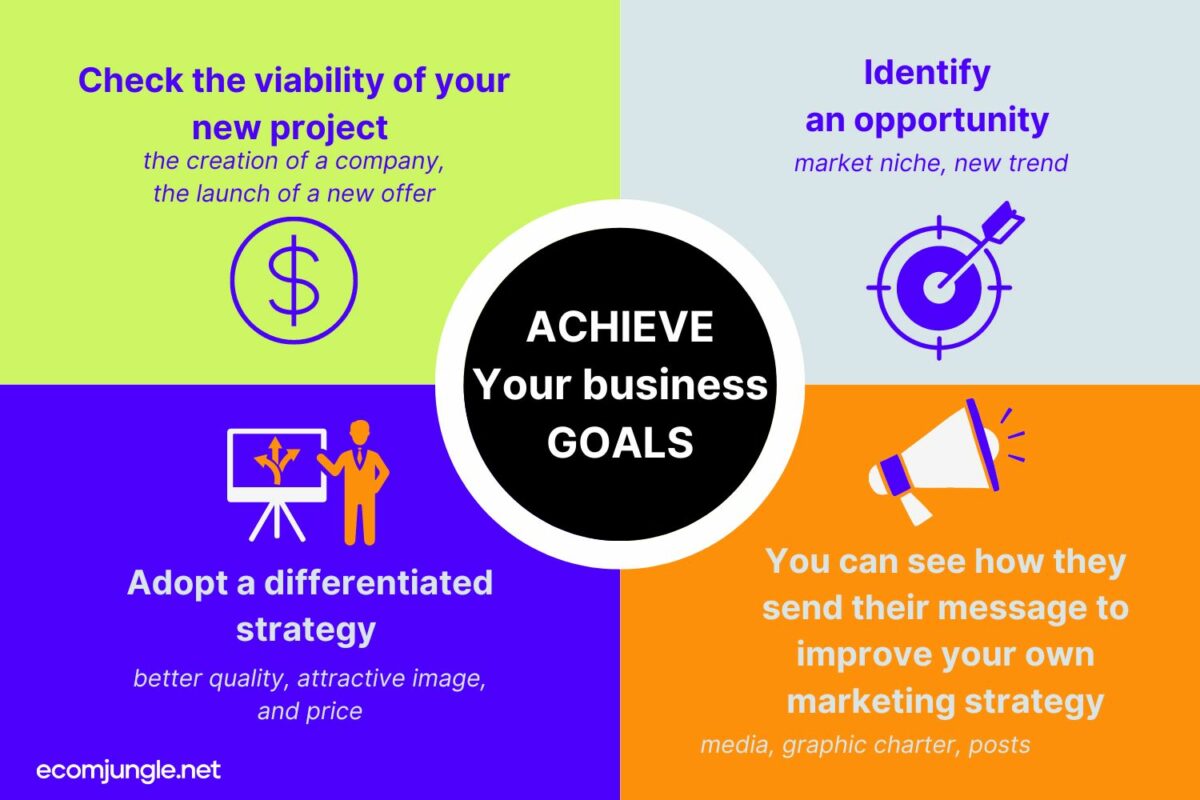 The Identifying Competition Business Process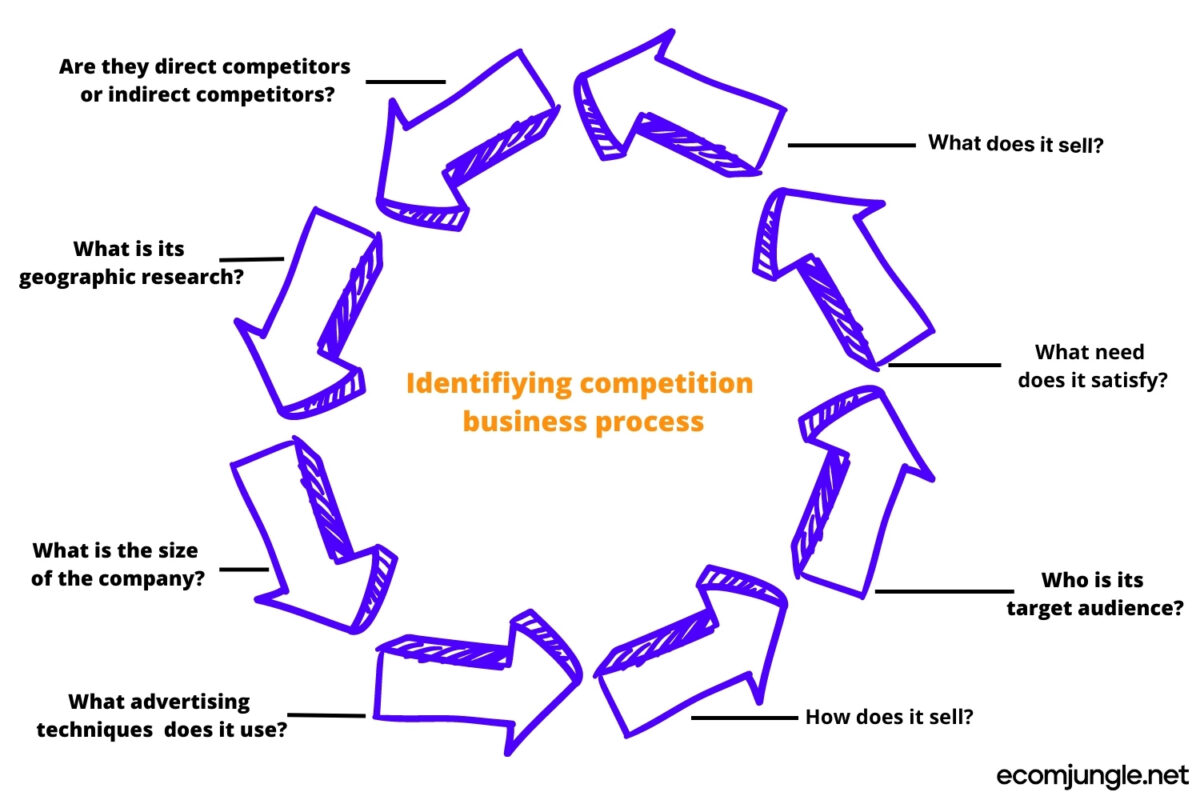 A vital way to start your competitor analysis and identify the proper competitor is to answer these questions:
What Does It Sell? The most common way to detect a rival is to think of those companies that offer a catalog of products and services similar to yours, called direct competitors.
What Need Does It Satisfy? Even if a company does not offer the products you will sell, they may offer an alternative that diverts the public's attention. These can be called indirect or replacement competitors.
Who is its target audience? You must already define your buyer persona to see which company can try to conquer your customer loyalty.
How Does it Sell? When you do your market research, don't forget to check the pricing options of the products and services; remember that the closer the prices are, the closer the competition is to winning the customer.
What Advertising Techniques Does It Use? It would be best to observe where your companies are investing effort, social media (which they use most), media, paid advertising, content marketing, etc.
What is the Size of The Company? To measure your competitor, you should know the size of their business, how many employees they have, how old their brand is, and if they are a market leader.
What is its Geographic Reach? Here you need to start thinking about whether they are international, national, or local businesses with whom you share an industry, and even think about the future, i.e., who may become potential competitors.
Are they Direct Competitors or Indirect Competitors? Not all competitors are the same! Once you have analyzed the range of products and services they offer and the industry where they sell them, you can determine the level of competition and see if they are direct potential, future, replacement, or indirect competitors. Find out more about the five types of competitors in business and marketing.
Pro Tip:
If you are creating your eCommerce business or opening a new store phase, aim to identify the smaller competitors to open space for you. It is a matter of strategy since some giants like Amazon, Walmart, and Burger King have more resources than you.
3 Easy Ways to Find Your Competitors
Use Search Engines
A straightforward way is to type in Amazon, Bing, or Google search engine, the name of your business's products and services and see the list of suggestions of direct and indirect competitors.
It is a bonus for an eCommerce business to know who ranks best for a keyword.
If your company or eCommerce site sells stationary bikes, your query could include terms such as spinning bike, bike for spinning, stationary bike brands, etc. It will help put your primary competitors on your radar.
Find out more about how to do a competitive analysis for an eCommerce website.
Check Social Media Channels
Instagram, Facebook, Pinterest, and Instagram can be great allies because they allow you to know the popularity of a competitor's company through tags and how much they focus on social media marketing.
Look For Promotions & Paid Advertising
Observe the campaigns, offers, or promotions that the first page of results offers you, so you will know who and what kind of campaigns they are contributing to your leads.
Make A Competitor SWOT Analysis- Competitive Intelligence
If you are unfamiliar with the term SWOT, it stands for Strengths, Weaknesses, Opportunities, and Threats.
Performing this type of competitor analysis allows you a deeper dive into the internal and external aspects of their businesses and plan your performance in the market by setting short, medium, and long-term objectives.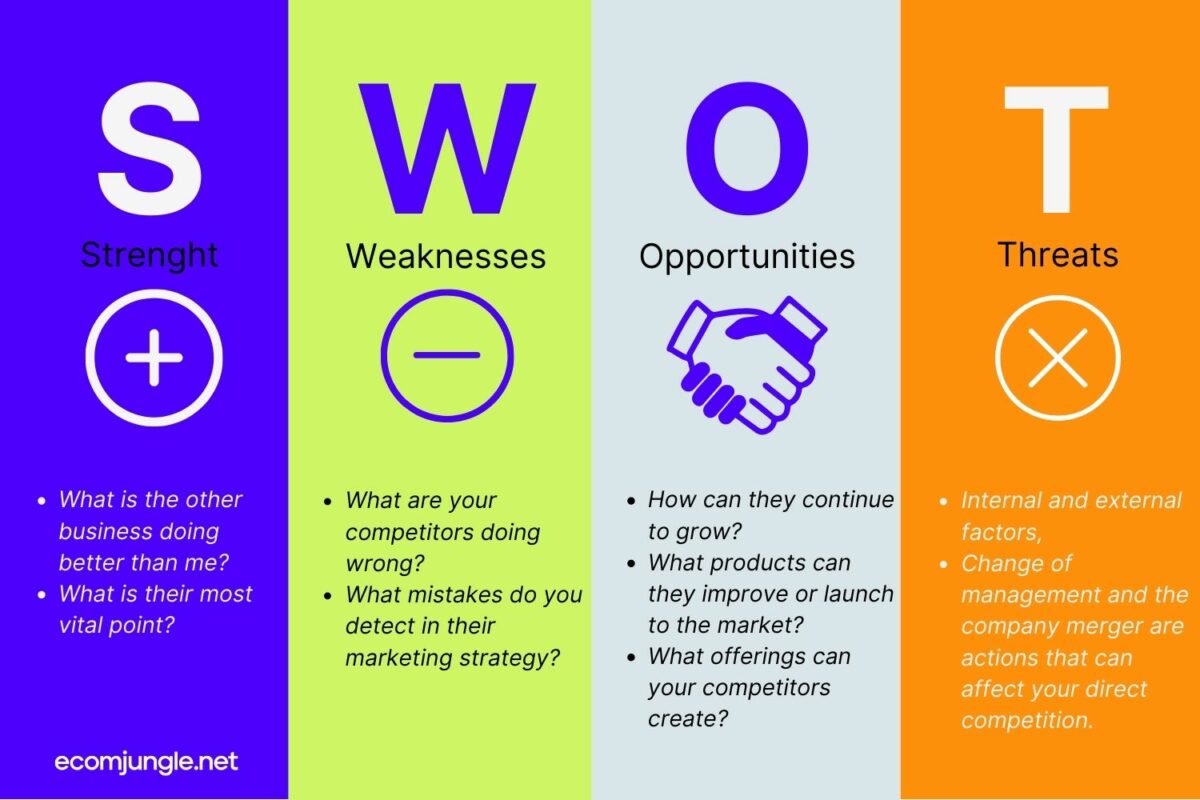 Eventually, you know the weak areas you can take advantage of and detect new opportunities.
1. Check Your Competitors' Strengths
Your competitors' strengths are those elements that allow businesses to stand out in your industry (corporate image, quality, value, organization, management, etc.), which will undoubtedly boost them to a better position in the market.
As part of your competitor analysis, ask yourself questions like what is the other business doing better than me? What is their most vital point?
2. Find Your Competitors' Weaknesses
Your competitors' weaknesses reflect the structural deficiencies of companies and the elements that have prevented them from achieving their overall objectives. They also tend to be impediments to a day-to-day job. Whatever the case may be, what is certain is that in the short, medium, or long term, they constitute a risk for the viability, efficiency, sustainability, and projection of your business or online competitors. It is crucial because your rivals usually share the same pain points.
Your competitor analysis needs to question: what are your competitors doing wrong? What mistakes do you detect in their marketing strategy?
3. Detect Your Competitor's Opportunities
The next step of your competitor analysis is to look at the opportunities of the other businesses.
While this is a slightly more complex task to detect, ask yourself: How can they continue to grow? What products can they improve or launch to the market? What offerings can your competitors create?
With these answers, you are ready for their next move, and you may even catch the opportunity before they do.
4. Enlist Your Competitor's Threats
To detect threats, the main question that limits the growth of your business or online competitor? In this category, you include problems with raw materials and the emergence of new competitors offering similar products at lower prices.
At this point, you must keep in mind that the threats are internal and external factors, so the change of management and the company merger are actions that can affect your direct competition. However, if you manage to predict, you will have the golden ticket to success.
How to Keep Up with Your Competitors?
You must see the results of your efforts in the market and see how far you have advanced from your competitors.
PwC found that 56% of executives keep an eye on their potential competitors to conquer new markets in the years coming.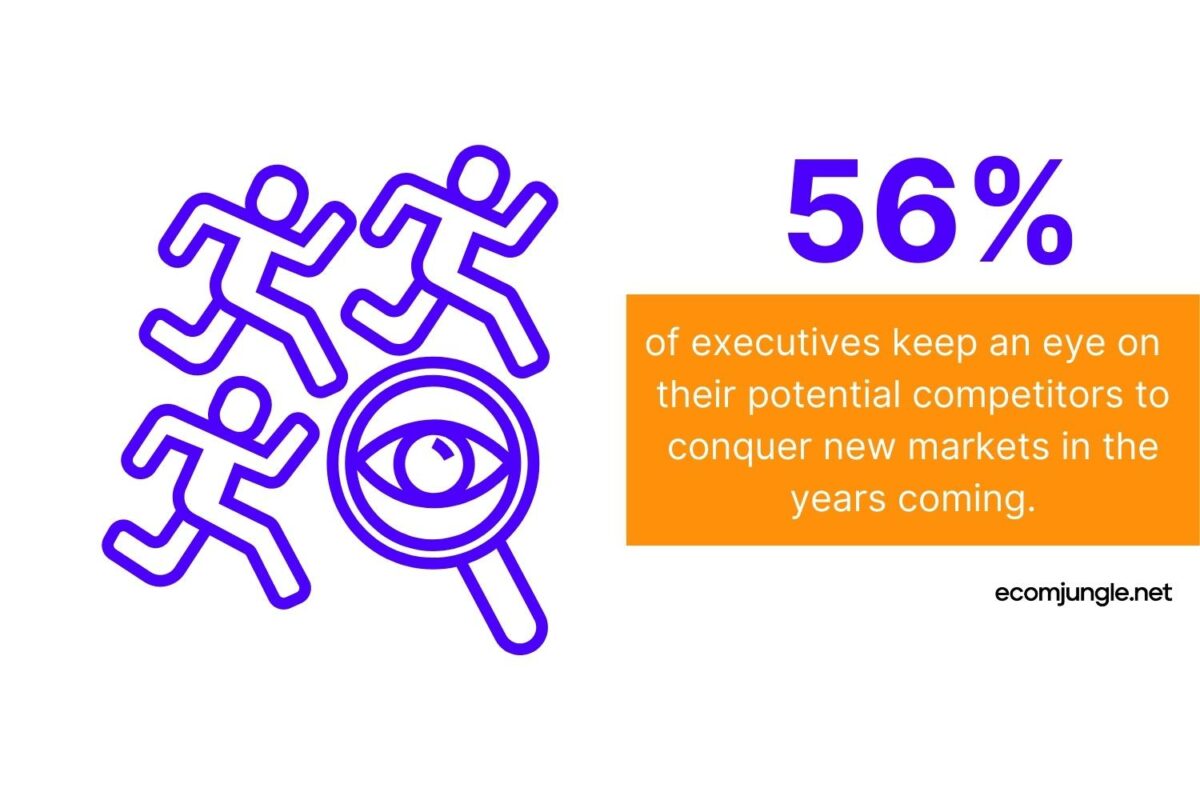 Some easy tricks to keep updated your market research:
Use Google search engine: set up alerts to receive the news about your direct competitors in your email.
Subscribe to their newsletters and learn about their offers and releases to stay ahead.
Use social media to follow your indirect or direct competitors and see what they publish.
Read and subscribe to specialized magazines in your industry.
Subscribe to competitors' newsletter
Check local business directories.
Review your competitors' blogs for news.
Use rank tracking tools to check your keyword positioning
Check with your supplier distributors to whom they sell raw materials or similar products.
You can check customer reviews on each product on the competitor's eCommerce business site.
Check product chats and forums for customer reviews and opinions.
Frequently Asked Questions
What Are the Five Types of Competitors?
According to their impact on your company's growth in the market, the five types of business competitors are direct, indirect, potential, future, and replacement competitors. 
Is Competitor Analysis Part Of SWOT?
A SWOT analysis of your competitors lets you know and group the most relevant information about their plans. You can understand the factors that enhance their growth or limit their visibility, the expansion opportunities, and those that may threaten their market position. 
How Can Competitors Affect Business?
Competitors affect your business as they limit your growth in the market, the acquisition of potential customers, and the supply of similar products, which affects your prices, so you must create more attractive offers in each sale. 
Why Is It Important to Identify Competitors?
Identifying your competitors helps you better plan your business plan so that your products and services stand out in the market. As a result, you can create more attractive offers and discounts for your customers. 
Let's Call a Day!
Remember to use the results from the competitive analysis to identify the best position your company can get in the market and what opportunities you can take to get your customer loyalty.
The study also highlights the critical success factors and based on the results, you can establish a more meaningful and impactful marketing plan for your target audience.
Are you ready to start identifying your competitors? Any questions about how to identify business competitors?
I'll read you in the comments!