The management of subscriptions simultaneously is a task that can cause headaches, especially if you have an expanding business with new customers joining every day. How to do it? How to better track subscription billing and generate and receive payments automatically? With subscription management software.
Today I'll tell you all about these new tools and what are the best subscription management software in 2023 to leave behind the terrible manual spreadsheets. 
Don't miss it!
What Does a Subscription Management Software?
Subscription Management Software is an integrated business solution that facilitates the automatic configuration of quotes, promotions, discounts, and subscription billing.
It handles all steps of the customer subscriptions process: information gathering, product, and service offering, payment, and renewal.
Benefits For Subscription Business
Much more than automated invoices:
Provide real-time monitoring and anticipation of deadlines with recurring billing.
Improve sales team productivity, with visibility into all customer information.
Create customized offers, discounts, and packages to delight the customer.
Enable automatic management of subscription billing.
Ensure automatic renewal of customer subscriptions.
Use multiple payment gateways.
Increase connectivity with API and mobile access. The latter is so elemental as Statista indicates that 52.2% of all website traffic worldwide comes from mobile phones.
Subscription Management Platform: Are They All The Same?
Consumptive
It is a subscription management solution in which the user must cancel the license to enjoy it for a certain period. The software company defines the period and mode of use.
Metered
This type of software includes a counter so that the tool automatically registers the number of times you use it to estimate the amount to be paid.
Use-time
It is a type of tool that you can download and enjoy for a while. However, once the period expires, the license expires, and you will not be able to open the program.
Project-based
When purchased, the license allows you to give limited access to the tool's functionalities to one or several team members to complete a project.
Freemium
This type of software license gives you free use of its functionalities. However, to have full access to the premium packages, you must upgrade your plan and cancel the permit.
Subscription Management Software Key Features: What It Must Offer?
The best Subscription Management Software must offer you these essential functions:
Easy payment management
A subscription management platform must help with all your payment processes. You should only have to enter the subscription billing once with all the necessary details: frequency, start date, and the number of installments.
Flexible billing cycles
It must generate and print regularly with minimal preparation in multiple currencies and payment gateways. The customer will only have to provide his bank details and decide on the desired subscription billing, whether annual or monthly.
Customizable subscription templates
The subscription management software allows you to quickly create a template for different product and service plans with a single click. It is enough to integrate the services and products requested by the customer for the software to calculate the subscription billing.
Mobile friendly
Google indicates that 51% of smartphone users have discovered a new company or product when searching for their smartphones. So, it would help if you had an Android or iOs compatible subscription management platform so that users can log in from any mobile device.
Powerful analytics
A subscription management software should measure customer patterns and behaviors for statistical analysis and results projection. So you get to know your customers to create better offers.
Customer support
The provider must offer 24/7 customer support. In addition, the subscription management platform needs to facilitate any changes in payments or requests with a simple click, to improve the customer experience.
Customizable invoicing
The software generates custom subscription billing based on the data entered by the customer during the subscription and informs you about these invoices to facilitate cash flow monitoring.
Subscription Management Importance: Reasons to Use It
It is essential because it helps your company automate the recurring tasks of payment management and invoice creation and creates a more efficient workflow.
A recurring billing software allows you to focus on what matters to your customers, and it builds trust because you feel supported throughout the entire subscription process.
Top 10 Best Subscription Management Software
Today I made a selection of my top 10 subscription management tools to help you find the one for your subscription business, even enjoy free and paid trials. Let's get started!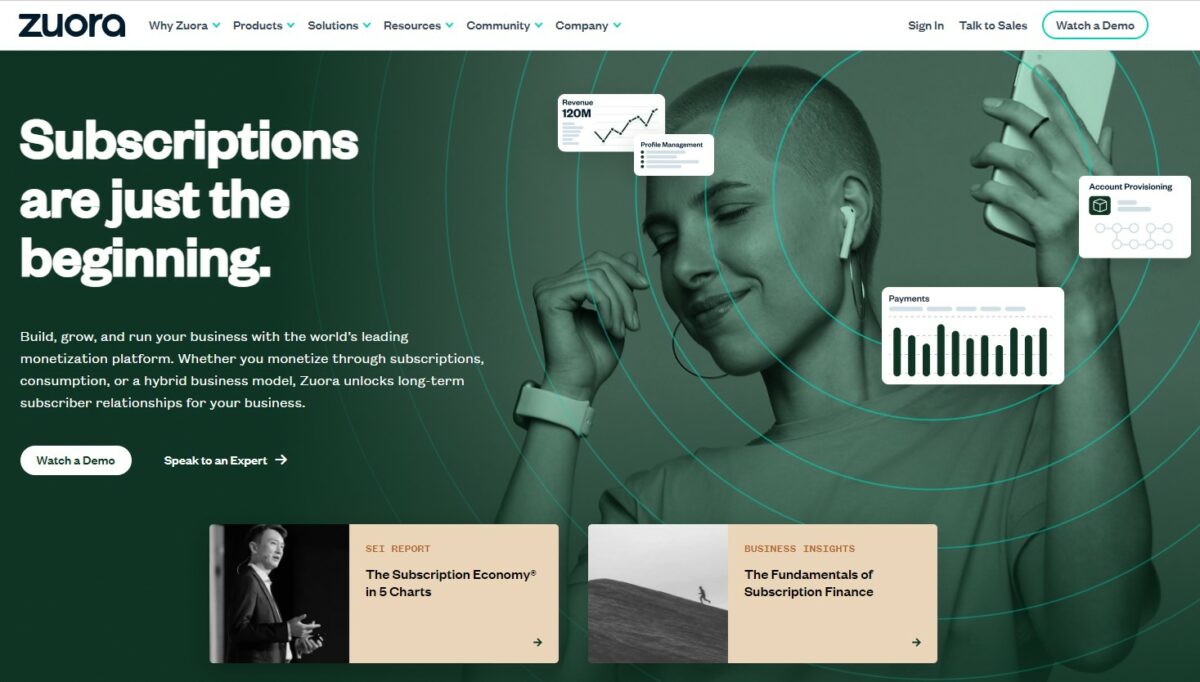 Zuora recurring billing software allows you to manage subscriptions and invoice how you want, launch a new product quickly, invoice your customers and collect your revenue.
This SaaS subscription management software aims to centralize all customer knowledge in a collaborative platform.
Features:
It provides invoice management and one-time and recurring billing.
Its subscription management creates packages and quotes in any desired currency.
Control of all sales channels
Zuora recurring billing software manages monthly regular revenue tracking dashboards and reports.
Advantages:
Its subscription management allows you to create offers genuinely tailored to customers.
You can create unit prices or a standard billing mode by dates and deadlines.
It has analytics indicators to measure your subscription business performance.
Disadvantages:
The amount of functionality can be a bit overwhelming at first.
As a result, the learning curve is a bit slow.
Pricing:
Trial Period: available
Starting Price: custom
See Zuora in action!
---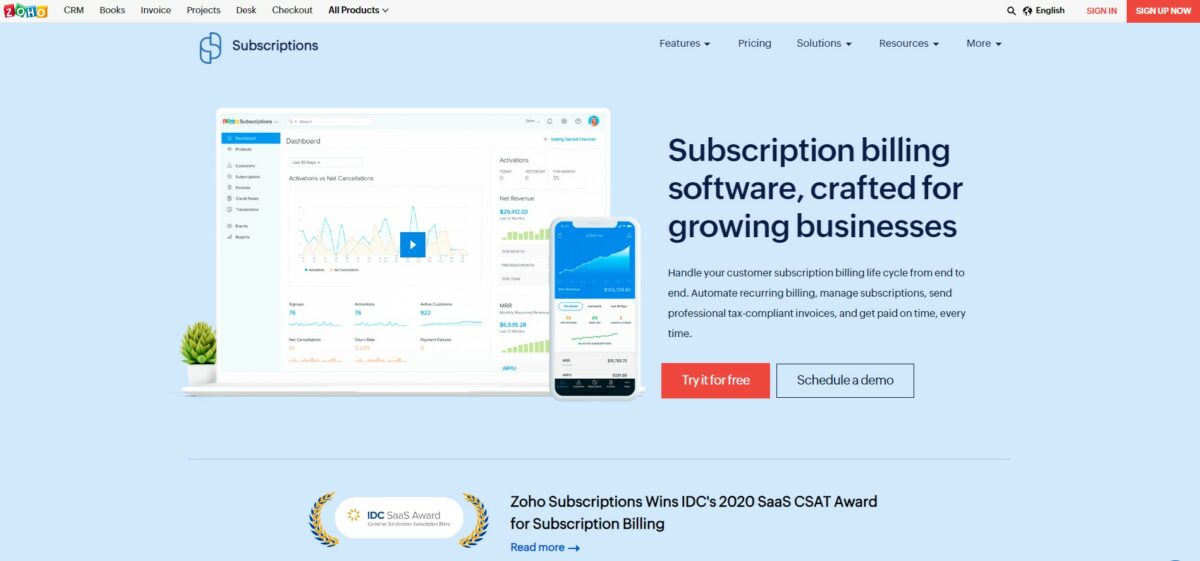 Zoho is a comprehensive and full-stack recurring billing software for a subscription business.
How does it work? As soon as a customer subscribes to a service/product, Zoho sends invoices, charges your customers for renewals, and sends thank you notes. So let's see what it offers!
Features:
Recurring payment automation.
Manage subscriptions and payment getaways in different currencies
Online and offline payment collection.
Creation of reports and analysis statistics
Tax management
Advantages:
The tool offers API and mobile subscription management, which allows users to make subscriptions from any device.
You have customer invoice and transaction history at your fingertips for complete control of recurring billing and payments.
Very easy to use to create customizable quotes and invoices in your subscription business.
Disadvantages:
Exporting contacts is limited without API access.
In addition, invoicing in different languages is slightly slower.
Pricing:
Trial Period: Free plan
Starting Price: $49 per month
Try Zoho now!
---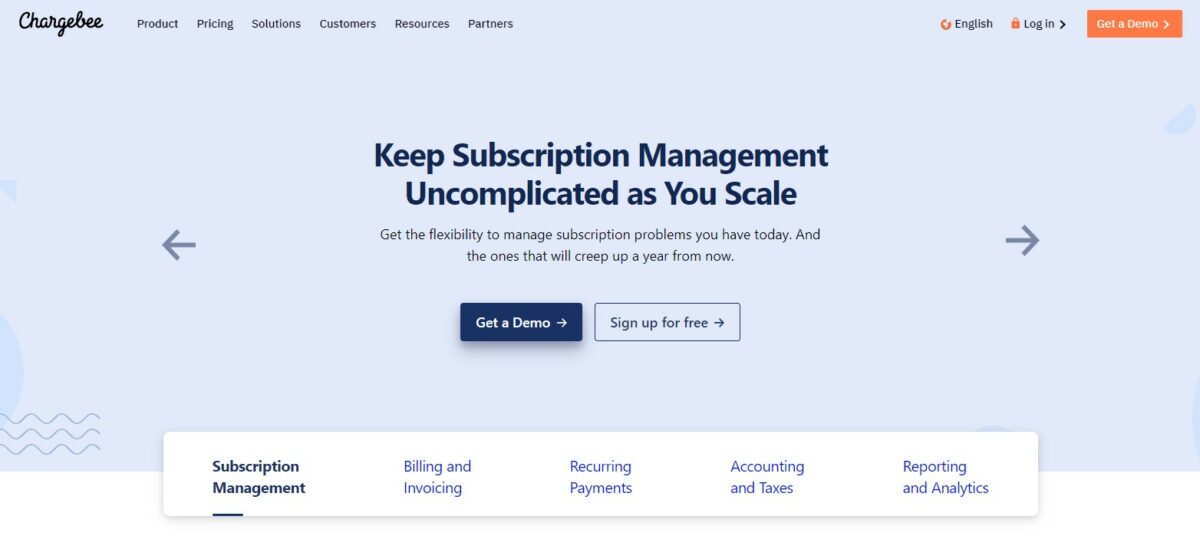 Chargebee is an online subscription management software designed for e-commerce companies with a subscription model. So why do I like it? First, it supports over 30 payment gateways such as Stripe, Braintree, PayPal, and Amazon Payments.
It is an ideal solution to enable payment collection automation, invoicing, recurring billing, email notifications, and subscription management.
Features:
Real-time customer analytics.
Automatic quotes
Recurring billing track
Customized invoices
Subscription management
Refunds management
Online payments methods
Self-service portal
Advantages:
I recommend this billing software for its real-time analysis of your business that shows the contribution of subscriptions to your company's growth.
Its scalable platform gives you control even as your business grows.
Its subscription management tools integrate with more than 50 intelligent business tools.
Disadvantages:
The learning process can take you time due to the number of features.
In addition, different billing notes can be confusing to customers.
Pricing:
Trial Period: Free plan
Starting Price: $240 per month
Discover more about Chargebee!
---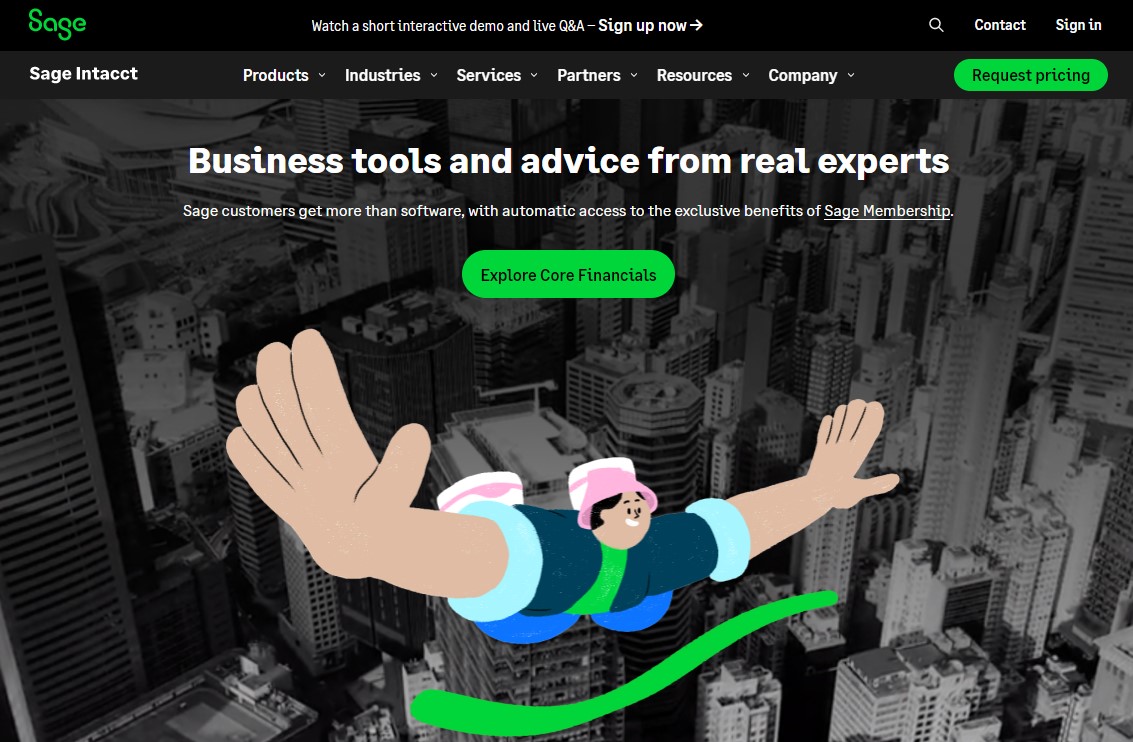 Sage subscription management software is a multipurpose SaaS solution designed to help SMEs and small businesses grow.
Why do I recommend it? Its billing software allows you to centralize and optimize new customer onboarding, recurring billing, and invoice management for businesses and keep a unique track of your customers.
Features:
Customer data and payment history management
Sales cycle
Quickly create quotes
Send quotes and invoices by email
Run automated reports and statistics
Automate recurring billing and payment processing
Advantages:
Its subscription management tool offers a library of customizable templates and an easy-to-use menu.
From the application, you can automatically send invoices to the customer.
Its intuitive dashboard shows your financial performance.
Disadvantages:
You might need technical support when you start importing data for managing subscriptions.
It could include shortcuts to improve the navigation experience.
Pricing:
Trial Period: N/A.
Starting Price: $33 per month
Take a look at sage!
---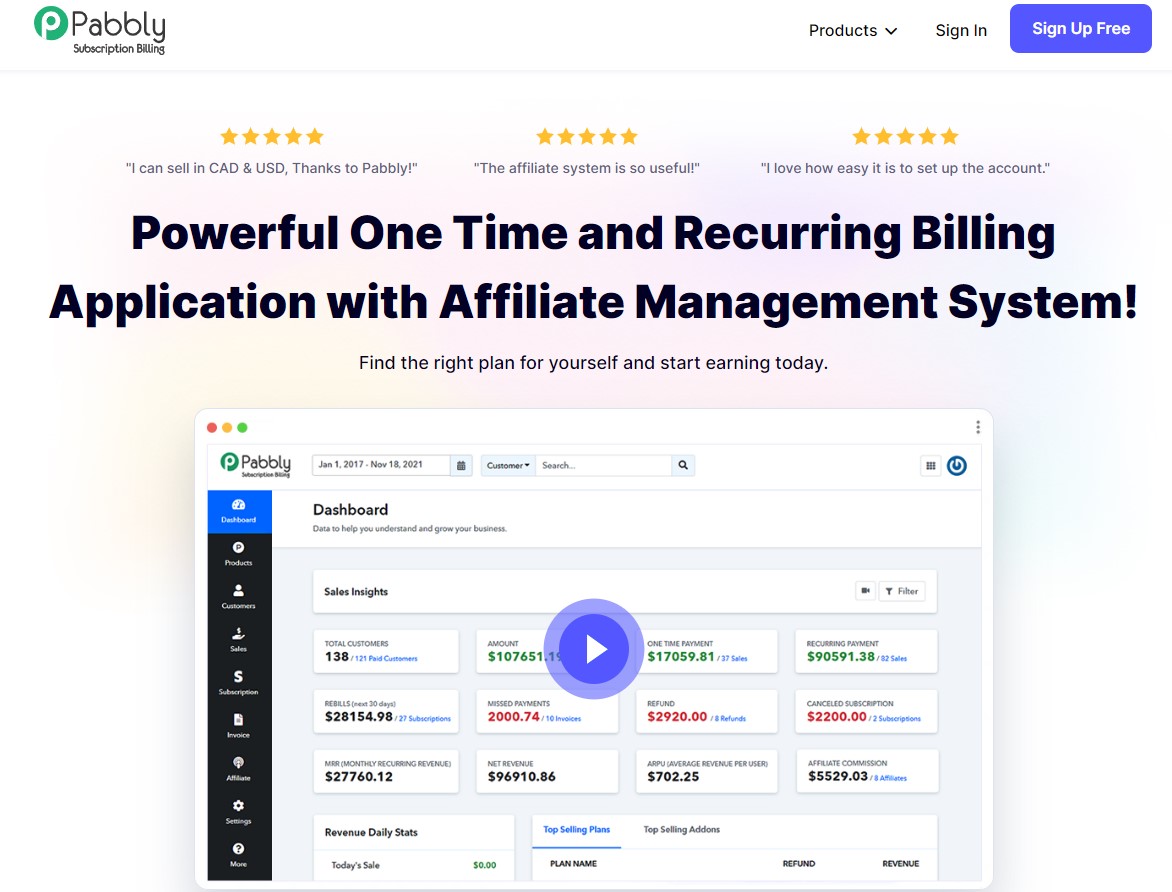 Pabbly is a recurring billing management software that simplifies the tasks of onboarding and supporting new affiliates, making offers, and more.

How does it do it? A unified platform allows the sales team or others to improve subscription management, setting plans and pricing according to different business objectives.
Features:
Creates offers, invoices, payments
Real-time tracking of subscription billing
Tax and refunds management
Recurring billing processing
Import and export the database
Integration with the different operative systems
Multiple currencies payment
Integrates with different e-wallets
Customized reports.
Advantages:
You can enhance subscription billing by creating discounts, demos, and free trials.
In addition, it is a multilingual platform for managing subscriptions from different countries.
Manage subscriptions and taxes based on your company type, country, or state.
Disadvantages:
It might take some time to know all the tool's functions.
Importing the data takes several minutes.
Pricing:
Trial Period: 14 days
Starting Price: $27 per month
Find out more about Pabbly
---

Checkout is a global payment processing solution with centralized real-time bank reconciliation. What makes it unique?
Its recurring billing platform uses full stack technology that provides access to different payment gateways, customer data verification, and advanced fraud monitoring tools.
Features:
Payment processing in different currencies
API access
It works with forty-five payment methods, including debit or credit cards.
Recurring billing automation
Customized invoices
Data security
Advantages:
I like that the tool does not apply any restrictions in terms of storage.
It gives you complete visibility into payment data.
In addition, the provider directly manages maintenance and update needs.
Disadvantages:
Initially, it may be challenging to understand and find the features.
As a result, your team may need prior training before implementing.
Pricing:
Trial Period: 14 days
Starting Price: $0.35 per sale
Let's check it!
---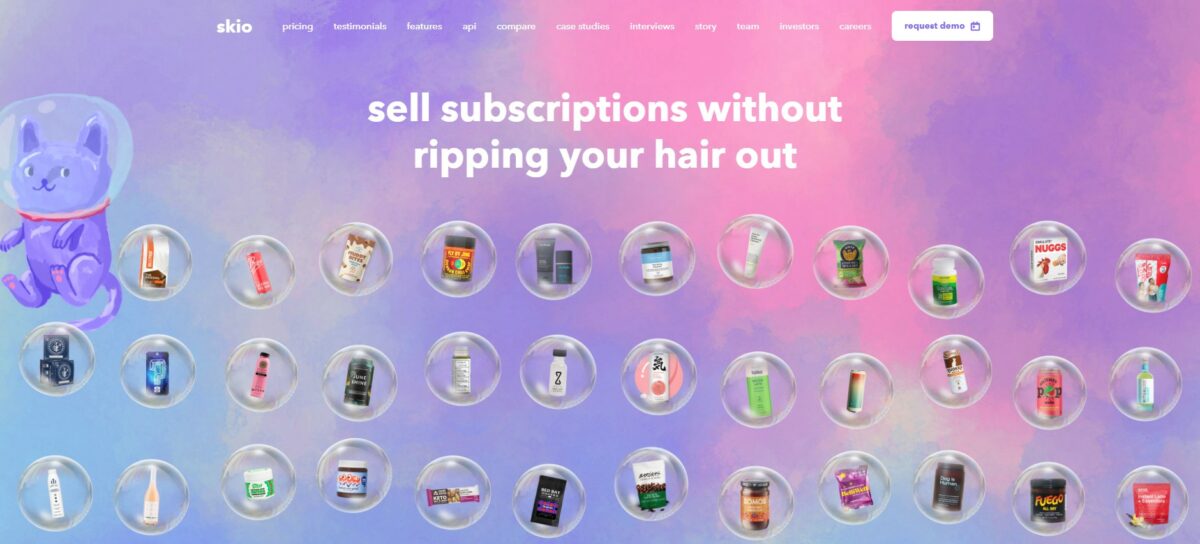 Skio is a software designed to facilitate the work of online businesses created through Shopify.
What's new about it? First, it is a flexible recurring billing platform that adjusts to each business model's needs. Its purpose is to motivate the customer to buy, so it offers multiple discounts, offers, and payments, as well as automatic renewal of subscriptions.
Features:
It allows subscription businesses to create personalized subscription boxes
Automatic discounts for multiple product purchases
Analytical metrics of customer behavior
Gifts to referrals
Automatic login to Shopify
Contact management via SMS
Advantages:
It is a native Shopify payment tool.
Technical support for account access via SMS and email
Integration with Zendesk
Disadvantages:
Pricing is not as affordable.
The number of features is quite overwhelming at the beginning.
Pricing:
Trial Period: 14 days
Starting Price: $ 299 month
Give Skio a try!
---

FastSpring is an e-commerce solution for billing and payments, designed to meet the needs of subscription management and SaaS.
Why do I include it in this top 10? Because it offers subscription businesses a robust set of features and services that enables eCommerce to increase conversion rate, with a billing and payment system that makes the customer feel comfortable.
Features:
Process payment in more than 20 currencies.
Links with different e-wallets
Automatically detects currency by location
B2B invoicing
User-friendly navigation panels
Tax withholding and management
High security against fraud
Advantages:
It offers you intelligent payment routing.
The tool includes full support for one-time purchases of online and downloadable digital products.
The solution integrates with over 40 business tools.
Disadvantages:
It can be tricky to use at a startup.
Requires technical help and training to set up and use.
Pricing:
Trial Period: N/A
Starting Price: Custom
Meet fast solution!
---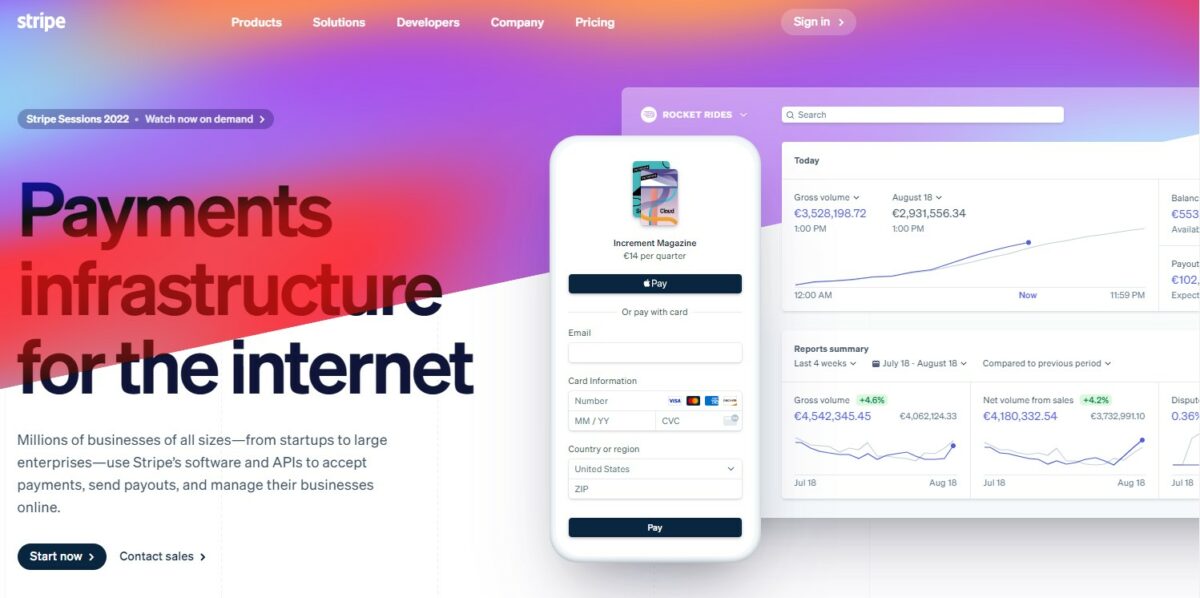 Stripe is an affordable solution for businesses of all sizes; it has an API that easily integrates with websites, mobile applications, and all existing CRM systems.
What I like most is that it allows you to send invoices in an integrated way to credit and debit cards and automatically handles taxes.
Features:
Recurring billing
Transaction management
Online payments in over 135 currencies
Fraud prevention
Real-time reporting
Debit and credit card processing
Credit and debit card processing
Third-party integration: Cloud, Android, iOs, web, and SaaS.
Advantages:
Easy to add or edit billing templates.
You can run tests to visualize the new rates.
In addition, its PSD2 certificate allows Stripe to secure revenue by identifying payments.
Disadvantages:
It does not offer a free trial
Its prices are not so accessible.
Pricing:
Trial Period: N/A
Starting Price: 2.9% + 0.30 USD per transaction
Learn more about Stripe!
---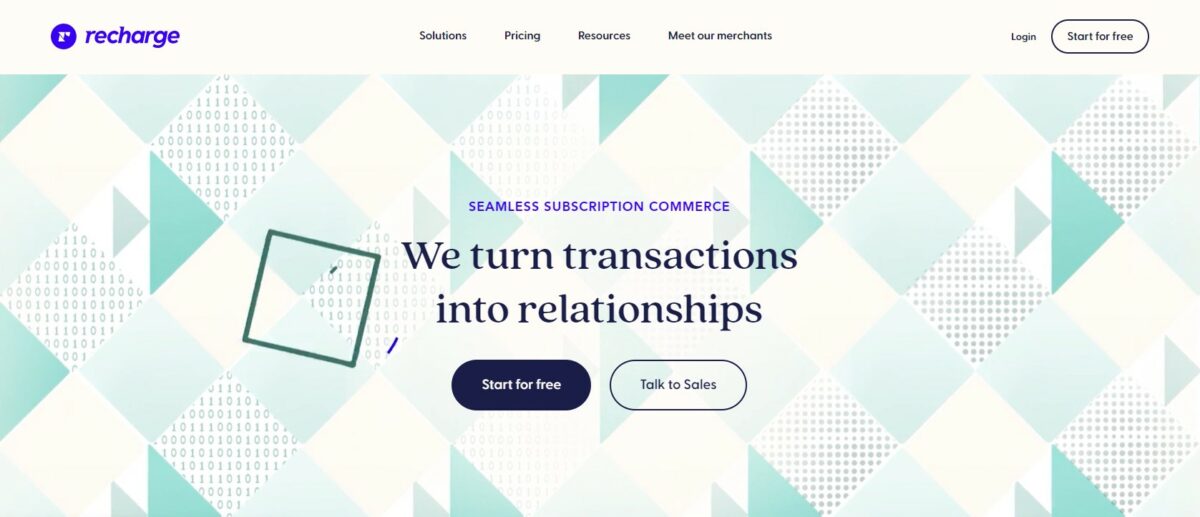 ReCharge is a tool designed to simplify the management of the recurring billing of your subscription-based business.
What does it offer you? First, it has exciting features like setting delivery dates and deadlines, inventory forecasting, and order management.
Features:
Recurring invoice management
Discount and unique quote creation
Tax Withholding
Integration with different eCommerce platforms
Multiple payment gateways.
API Integration
Customer overview
Advantages:
Integration with third-party tools is effortless and fast.
The subscription management software provides accurate time customer tracking
Customers can create personalized subscriptions via SMS.
Disadvantages:
The program might take a long time to start
It requires little coding knowledge.
Pricing:
Trial Period: free plan
Starting Price: $300 per month
Get started now!
---
It`s a wrap!
Well, so far, this account is about the best subscription management software. Remember, those tools lighten tasks and reduce work time. So, start trying these great options!
Have you used subscription management software? How was your experience?
Share your opinion in the comment box!
Frequently Asked Questions
Why do companies use subscriptions?
Companies use subscriptions to attract more customers, with continuous access and delivery of certain products and services, through more accessible, convenient, and faster payment methods.
How does subscription software work?
A subscription billing software integrates different modules to automate payments, subscriptions, or annulments. In addition, it sends real-time reminders about delivery deadlines and invoices for each customer.
Why are subscription services so popular?
Subscription services have gained popularity in the last few years because they better fit the primary needs of buyers, i.e., a new product or service, at a reasonable cost and delivered in the comfort of your home.
How do I manage my subscription services?
You can manage them through subscription management software that automatically offers tools for data collection, new customer entry, order tracking, invoicing, and payment verification.
What is a subscription-based model in software?
Subscription-based software allows businesses to automate the onboarding of new customers and the billing of recurring payments so that they have access to your products or services for a set time.