Do you want to boost your online growth? Target keyword selection is first to keep in mind before starting your web project and making the giant leap into search engines. It is a crucial moment if you want to boost your site's organic traffic and get your audience to find you quickly. Today we present a list of 25 fantastic options to help you with the task of selecting the best tools for keyword research.
Why Is Important to Use the Best Keywords Research Tool?
You might think that choosing a keyword is something simple since you, as a user, perform hundreds of searches in the Google engine. However, even if you think you know your audience or customers very well, keyword researchers are essential to understanding the volume of queries. For example, it may seem that "house" is more searched by users, yet "home" has a much higher volume.
In the same way, relying on a keyword research tool can be very useful to know the level of relevance or competition of the keywords you are most interested in using for your business. Undoubtedly, keyword positioning is one of the metrics most considered in tracking and monitoring an organic project.
So, to know the most repeated search patterns by users, you can use different keyword researchers. You can learn the right, more profitable keywords for each project or SEO strategy. It is also essential to use quality tools that offer you reliable information and do not give you any surprises.
What Is a Tool for Keyword Research?
In any SEO strategy or project, one of the main starting points is the identification of keywords for which the project is going to "fight." It is essential to adapt the keywords you include on your website to the search queries made by users to achieve better positioning, capture a higher volume of organic traffic, and boost conversion.
Before listing keyword researchers, it is necessary to know the most representative ones and explain how they work so you can take advantage of them. So let's start with the most basic term, the meaning of "keyword" after all, keywords are terms formed by one or more words and represent how the users expose their doubts to the search console, hoping to find the answer they do not know.
When making a search query, the user may have a simple navigational intention and type a keyword such as "Amazon" or an informative one – typing a keyword such as "how to make pizza." A commercial one – typing "what are the best vacuum cleaners," or a transactional one when he is already at the moment of purchase – typing "buy iPhone." It is vital to carry out a keyword study to choose the best terms according to the type of website, industry, niche, etc. To attract your audience, the correct selection of keywords will be the basis of any strategy, such as SEO content marketing and local SEO.
What Are the Best Tools for Keyword Research?
Today we listed 25 of the best keyword tools so you can use them to improve online positioning. In addition, you can find some of the best-known and most used SEO tools for keyword research and even find free tools to perform keyword analysis. So you can find out what kind of searches and queries users make concerning your business and adapt your website to them.
Let's choose the perfect words!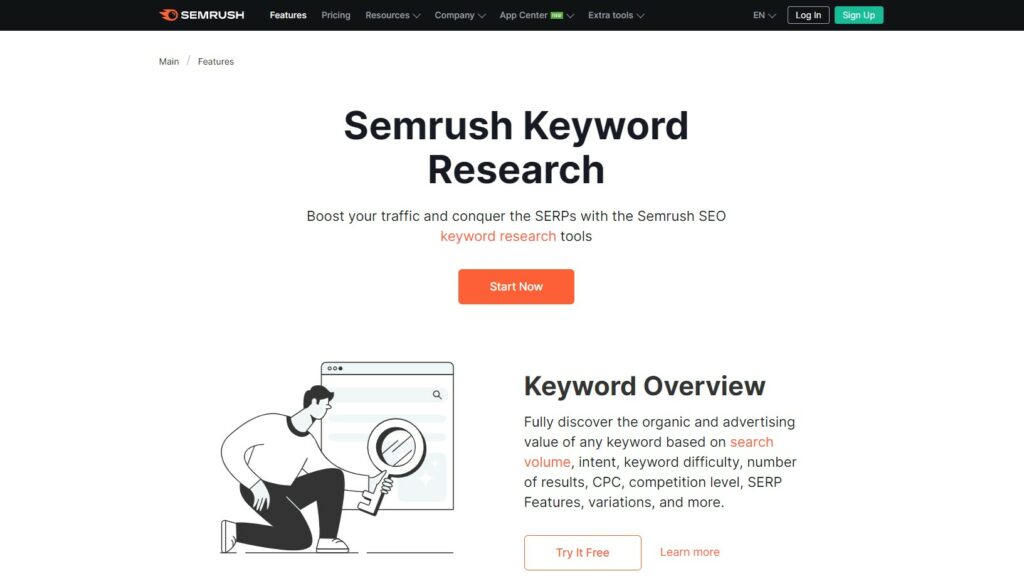 This online visibility management platform allows you to manage content marketing to social media and includes a powerful keyword research tool. Specifically, this tool gives you an overview of keywords. Then you can access the Keyword Magic Tool, which displays keyword variations volume, trend, CPC, and other metrics.
It is the most effective and best tool for keyword research, as its extensive database guarantees an extraction of essential terms. In addition, thanks to its group classification on the left side of the list, it allows you to select the seed keywords by search topic. Furthermore, using the Keyword Magic Tool's filters, you can include or exclude words, set the number of words within the search, and put a specific volume range. It even allows you to select variations of queries to use those keywords in texts.
SEMrush is a tool that offers you much more, as it allows you to know the estimated traffic, offering a list of the most visited pages of any website.
Features:
It runs a deep analysis to select the group of terms by search topic.
SEMrush shows you the different variations of a keyword.
Keyword Magic Tool allows you to include or exclude words and set the number of words within the search and classifies according to head-tail, middle or long tail.
It segments the results into rank and volume groups to make it easier to understand your ranking.
SEMRush calculates visits, the number of unique visitors, the number of words per page, an estimate of the average duration of each stay, and even the bounce rate percentage.
Free Trial: 7 days.
Keywords: SEMRush is one of the best keyword research tools for SEO, with a database of 21B 
Step up your game with SEMRush!
---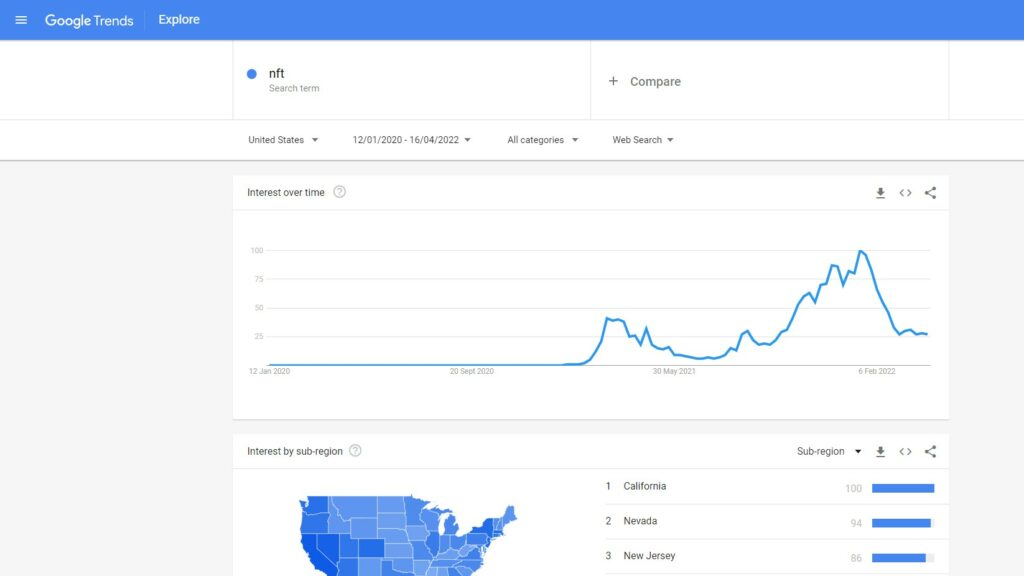 It is a keyword gap tool created by the giant Google with a particular objective: to find out what the trend of a keyword is, that is, how its searches have evolved. So why do you need this tool? First, you can use Google Trends to see if the direction of this search term or keyword is positive and if you want to put it on your website or SEO project. If the trend is positive, it will be advisable to do it, and if it is not.
It is, for many, the best keyword tool as you will be able to make a comparison of the trend of several keywords. It is handy when you have doubts when choosing keywords with different meanings and keywords that are different but mean the same thing. However, you have to remember that Google Trends only provides information on the trend of a keyword but does not provide information on monthly searches. Therefore, once you have identified keywords that may be relevant to your website, it is recommended that you use other tools such as Keyword Planner to check if they have a significant volume of searches.
We suggest you also do it the other way around: if you already know the search volume of a keyword, it is essential to look at its trend to make sure it is a word search over time.
Features:
It tells you if the search term or keyword trend is positive to include in your SEO project.
Google Trends has a strong point that allows you to compare the trend of various keywords by country, city, or region, which is ideal for digital marketing strategies because you have deep market analysis.
The tool shows you a graph with trends in search topics by week, month and year to make a future analysis with projected results.
Free Trial: Free tool to get unlimited searches.
Keywords: It is a fantastic competitor between the best keyword research tools with more than 40B terms.
Find out new trends!
---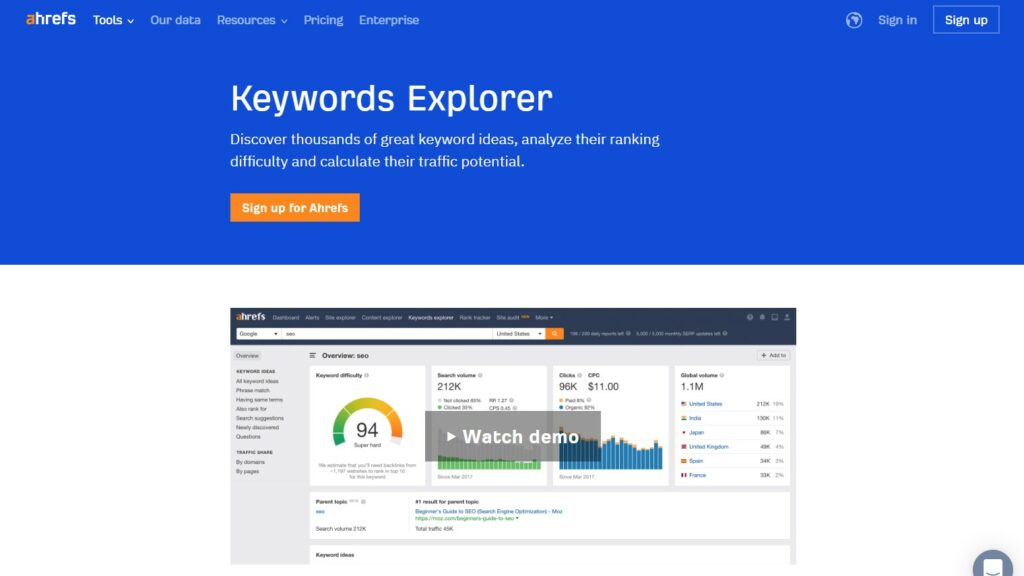 Another of the most popular tools for keyword research is Ahrefs; it works through Ahrefs' database, considered one of the largest search query databases in the world. One point in its favor is that it updates its database with over 7 billion keywords every month to provide accurate listings.
What makes Ahrefs a fantastic keyword analysis tool is that it allows you to enter thousands of keywords to find out their search volume data. It also offers you keyword ideas, divided into words with the same terms, search suggestions, queries, and questions. In addition, you can select from several engines, not only Google.
Its wide variety of filters lets you know the volume, keyword ranking difficulty, position number, etc. For example, Ahrefs keyword explorer will enable you to find out how difficult it is to rank for a keyword.
Features:
Ahrefs allows you to enter up to 10,000 keywords to visualize their search volumes.
It suggests keyword ideas, splits between words with the same terms, recently added queries, and comments formulated in questions.
It is an excellent candidate as the best SEO keyword tool as it uses nine sources: YouTube, Amazon, Bing, and more.
Ahrefs offers a calculation that shows the score from 1 to 100 depending on the difficulty of positioning that term.
Free Trial: Enjoy seven days for $7.
Keywords: It is different from other keyword research tools with more than 7B databases.
Visualize your target and your competitors!
---
4. AnswerThePublic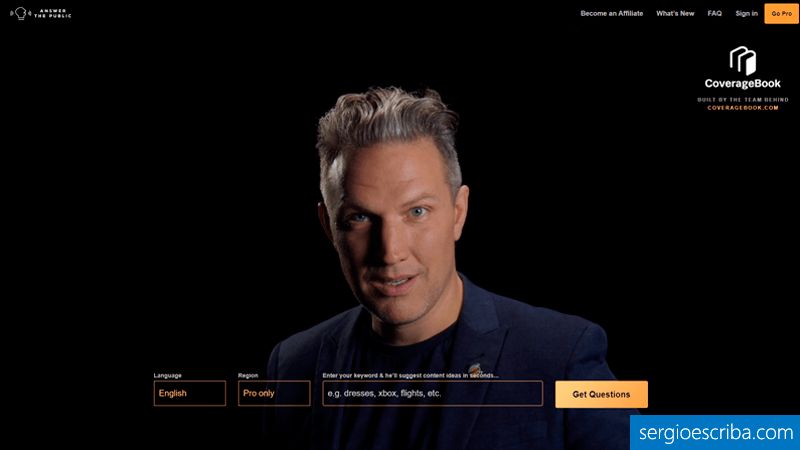 Are you lacking inspiration? Let this tool help you shape that idea you're looking for by listing the most recurring questions related to your keyword of interest. It is a keyword tool for SEO as it allows you to explore new keywords for free. Answer The Public is easy to use; enter the keyword you are interested in, select the country and language you want to search in, and click on "Search."
The tool will show you a page with two panels: "Visualization" and "Data." The first one shows searches related to the keyword entered, considering different criteria in the "questions" category. It shows you results with "how," "when," "which," "why," etc. In the prepositions section, it shows you all searches with "for," "how," and "to." Its extensive database even provides results with comparisons: "versus", "or", "and", etc.
In the data panel, you can consult the same data in lists in each of the above criteria.
Features:
It offers you a detailed list of the different criteria of online queries related to keywords of your interest.
Answer The Public's strong point is that it includes the different prepositions associated with your keyword in the last online visits.
The search panel displays an alphabetical list of the most common questions users ask, including your keyword.
Answer The Public shows you a comparative analysis of each type of question in its dashboard data that includes your keyword and the sites using it.
Free Trial: Free version 
Keywords: With a database of 3B is one of the best keyword research tools.
Know your audience's interests!
---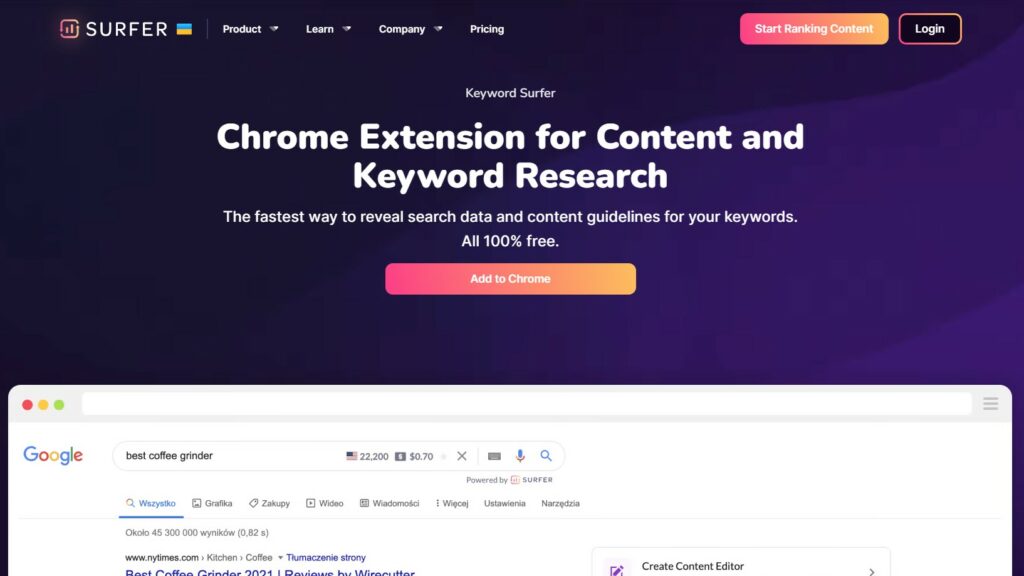 It is a free extension that you can download to your browser, and it will provide you with the search volume of the keywords you are looking for directly from Google. So you only need to download the extension, install it in your browser, and select the language you need the results to appear.
Keyword Surfer has a solid point to crown itself as the best SEO keyword tool that allows you to find new keywords from the combination of several words. The main advantage of this tool is that it does the combinations automatically and, therefore, it will save you the time of doing them manually (which could be a lot). Furthermore, when you install the tool and perform an investigation in Google, it will provide you with different data, such as the estimated monthly traffic in the country or locality of the positioned page.
It also shows you the number of words on each page and the number of times the keyword appears on the page. So, for example, if you have an apartment rental business in several cities, you could make combinations of keywords such as apartments + preposition + City using this tool.
Features:
Keyword Surfer shows you the monthly search volume in the same search bar and CPC.
It offers you a list of related words in the right panel.
It presents you with a graph with complete visualization of your competition, so you know the pages that receive the most traffic by searching for your keyword.
Free Trial: You can enjoy all the advantages of one of the best free keyword research tools for SEO on this list.
Keywords: +40B keyword data.
Lead your consumers to you!
---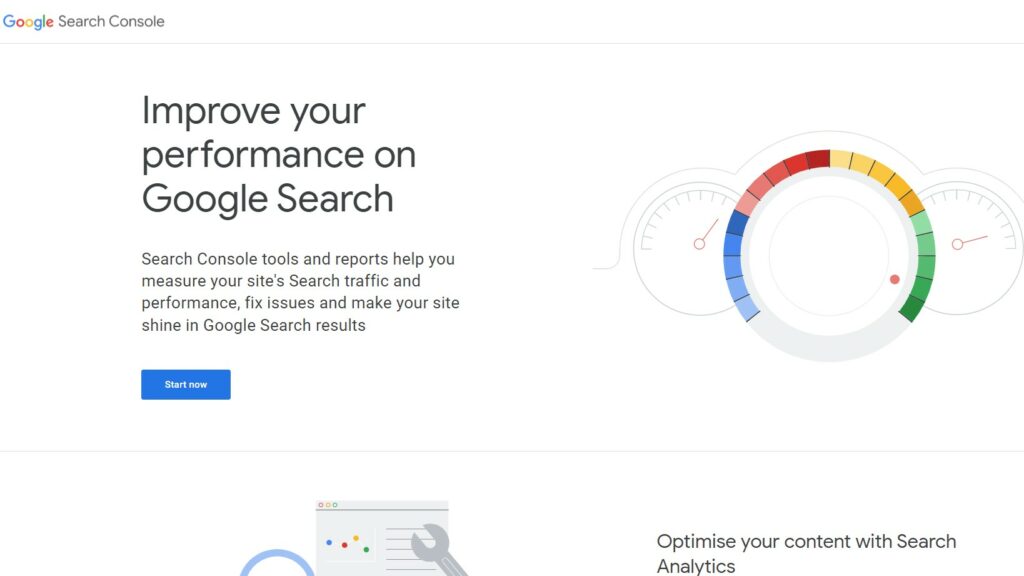 Google Search Console tells you the keywords for which users access your website. This information can surprise you: you probably had some of these keywords, but it can also be the case that you see search terms that you are not using. In these cases, we recommend you do so because you will increase the number of visitors that reach your page through that search.
If you wish to use Google Search Console, you need to have it configured and access it. Then you must select one of the properties you have linked. Next, go to the "search results" section, and that's it. It is one of the best keyword research tools as it presents a list of the words that users find you. You will also be able to see the impressions and clicks during a specific period.
Typically, the more appearances a keyword has, the more monthly searches. However, to confirm the information, we recommend using it with other tools such as Keyword Planner on this list.
Features:
Google Search Console tells you the effectiveness of your chosen keywords for which users access your website.
It shows you a graph with the impressions and clicks they have during a given period.
The tool analyzes all search terms that generate visits to your website, including hidden words that are not marked as keywords but generate traffic.
Free Trial: Keep up the good work with one of the best free keyword research tools available.
Keywords: +40B
Boost your impressions!
---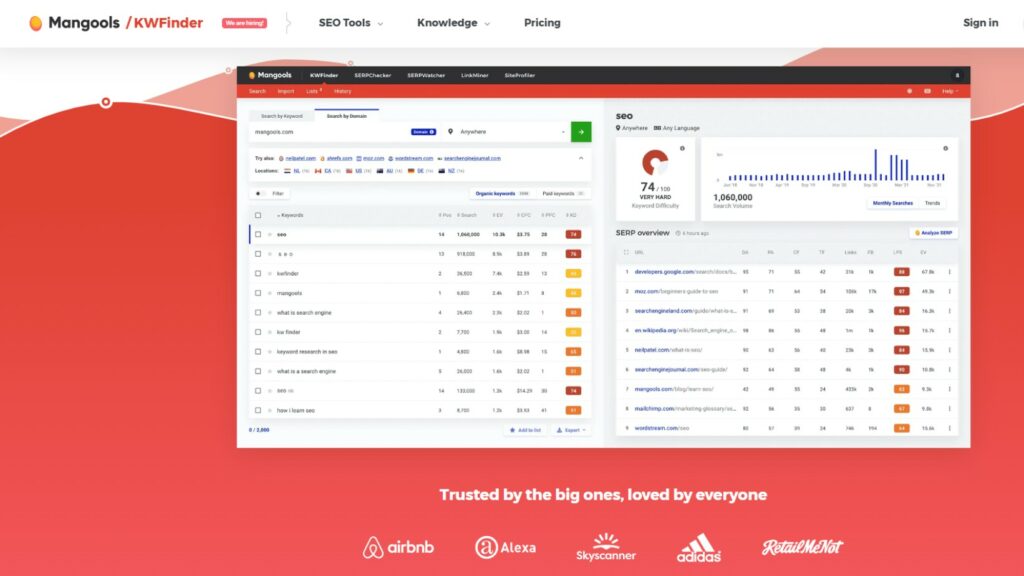 One of the best free alternatives to search for your keywords is KWFinder. Its operation is effortless and similar to Google tools. First, you have to enter the keywords. Then, it tells you how many searches per month there are approximately for that word or phrase, gives you other combinations of words, and suggests others with inquiries.
It is rated as innovative keyword research as you can get ideas for keywords and find out how many monthly searches each of them has, which is handy when you have no idea where to start. KWFinder shows search trends in the last months for that, other keywords, and the difficulty of positioning them according to the existing competitive research. It includes the main sites that compete for the same keyword, etc.
Something outstanding is that it allows you to download the keyword reports in CSV format for excel. So you can incorporate it into your SEO plans and make your content plans. In short, an excellent tool with intuitive handling and at zero cost.
Features:
KWFinder has a high-precision intelligent algorithm that incorporates geolocation functionality, identifying searches performed in a specific region or country.
It offers you a selection of search terms, in which it splits and combines words for optimal results, ideal for long-tail keywords.
Its extensive database allows you to search for words in any language.
KWFinder shows you the keyword difficulty positioning with colored labels.
It allows you to compare a website with its competitors.
Free Trial: 10 days 
Keywords: It stands out among other similar keyword research tools with 2.5B terms.
Find the words that best suit you!
---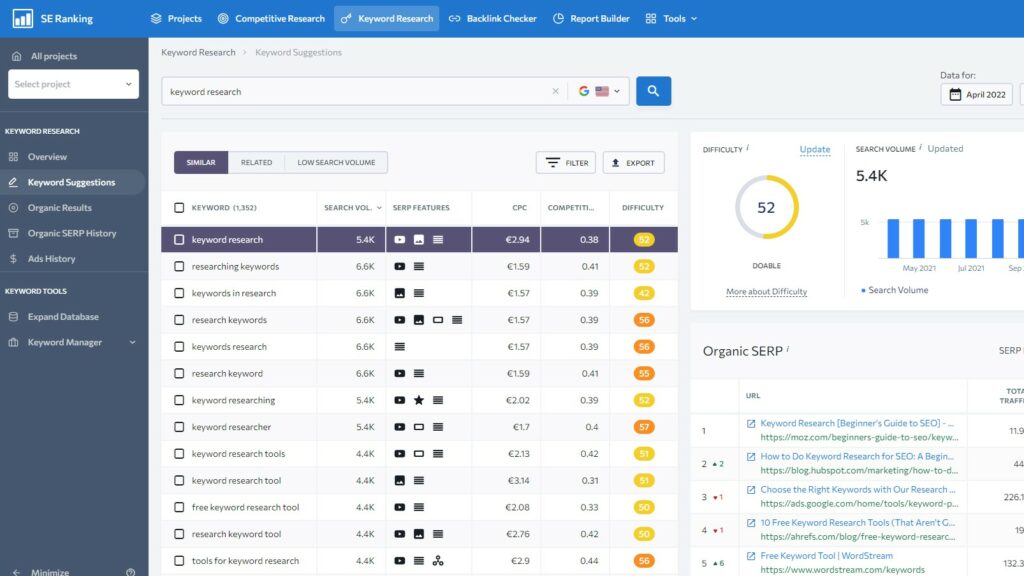 If you were looking for a simple keyword research tool that provides you with real-time data and excellent accuracy, SE Ranking is a fantastic choice. With this SEO tool, you can perform hundreds of keyword searches, choosing the country and language you want.
According to several SEO marketing professionals, it is the best keyword research tool. When you perform a search, you get the different ideas or variations of that term, followed by its estimated CPC. SE Ranking search filters show you results based on quest volume and difficulty and offer you the domains that rank for that term and their estimated visits, links, and number of shares the page has.
Likewise, this tool also allows you to analyze the traffic of the competition and the keywords for which it gets the most traffic. Finally, the SEO explorer section enables an SEO to study if the external links (backlink analysis) are working. So you can enjoy SE Ranking to perform analysis of some search queries with total freedom and perform, for example, a complete Keywords Research in its free version or consult any of the plans offered.
Features:
SE Ranking shows you the search volume of a keyword per month for all countries.
It lets you know the Cost Per Click to track paid SEO strategies in your Google Ads account accurately.
SE Ranking makes a closer assessment of your competition, as it offers a value from 0 to 1 to estimate the competitors that are willing to put up a fight.
It indicates the keyword difficulty; the higher it is, the easier it will be for you to position your website, blog post, or project.
Free Trial: 14-day trial to discover why it is one the best keyword research tools.
Keywords: 7B 
Skyrocket your position!
---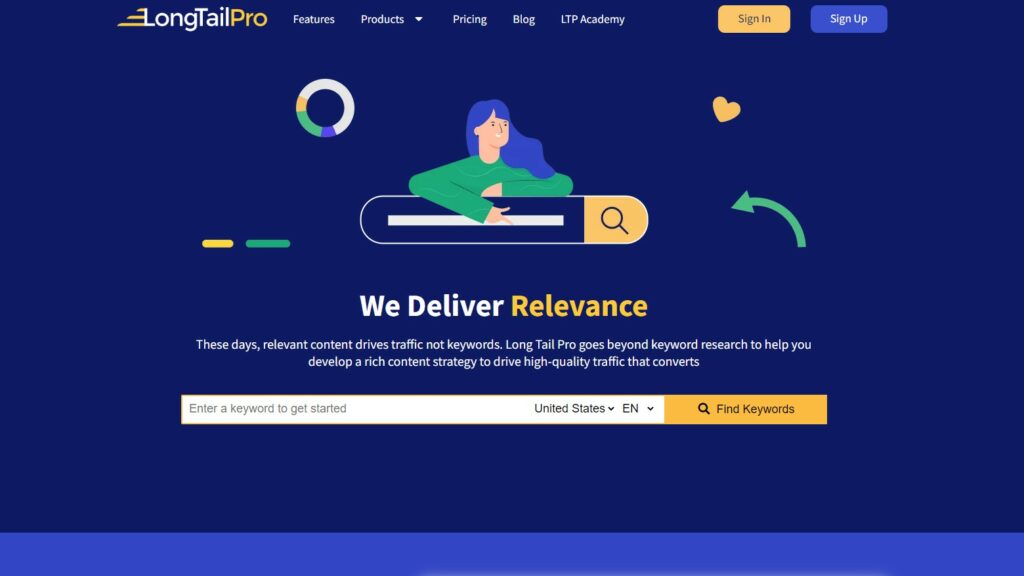 It is a business tool that helps you locate new keywords for your niche and gives you information about their degree of competitiveness. As the name suggests, it specializes in more specific long-tail search expressions. You type a word or phrase in the central field, and then the different combinations for each search engine appear, and then you can click directly to see the results.
In short, it is the best SEO keyword research tool because when you enter your domain, it informs you about the level of difficulty you should aim for according to your current relevance. It also gives you information about inbound links, indexation status, keyword profitability, Adwords data, etc. Furthermore, for each keyword, you can analyze which main competitors are positioned at the top of the ranking and their strengths and weaknesses to try to overcome them. Simple to use tool that offers at the same time a lot of helpful information for your SEO plan.
In addition, in the most advanced plans, it works as a comprehensive SEO tool, allowing you to analyze links and make all kinds of recommended improvements. Another great option is to carry out a more advanced SEO analysis of your website.
Features:
Long Tail Pro helps you identify the least competitive keyword combinations.
It provides you with a daily updated report on the position of each keyword.
Long Tail Pro's added value measures the profitability of search terms.
In addition, it points you to the methods with the highest effectiveness rate.
Free Trial: 8 days for $8 
Keywords: It is one of the greatest options of keyword research tools, with more than 300K 
Boost your strategies!
---
10. KeywordTool.io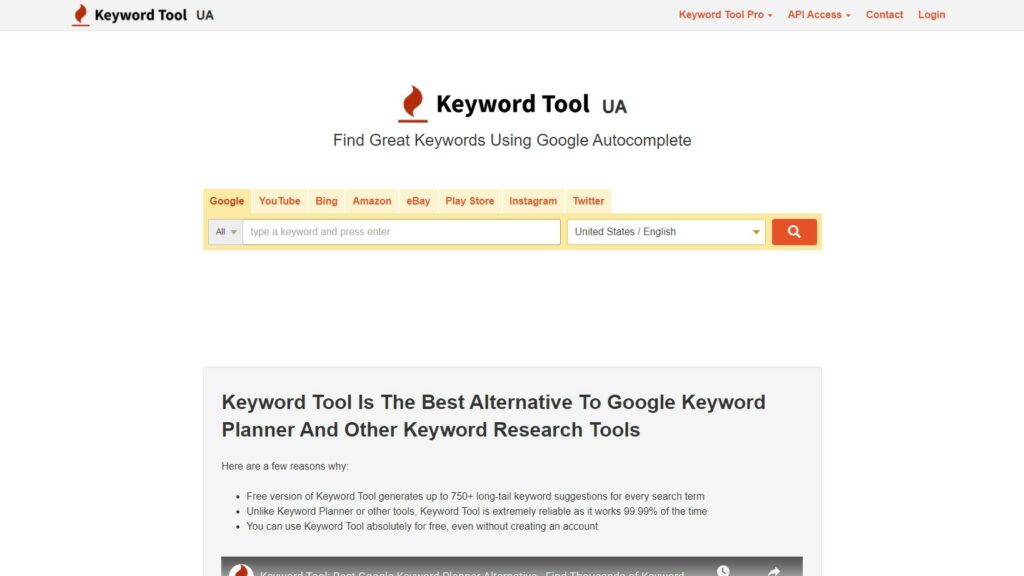 KeywordTool is the most popular keyword research tool for SEO that you can find to find term suggestions on the market. With this tool, you get the keywords from the different sources since most of the data it offers is related to the same's autocompletion. Its operation is straightforward; you type a keyword in the box, and KeywordTool returns the data for that particular word and a detailed list of all the variations associated with that keyword in just a few seconds. It provides critical information to enrich the content of any website.
As you can see, this tool also offers the possibility to choose between different sources. Furthermore, you can visualize related words, variations, and questions by selecting the country and language and clicking the filter. In addition, it shows other metrics, volume, or Google trends. Finally, it also allows you to include negative terms to exclude them from the keyword results shown.
One of the options offered by KeywordTool is that it allows you to perform massive word searches, adding hundreds of words per search. This way, you can know the volume of several keywords in one click.
Features:
It gives you 360° analysis and visibility of searches on Google, Youtube, Bing, Amazon, eBay, Play Store, Instagram, and Twitter.
KeywordTool uses the "Questions" function to discover what questions users ask around a particular keyword.
It stands out for its high search precision with the number of letters and numbers to offer relevant keyword suggestions in more than 83 languages.
Free Trial: This is an excellent choice if you are looking for the best free keyword research tools.
Keywords: 750 per search
Discover the best suggestions in seconds!
---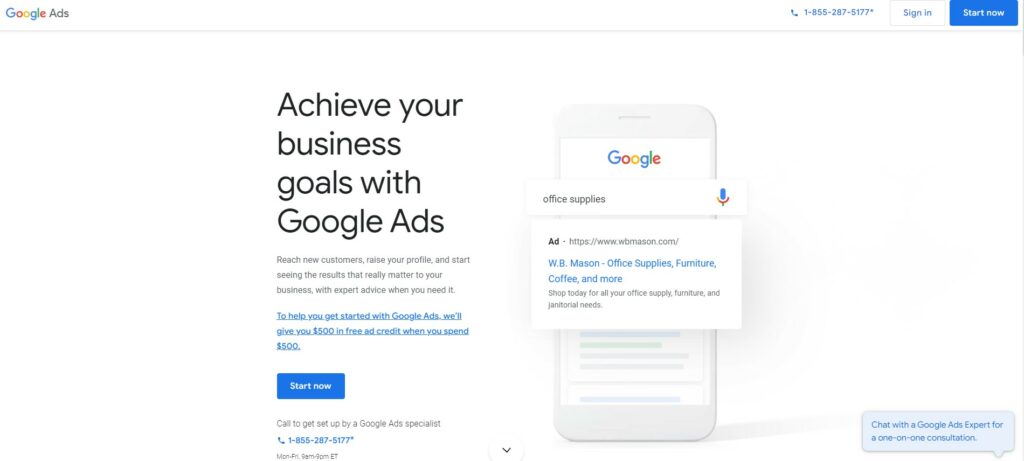 Google's Keyword Planner is one of the most used resources worldwide, as it is one of the Google tools that directly uses data from the search engine itself, offering search volumes with great precision.
In addition, this tool offers you keyword ideas, and it expands the search with related terms. You can enter several keywords from the beginning. The Google Keyword Planner will return a list and the number of inquiries and values, such as the estimated CPC in Google Ads.
It is considered a special keyword research software as it offers different search filters to meet the needs of your website at all times, even better if you combine it with Google Analytics. Its only drawback is that you must have an active Adwords campaign to know and consult the data more accurately. Otherwise, it will show relatively high ranges in the average number of searches.
Features:
Google Keyword Planner automatically generates ideas related to the root of a word, phrase, or domain.
It refines the keywords, broadening the search for related terms or domains.
It presents you with a list with the number of searches and values, such as the estimated Cost Per Click in Google Ads and the non-organic competition of the keywords.
Google Keyword Planner allows you to add different metric filters by country, language, or date.
Free Trial: Free keyword research tool
Keywords: +40B 
Let's find the right keywords!
---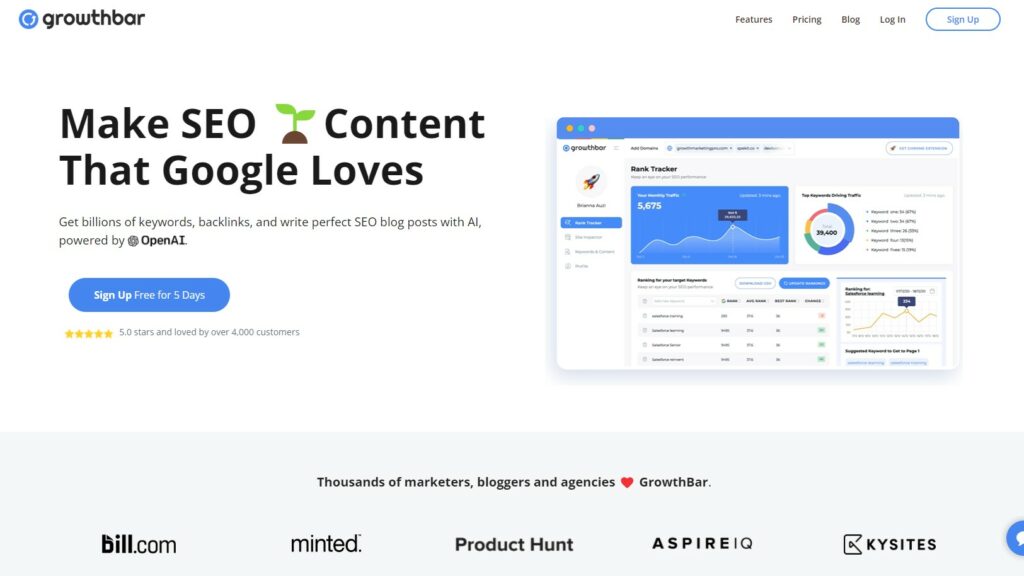 GrowthBar is ideal if you are in a hurry and want keyword suggestions and their ranking difficulty to appear along with the keywords results in mere seconds. You have to type in the keyword you want to target, and GrowthBar will show you the details for future competitors.
It stands out with an interactive AI-based interface to drive business growth, which gives users a much more accurate keyword ranking tracking than other similar tools. In addition, it presents an easy-to-understand dashboard with a wide variety of long-tail keyword suggestions. A strong point of GrowthBar that makes it the best keywords research tool is that it offers you exportable keyword data and word count per page to measure your SEO marketing campaigns more accurately.
If you are willing to learn about all the advantages that GrowthBar has for you, we have good news because this tool offers a free trial; you can select the services that best fit your website needs. The top-level service stands out because it provides unlimited keywords.
Features:
GrowthBar offers you SEO insights while you perform standard Google searches.
It shows you user-friendly graphs to understand consumer trends.
The tool has a database with billions of keyword suggestions.
It offers you a deep analysis of fundamental metrics such as volume, competitiveness, and estimated traffic per keyword.
Free Trial: 5 days
Keywords: GrowthBar offers you 3B terms, crowning as one of the best keyword research tools.
For organic growth of your website!
---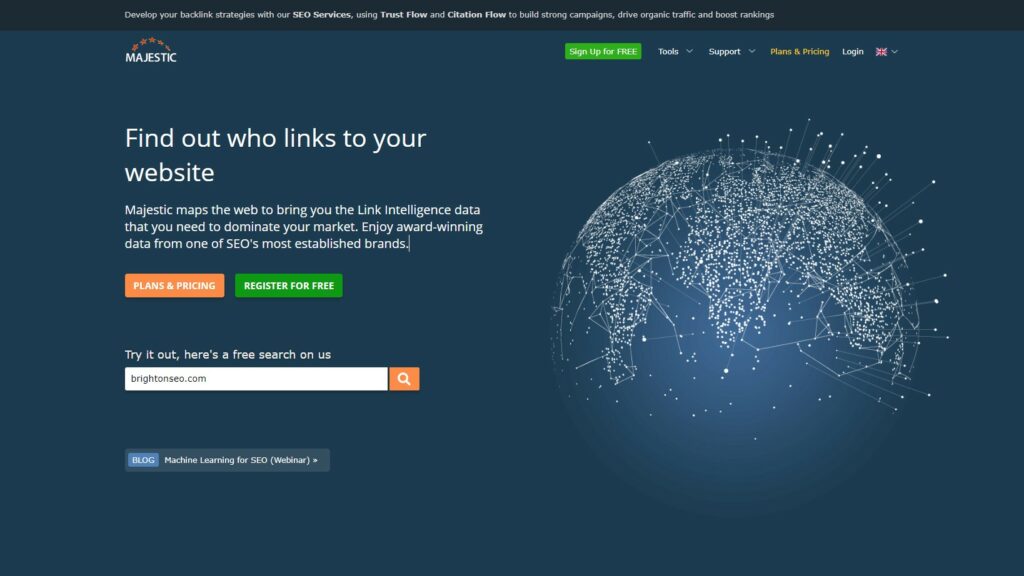 Majestic is one of those all-in-one SEO tools for tracking the status of your website. It is a highly recommended business tool for new blog post and small businesses that don't want to spend tons of money on complicated search engine optimization tools. Still, it allows you to take the first steps to generate organic search traffic, increase the number of visits and direct your target audience to your website.
Majestic is the best keyword research tool as it offers you all the SEO features available in a single toolkit so that you can choose the words according to your niche, location, and audience type. Its platform helps you find easy-to-target phrases and keep an eye on your competition with in-depth research on each keyword. It also presents you with highly reliable and authoritative graphs for website analysis.
If you are starting your online business, this nifty tool allows you to register and even research keywords for free to help you get familiar with the service. You can also sign up for one of their paid plans that offer a powerful keyword checker and API integration.
Features:
Majestic shows you the historical record of queries per keyword in the search engine.
It gives an accurate count of the volume for each keyword.
It compares and analyzes your website against your competitors.
Majestic is available for full API connectivity.
Free Trial: N/A
Keywords: N/A
Master perform with Majestic!
---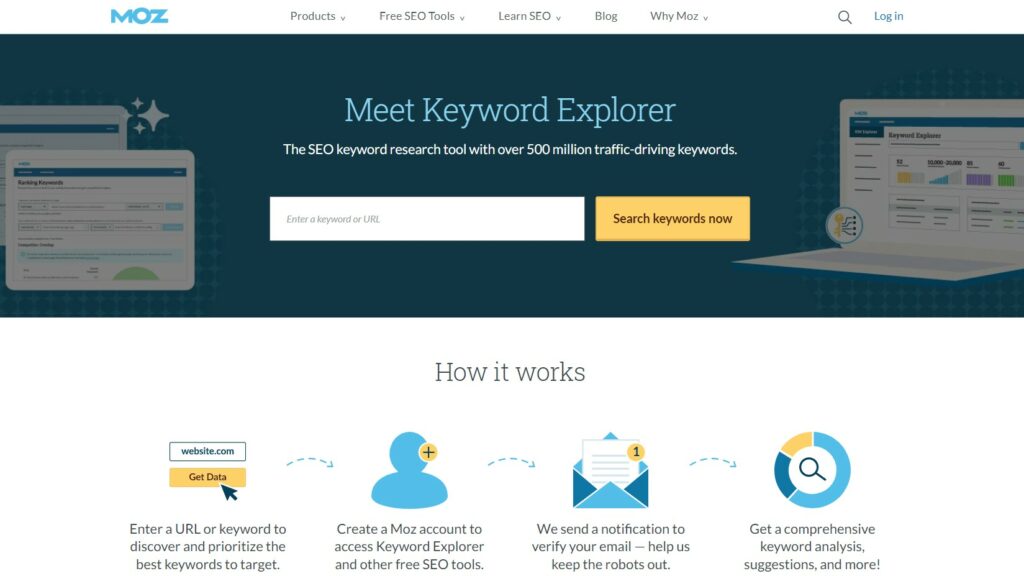 Moz is a perfect tool for all those who manage a website. This monitoring tool allows you to create a campaign for a specific website and add the relevant keywords you need. Once you have added the keywords you are working on, the tool will keep track of their SERP positioning, and you will be able to check the variations they may suffer in positioning over time.
In this way, you have visibility of the keywords that have lost positions and whose content you should review to improve it, and those that, on the contrary, have increased positions and are at the top.
Moz is one of the best keyword tools because it presents a graph showing the number of words in each range of positions within the search engines. In addition, it also gives you visibility into when Google has made an algorithm change so you can determine if that has any impact on your keyword rankings.
Features:
Moz offers a highly intuitive interface and provides interesting data such as the given keyword difficulty level out of 100 or the organic CTR.
Runs a prediction with 95% accuracy of the volume and difficulty per word.
It helps you prioritize keywords by topic.
It shows you the long-tail keywords with high relevance.
Moz shows you the elements of the first Google search results.
Free Trial: 10 queries per week
Keywords: It is a perfect candidate to discover all keyword research tools power with 500M keyword ideas.
Conquer your niche with MOZ!
---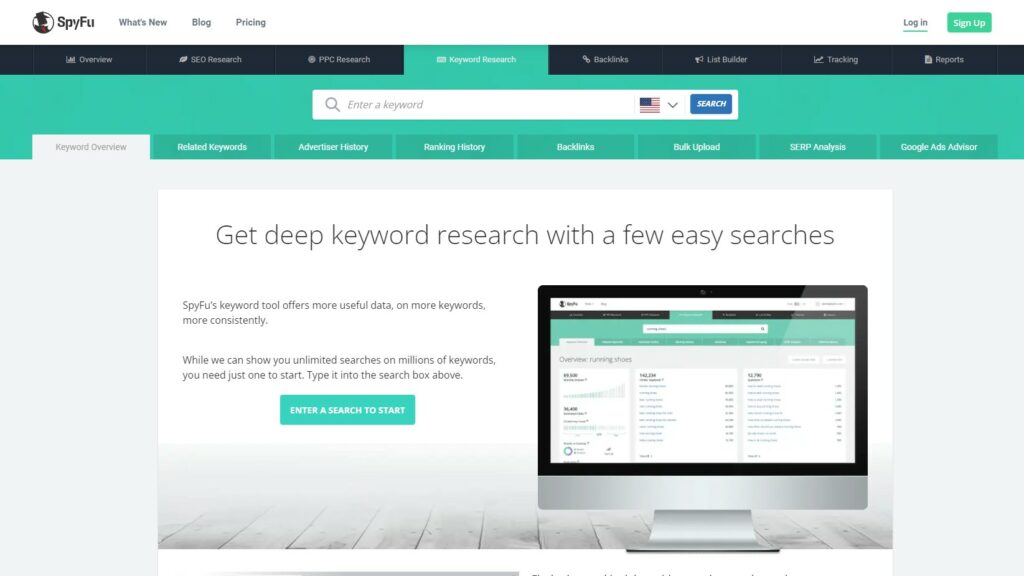 It is different from most keyword research tools based on a great idea: it allows you to create a search need context and then ask for feedback from a group of people you define to tell you how they would search. For example, you create a search scenario based on the need to fix a computer. You then send this question to your contacts so that each of them can write down how they would search if they had this need.
Once you have obtained the data, it shows you a table of results from which you can get valuable ideas. In addition, it allows you to launch the search in Google to analyze who is and with what content in the first place. The principal value of Spyfu as the best keyword tool is that you can find keywords without being conditioned by your preconceived ideas, as sometimes happens. For example, sometimes you think that you know your industry very well and should focus on one or another keyword, leading you to a mistake.
In this case, there is no such subjective conditioning as you do not enter any base word to get suggestions from but define a need and get accurate and spontaneous search patterns. Of course, the larger the sample of users, the more refined the results will be.
Features:
Spyfu provides you with in-depth data analysis to quickly return the best keywords by niche.
It presents you with key SEO metrics, including statistics and position history.
In addition, it runs an analysis of the different SERPs.
Finally, it suggests topics, titles, and questions for content creation.
Free Trial: 30 days
Keywords: With more than 7B terms available is an excellent candidate within the best keyword research tools list.
Get exclusive access to the best searches!
---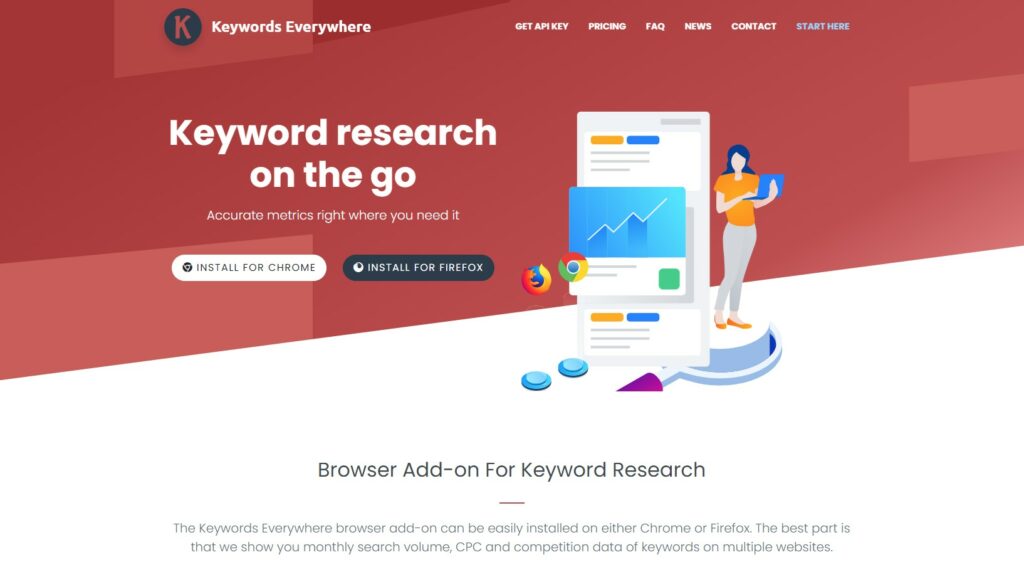 Keywords Everywhere is the best keyword analysis tool if you don't want to spend an uncountable amount of time searching for a keyword, as you can lighten your work with this extension for Chrome and Firefox browsers. In addition, the SEO tool allows you to get helpful information for keywords without going to a dedicated site.
A simple Google search will automatically generate keywords related to your search and a "people also search" section to the right of the search results. However, suppose you are looking to extract more information about your inquiry (and you probably are). If it is the case, you might need to purchase credits to get details about volume, PPC keywords, and competition. These details will appear directly within the autocomplete box during the search and below the search bar after you've executed the search.
In a nutshell: Keywords Everywhere is an extension that takes much of the hard work from keyword research, as it is integrated directly into the browser.
Features:
Keywords Everywhere find keywords in any target language and for any location.
It helps you to choose different options from the list of powerful keywords.
Presents you with accurate statistics for keyword competition
It provides a detailed SERP description along with a list of suggestions
The tool offers different filters to refine the list of keyword suggestions
It gives search history since 2004 on Google and YouTube for trend analysis
It indicates organic search from a Google Ads account.
Free Trial: N/A
Keywords: N/A
Get accurate metrics!
---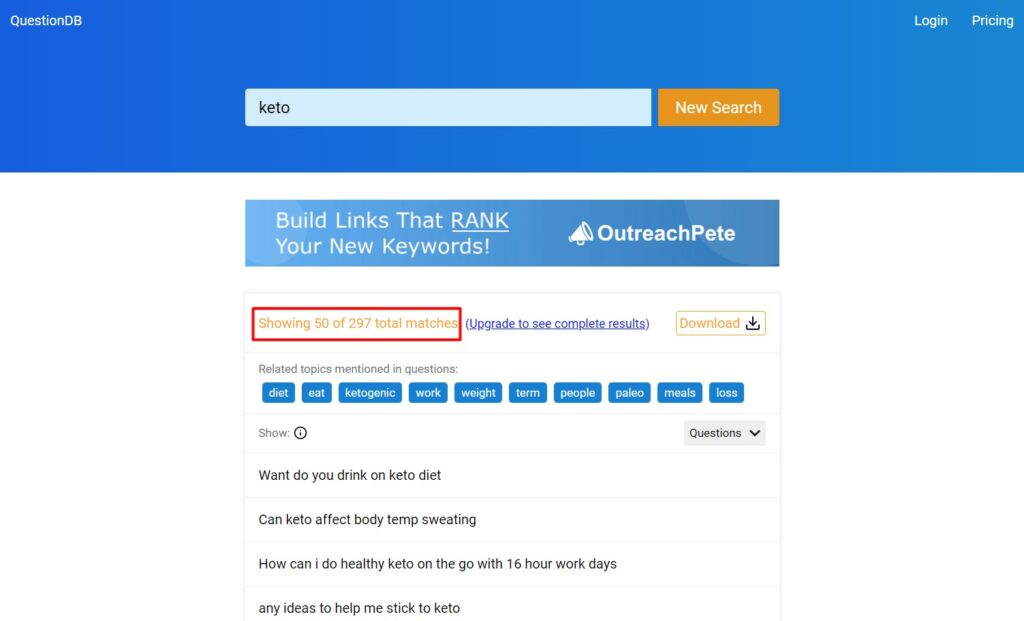 Suppose you do not have time and want as many ideas as possible, then Question DB is the tool you need as it is quick and easy to use. Just enter your keyword, and the software will start displaying related keywords without any additional data. It is a complete keyword brainstorming tool.
It is an exciting option as a tool to get a list of related keywords that serve as a starting point when planning the content of a web page. In addition, by clicking on search, you will find a list of questions that users ask in Google based on the keyword you have analyzed.
One of its strong points, which makes it the best SEO keywords tool, is that you can apply positive and negative filters to refine the results since it can display hundreds of keywords focused on your niche.
Features:
Question DB processes up to three-word phrases in each search query
It segments and prioritizes the most searched questions by keywords
The tool offers you suggestions on topics to develop to do your business or venture an authority in your industry.
Free Trial: It is one of the free tools available.
Keywords: N/A
Tell your audience what they want to hear!
---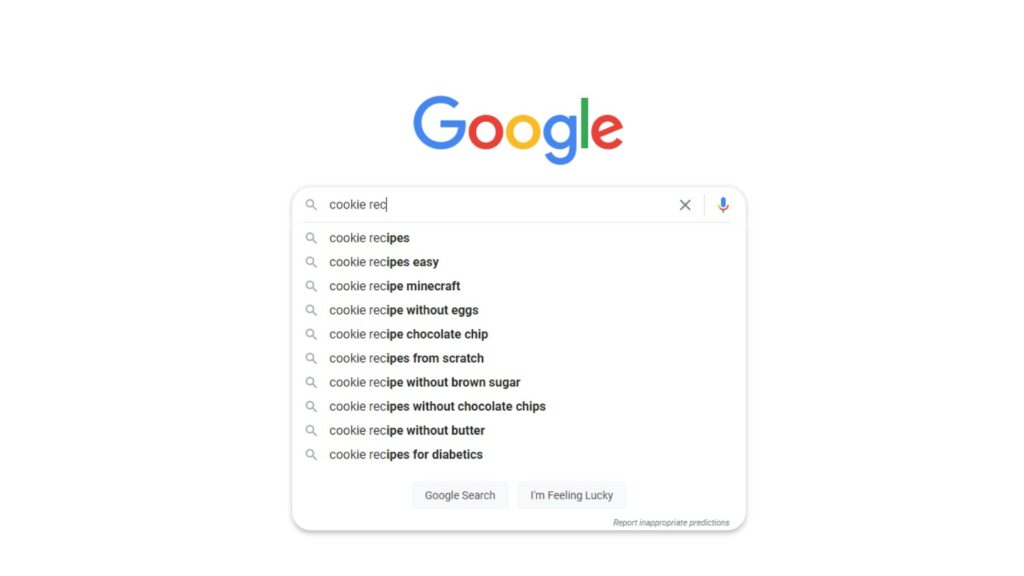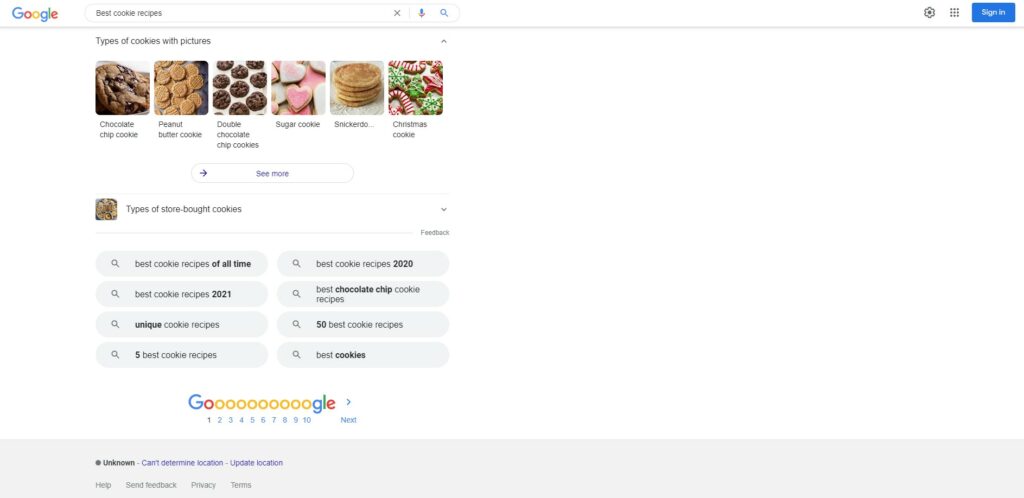 Although it is not a tool in itself, Google's search engine and its "autocomplete" feature can offer you many clues about search suggestions, and it is entirely free of charge. The tips that appear when you perform a specific search are variations and exact keywords -middle or long-tail- related to your search.
The process is straightforward; you have to enter the words and see what Google suggests. It is an excellent keyword gap tool for SEO because the suggestions that Google shows you or even completes are about searches and queries made by other users.
On the other hand, every time you search on Google, the engine provides you with a list of keywords related to the search. These suggestions usually appear at the bottom of the page, above the pagination.
Features:
Google Autocomplete provides you with a list of keywords related to the actual searches of Google users.
It shows you the different variations of particular keyword terms, including or excluding keywords middle or long-tail.
It is easy to use as it provides clues by simply entering the words into the search console.
Free Trial: Free keyword research tool
Keywords: +40 Billion keyword data.
Improve your search options!
---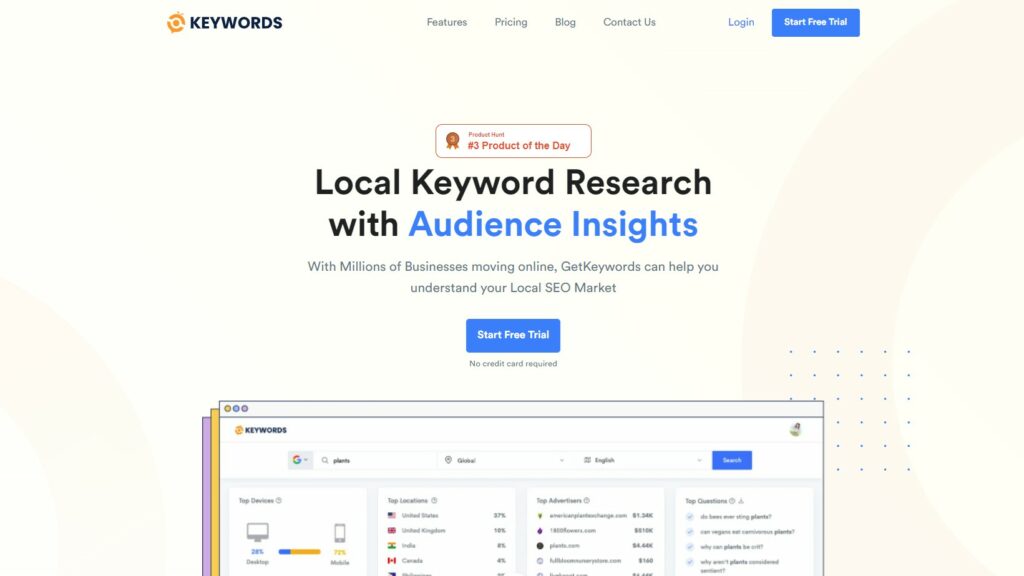 GetKeywords is an excellent tool to analyze the keywords used by your contenders and find websites of a similar level to measure your direct competitors. Its operation is simple: you enter the term you want and get a massive amount of information about their organic keywords, keyword match with the competition, historical ranking, etc.
Apart from the above, you can know what your exclusive keywords that other contender sites do not work with and vice versa, the keywords that others work in a coincident way are, and the ones you do not have yet. Therefore, it is handy information to start working on new keywords that you had not noticed before, making it the best SEO keyword tool.
It shares very similar aspects with other more powerful tools. In addition, paid plans allow you to generate fully customized reports for your clients, making it an excellent choice for a complete analysis of keywords and many SEO aspects that you can start improving now.
Features:
GetKeywords comes integrated with geolocation data to understand your niche better.
It gives you detailed knowledge of preferences by region for more accurate marketing strategies.
It reports results based on search preferences in real-time.
Free Trial: 3 months
Keywords: It is a fantastic example of what the best keyword research tools for SEO can do with 100K terms in one place.
Get an in-depth look at your consumers!
---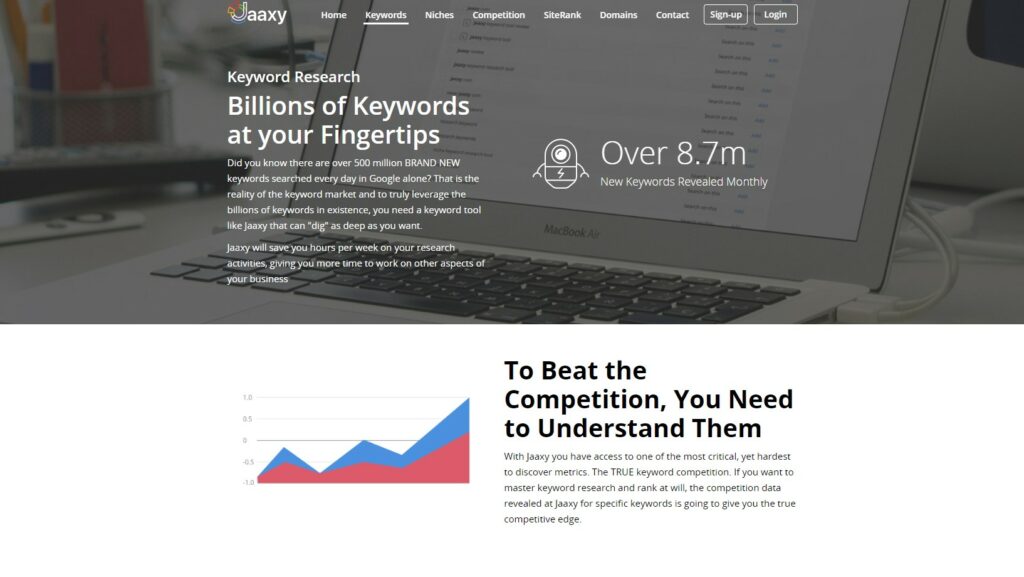 An option focused on providing more significant competitive advantages for new businesses. Jaxxy is more than another tool for keyword research is an innovative browser with which you can find keywords easily and quickly.
This tool has one of the largest databases, with billions of options, allowing you to know the different variations of critical terms, visits, and domains using that keyword in the various search engines.
Among the significant advantages that make it one of the best keyword research tools is that it offers you an overview of trends and searches or other related metrics. It helps you make decisions for creating SEO marketing campaigns; you can visualize the impact of a keyword and the statistics of your competition.
Features:
It gives you access to specific SEO metrics by keyword.
It shows you quick results for traffic, competition, QSR, ranking, and domain.
Jaxxy performs five searches at the same time with the multi-threaded search function.
Free Trial: 30 free searches
Keywords: 500M
One step ahead of your competitors!
---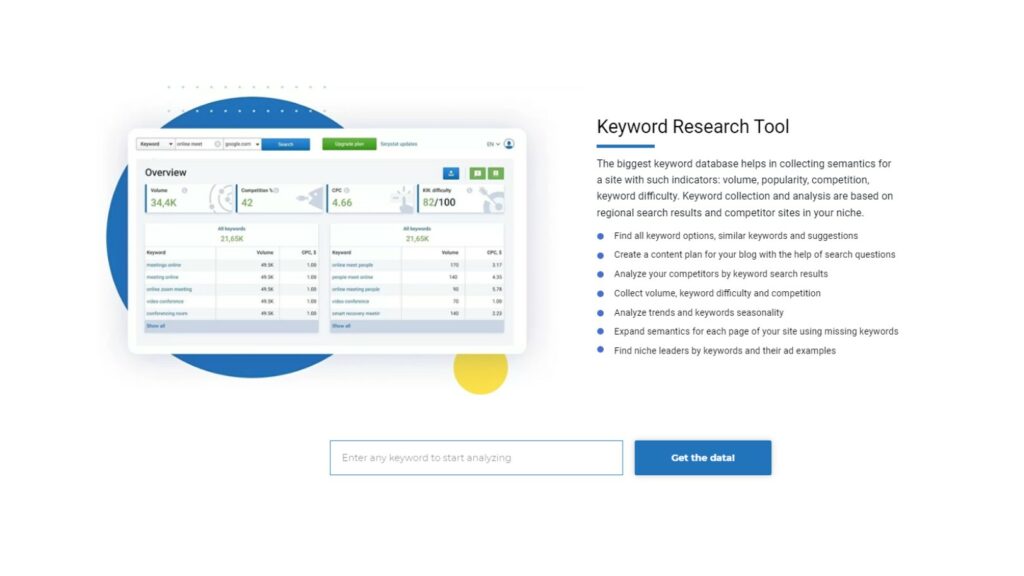 Serpstat is a tool with many potentials; one of the most optimal keyword researchers helps you know the top keyword results according to your industry and needs. It is a very intuitive business tool that features a user-friendly platform with an easy-to-understand dashboard.
Serpstat is a superb option for keyword research as it will show you the volume of searches, the CPC, and the difficulty of ranking for that keyword on a scale from 1 to 100. It also distinguishes between organic search and paid keywords, which is beneficial, especially when planning an advertising campaign.
If you scroll down, you will find a list of the top 20 competitors for that keyword in list and graph form. You will also see a sample of the paid ads made using that keyword.
Features:
Serpstat shows you the current position of the keyword, its search volume, and its CPC.
You can visualize the URLs of the domain fighting for that keyword.
One interesting point is that it tells you if a Google Ads or a social media advertising campaign promotes that keyword.
It shows you a graph with the number of organic visits generated per day, week or month to make the best decision to create your content.
Free Trial: Free version 
Keywords: N/A
Cover all search angles!
---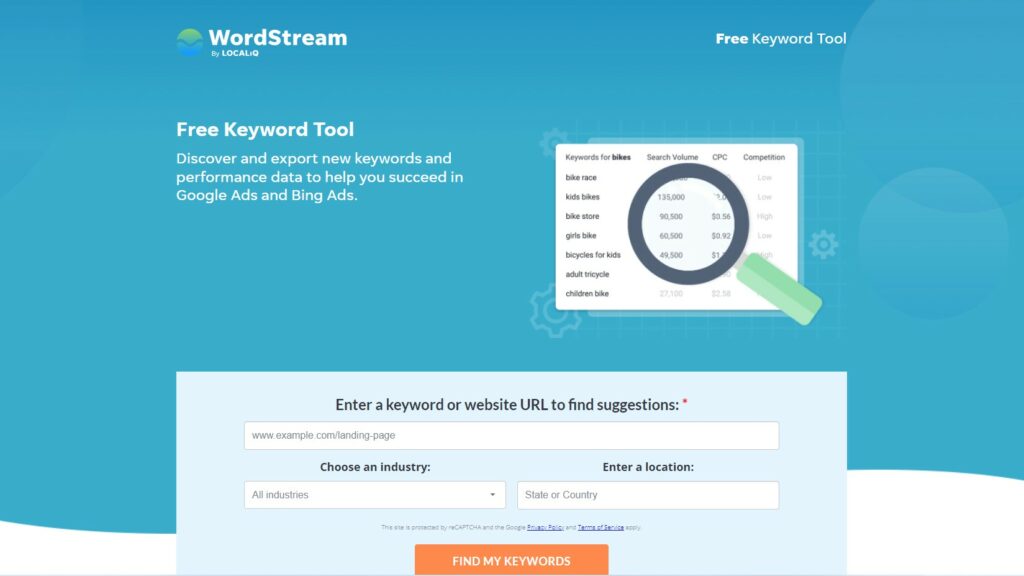 If you're looking for a simple and effective keyword research platform, WordStream offers just that. Featuring a simple search box with optional filters by industry and country, this free tool provides a comprehensive list of potential keywords you can leverage.
However, its keyword research tools don't end there. WordStream also has additional ways to get inspired, such as a negative keyword tool and a niche keyword finder. The free version of WordStream gives you keyword suggestions, their Google volume, CPC, and competition level. But if you wish to find out more areas of opportunity, you will have to sign up for the premium WordStream Advisor.
It is a great, easy, and intuitive option for discovering keywords, competition level, and search volume that, for many, makes it the best keyword search tool.
Features:
WordStream searches and filters result by niche and country on Google or Bing.
It classifies and ranks results by competition score and estimates CPC.
The tool uses the latest Google search data to deliver accurate, targeted advertising ideas.
Free Trial: Free tool, so you can enjoy unlimited searches. 
Keywords: 285M 
Promote your business!
---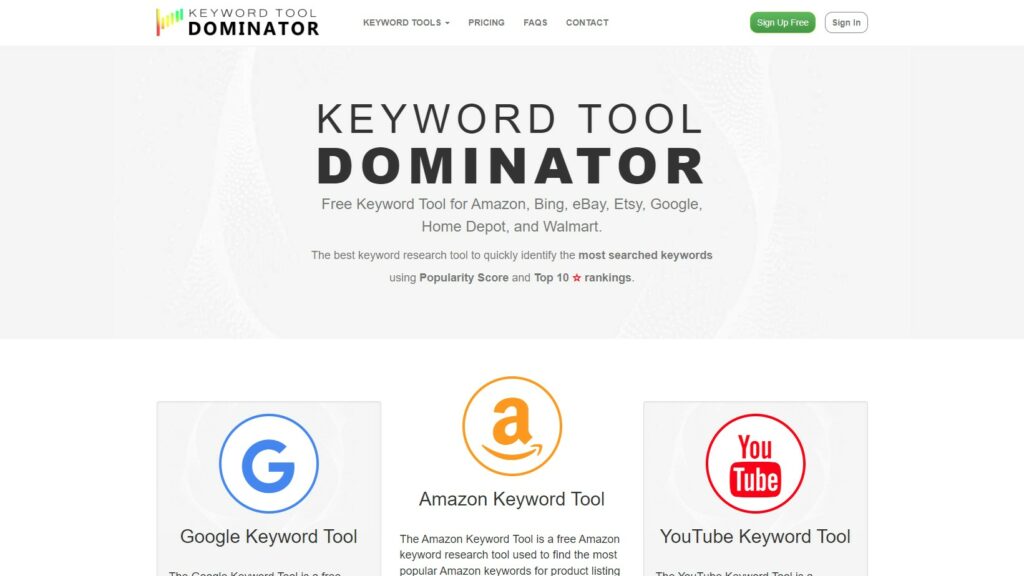 A keyword explorer tool allows you to extract keywords from Google, Amazon, Youtube, Bing, or eBay, which is very helpful if you try specific positioning strategies. To get started, you enter a keyword or phrase, decide what kind of results format you prefer (websites, images, shopping, etc.), select a language, and that's it.
The principal value of the tool is that it focuses on the long-tail suggestions so that you can obtain exact keywords for your positioning objectives. In addition, it is an application that works speedily and fluidly. Therefore, it is ideal for getting global ideas and establishing a comprehensive positioning strategy.
It is undoubtedly the best keyword research tool for many users because it is super simple and takes much of the data from Google's suggestions that you can see at the bottom when you perform a search. Still, as indicated on its landing page, it collects information from previous user searches to provide a more successful result.
Features:
It offers special SEO analysis filtering for each engine.
Keyword Tool Dominator suggests long-tail keywords in real-time.
It makes a top list of the most searched products on amazon.
In addition, it gives real-time access to niche, topic, and development based on popularity trends.
Free Trial: 2 keywords searched per day
Keywords: N/A
Attract more visitors!
---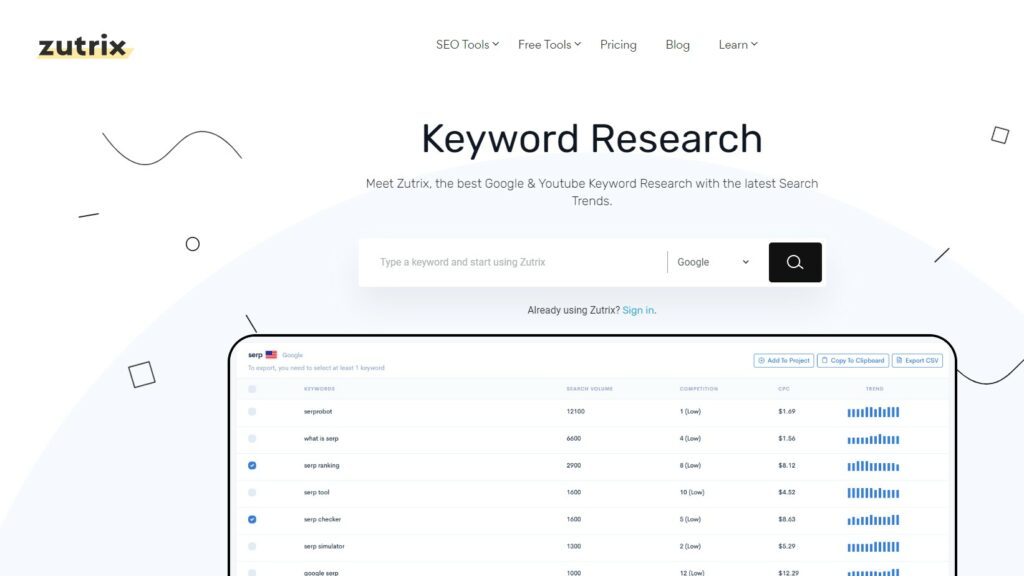 It focuses on meeting the SEO needs of entrepreneurs. Zutrix is a great keyword research tool that offers you valuable information in an easy-to-understand way. Using Zutrix is very simple: add the keyword you want to learn more about, the language or country, and that's it! It will present the information you would expect from any keyword tool, such as suggested keywords, volume, cost per click (CPC), paid difficulty (PD), and SEO difficulty (SD).
However, the best SEO keyword research tool is that it shows you other practical ideas just a click away. You can easily access related keywords, Google's queries using that keyword, prepositions, or even comparisons. To drill down even further, click on one of the keyword suggestions to open an overview of the term that shows Google SERP statistics, visits, links, domain score, and social media shares.
Zutrix is one of the few paid tools on our list; we recommend checking out this choice if you wish to optimize your SEO content marketing strategies.
Features:
Zutrix displays a dashboard with the latest query trends for your keyword of interest.
It presents you with crucial metrics for your SEO strategy, such as volume, CPCs, and Competition per month.
It offers a list of Geo-targeted keywords suggestions by location.
Free Trial: It is one of the paid keyword research tools in this article, but you can seven days for $7.
Keywords: N/A
Strengthen your marketing strategies!
---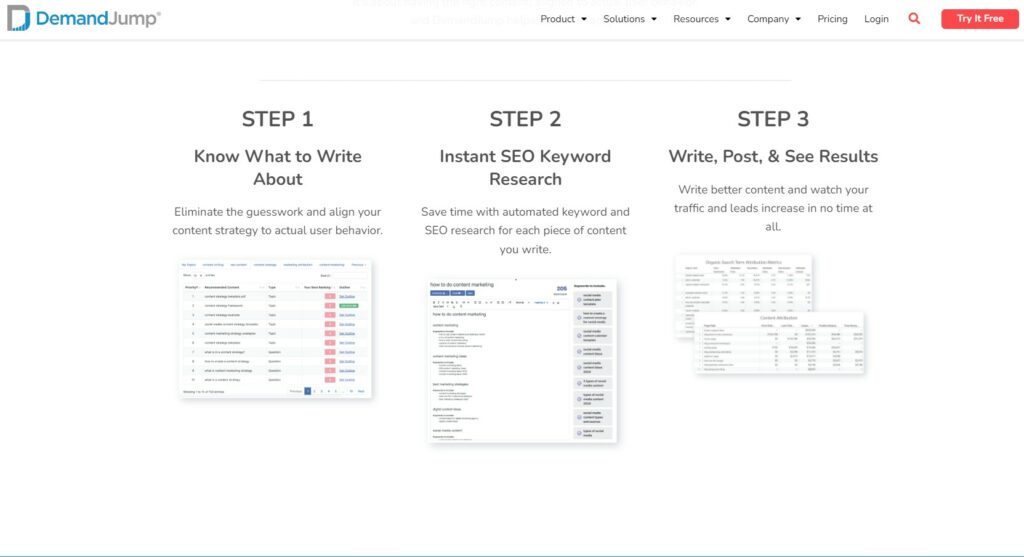 Demand Jump is a keyword suggestion tool based on a search across the entire web. It provides commonly searched terms based on what a user searches for on the major search engines to help you understand online user trends and behaviors.
We highly recommend it for those who want tools for keyword research that allow them to make the giant leap online automatically. In addition, it is a handy tool for those starting in the online world as it gives you a good idea of how people are searching for the keyword you are trying to rank for and how you might rework the initial phrase to optimize it.
Demand Jump is an SEO tool outside of the leading search function that allows you to save the suggested results and even export the suggestions into a. CSV file for use on other platforms. Demand Jump is a free tool that is ideal for those who want to autocomplete search from multiple sources and get keyword inspiration.
Features:
It runs an instant SEO keyword search for each section of your content or website.
Demand Jump helps you understand consumer behavior.
It sorts variations of terms and questions that include keywords.
DemandJump delivers results based on volume, traffic, and competition to structure your web content.
Free Trial: available 
Keywords: N/A
Bet not on more content but higher quality!
---
Final Thoughts
After knowing some of the splendid tools for selecting keywords that you will use to complete the SEO meta tags or write the contents of your website focused on organic positioning, you should know which keywords best fit your project. Of course, the ideal would be to bet on keywords with a high volume of searches per month. But you must be aware of the competition that also uses this type of keyword, focusing on much more realistic objectives.
Keep in mind that you can select more specific or generic keywords. Then, depending on the authority and relevance of your website, you can develop a strategy with more or less generic terms.
When looking for help with implementing keywords in your domain or SEO strategy, you have to choose one of the 25 tools we have selected for you and get the boost in digital marketing that your website needs. Each of them has incredible advantages that can give you the fundamental basis to build your action strategies and get the interest of your audience. You will know what keywords you should work on the web structure and content to improve your SEO positioning and increase organic traffic with them. They also provide different options such as SEO audit, Rank Tracking, link building, and structured data implementation with which you can achieve greater authority in search engines.
So much for our review of the best keyword research tools. If you still have any concerns about how to search for keywords or if you have used an option not mentioned in the article that you find interesting, feel free to comment.
Keep updated; we have more tools for you!