CRM software for project management is a program that allows you to control the activity in time. You can easily plan the work you will have to do on a project by mentioning it in your schedule. With this shared schedule, your employees will know what they are working on.
There are hundreds of customer relationship management software options on the market. So how to choose the right product? Which CRM features are priorities? Which functionalities to pay attention to?
What Is Customer Relationship Management (CRM) And Project Management Tool?
A CRM is generally considered a helpful tool for managing contacts, relationships, documents, and communication (e.g., sending emails).
Project management software, on the other hand, allows you to plan, organize and manage a project's life cycle to ensure its success. Both CRM and project management software typically have different CRM objectives. And yet, they don't live without each other.
Professional services organizations experience common challenges such as resource management, profit margins, cash flow management, project management solution, and increased competition. Challenges to which a project management CRM has a lot to contribute.
What Are Project Management CRM Features?
This type of CRM project management software unifies customer information into a single repository so users can better organize and manage relationships and automate standard processes while offering more advanced tools to monitor performance and productivity.
Any reputable CRM solution should offer these features:
1. Contact management – Store contact information such as name, address, and social media accounts in a searchable database.
2. Interaction tracking – Incorporates notes and tracks interaction history to document conversations with specific contacts.
3. Lead management – Manages to convert prospects into leads by identifying, scoring, and moving leads through the sales funnel.
4. Email integration – Integration with email servers, such as Gmail, Outlook, Yahoo, etc., allows for managing and segmenting contact lists and provides a centralized space for internal collaboration.
5. Document management – Collect, upload, store and share documents in a centralized space that facilitates all team members working with them access to information.
Why Do Companies Use CRM Systems?
CRM software offers three crucial project management features for the company:
1. Easy access to customer and project data
Customer relationship management systems often incorporate searchable databases that users can access to find information about potential customers during meetings.
2. Automation for streamlined processes
CRM software allows users to standardize workflows and processes associated with sales, marketing, and customer support to increase coordination between these teams.
3. Practical feedback can be applied to business performance and customer behavior
Some CRM software vendors provide analytical capabilities, allowing users to create customizable dashboards and reports based on customer data. These reports help segment customers, track revenue, and manage personalized campaigns.
These Are 10 best CRM Systems With Built-In Project Management Functionality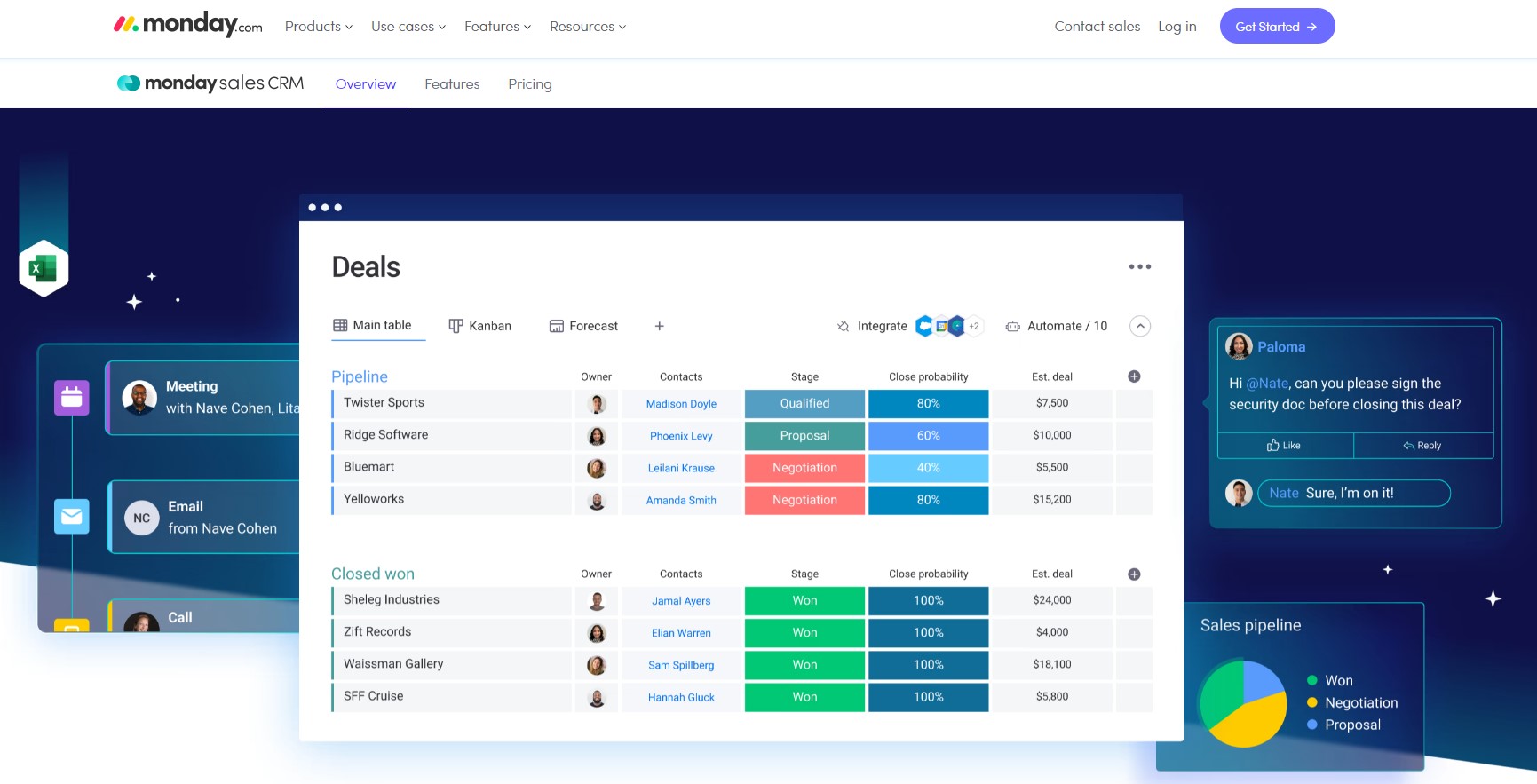 Monday offers CRM solutions for sales management. Its easy-to-use and intuitive platform ensure no leads are lost, time is saved when dealing with existing and potential customers, and all sales team members are in sync. It also helps companies track and control the entire sales funnel, from leads to customer retention. It helps you close deals faster and increases the lifecycle of existing customers.
Features
Fast setup and adoption.
Increases team efficiency and productivity
One place to manage all aspects of the sales process
Real-time tracking and reporting
Keeps everyone aligned and on the same page
Pricing
From $8 per month per user
Has a free version for up to two users
Free 14-day trial
30-day pro-rata money-back guarantee.
Don't wait any longer to use Monday!
---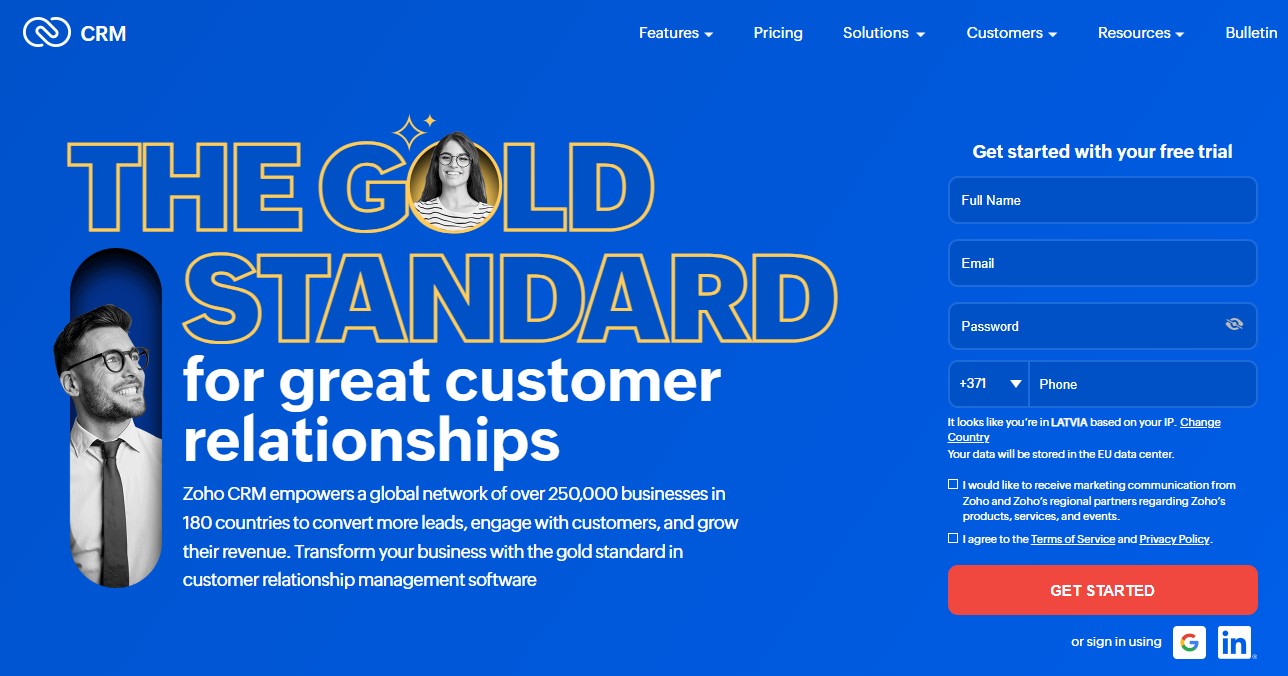 Zoho CRM is a customer relationship management software designed for all companies, regardless of their industry. The platform combines all CRM data, information, and functionality in a single interface to simplify your and your employees' work. You can also improve customer engagement across all possible communication channels, including email, phone, live chat, and social media.
Features
Facilitates collaboration between your teams.
Record the content of sales meetings.
Automate recurring sales processes with Blueprint.
Use the mobile app to sell on the go.
Integrate with your internal and external applications.
Pricing
From $12 per month per user.
Free version for up to three users.
15-day free trial
45-day money-back guarantee.
Already signed up for Zoho?
---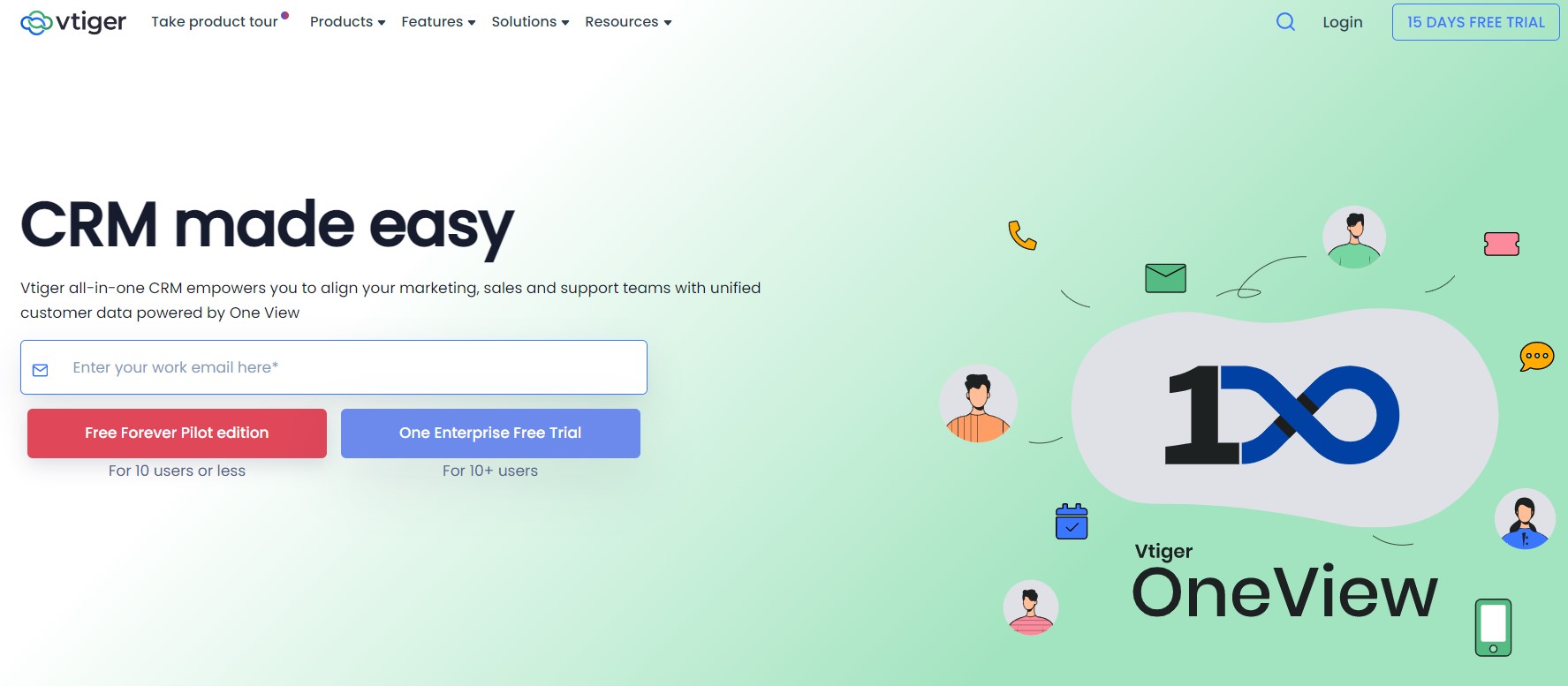 It is an open-source CRM tool created in Bangalore and inspired by other similar programs.
This CRM and project management app can be installed for free on your company's servers; you can also subscribe to a monthly plan with which you will not have to worry about hosting, maintenance, or the security and processing of your data.
Vtiger is composed of specialized "activatable" modules for the program administrator, who can customize the views, fields, and sales phases and manage the system's users. Vtiger CRM adapts to the needs of the business.
Features
Automation of commercial actions.
Customer service.
Automation of marketing actions.
Inventory management.
Workflow automation.
Opportunity management and sales flow.
Reports and dashboards.
Pricing
From $20 per month per user.
Free version for up to ten users.
Free trial for 15 days.
10-day money-back guarantee.
Sign up for Vtiger CRM now!
---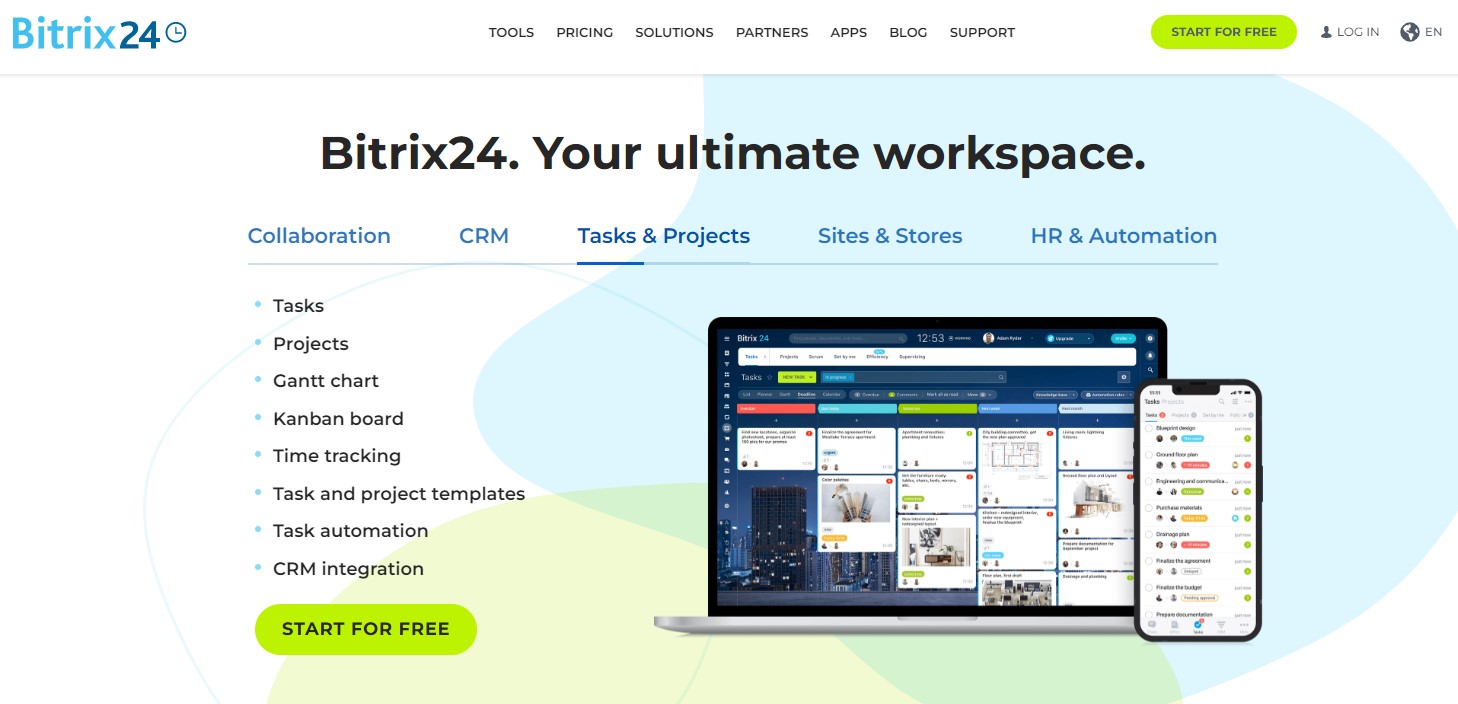 It is a CRM and project management program that will allow you to keep all the information in one place and your team's communication centralized. In addition, Bitrix24 helps you organize your work and plan tasks and activities to accomplish them in less time.
The online version activates in 30 seconds and already has access to your projects, task list, CRM, file sharing, and more. Of course, if you want to install Bitrix24 on your server or need access to the source code, you can do that too. The cloud version of Bitrix24 has no limits, apart from 12 users at no charge and 5 GB of online storage.
Features
Integration with a large number of applications.
Time management and Gantt charts.
Contact center and online tasks.
Centralizes communication.
Web page builder.
Certifications: GDPR.
Online stores.
Pricing
From $39 per month for five users.
Free version for unlimited users.
Free 30-day trial.
No money-back guarantee.
Are you not using Bitrix24 yet?
---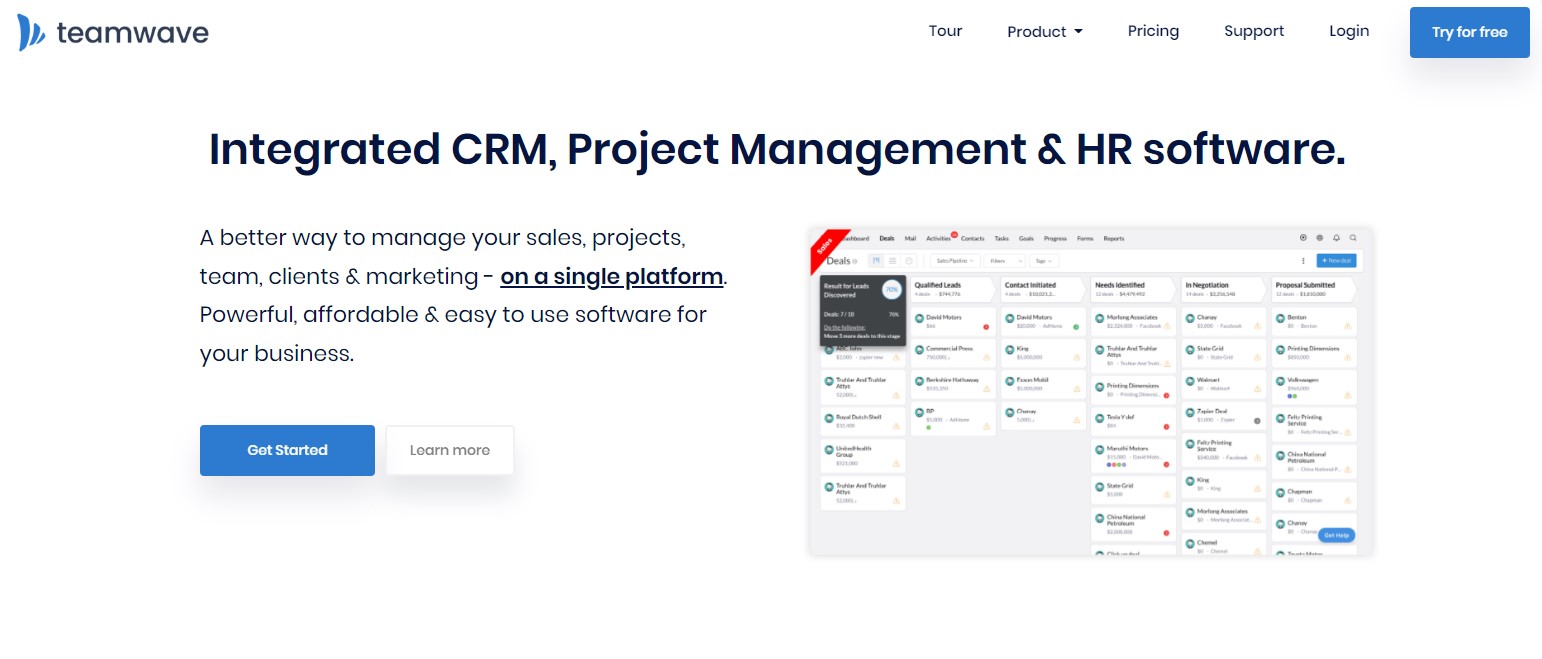 TeamWave is a fully integrated, cloud-based suite of enterprise applications designed to help small and medium-sized businesses manage customer relationships (CRM), projects, and human resources (HRMS). The unified platform enables teams to make sales, deliver projects and support their customers collaboratively.
TeamWave's CRM provides users with complete visibility into their sales pipeline and all deals at different stages, with the ability to sort and filter by the close date
Features:
Groups everything into categories with tags.
Users can access an overview of all activities.
Bulletin board allows users to post and share content.
Automatically sends users email notifications and message alerts.
Mobile CRM solution for iOS provides users access to their contacts and task lists.
Pricing:
Starts at $39 per month for unlimited users.
Does not have a free version.
Free 14-day trial.
They offer a money-back guarantee pro-rata to the date of cancellation.
Don't miss the opportunity to use Teamwave!
---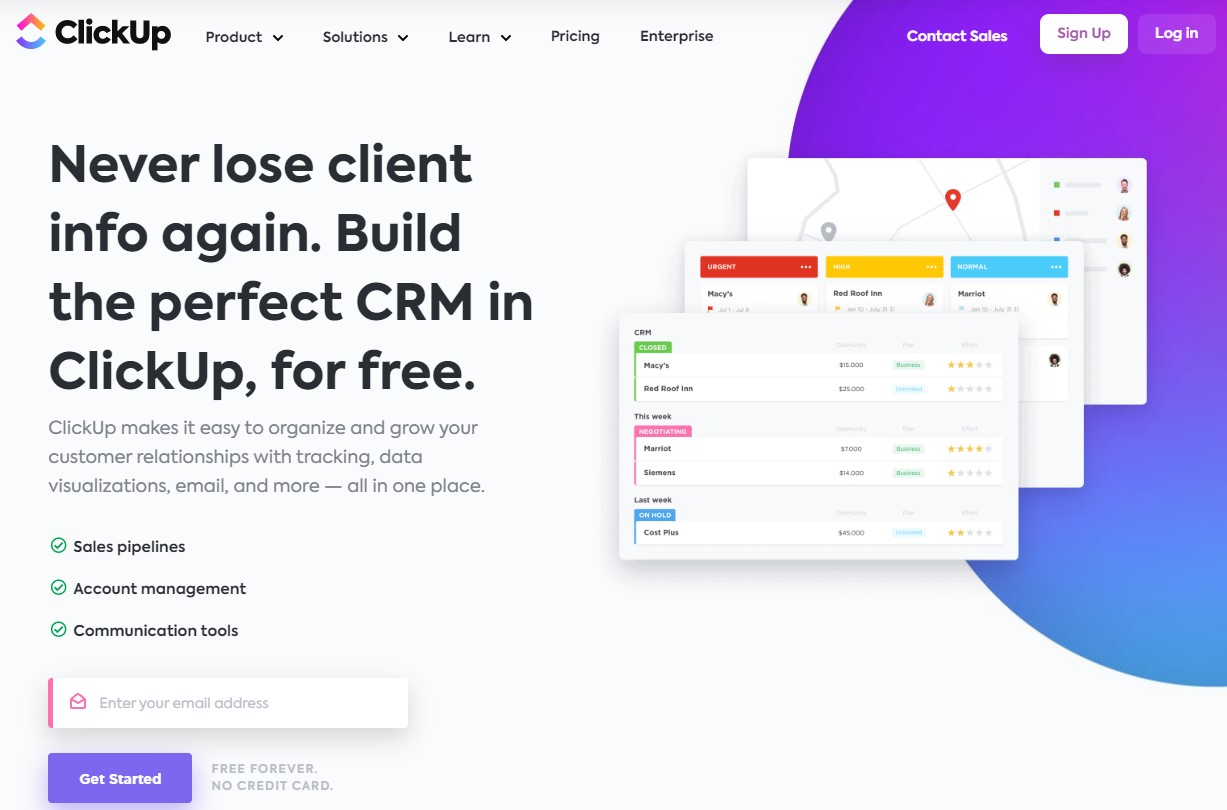 ClickUp is a CRM and project management software that combines several applications' features, so you don't need to have several tools to do the same job.
More than just task management, ClickUp offers documents, reminders, goals, calendars, schedule planning, and even an inbox. Fully customizable, ClickUp works for all team types, so all teams can use the same app to plan, organize and collaborate.
Features:
Simple and complex task creation with reminders.
Create documents, spreadsheets, and knowledge bases to share with your employees.
Chat module allows you to communicate quickly and effectively with all team members.
Planning tasks and activities through calendars, timelines, and Gantt charts.
Possibility to choose the most relevant view to visualize the different tasks performed during a defined time.
Color and status coding to classify tasks faster and gain efficiency.
Pricing:
From $5 per month per user.
It has a free version for one user.
Free 30-day trial.
They offer a 30-day money-back guarantee.
Have you tried ClickUp yet?
---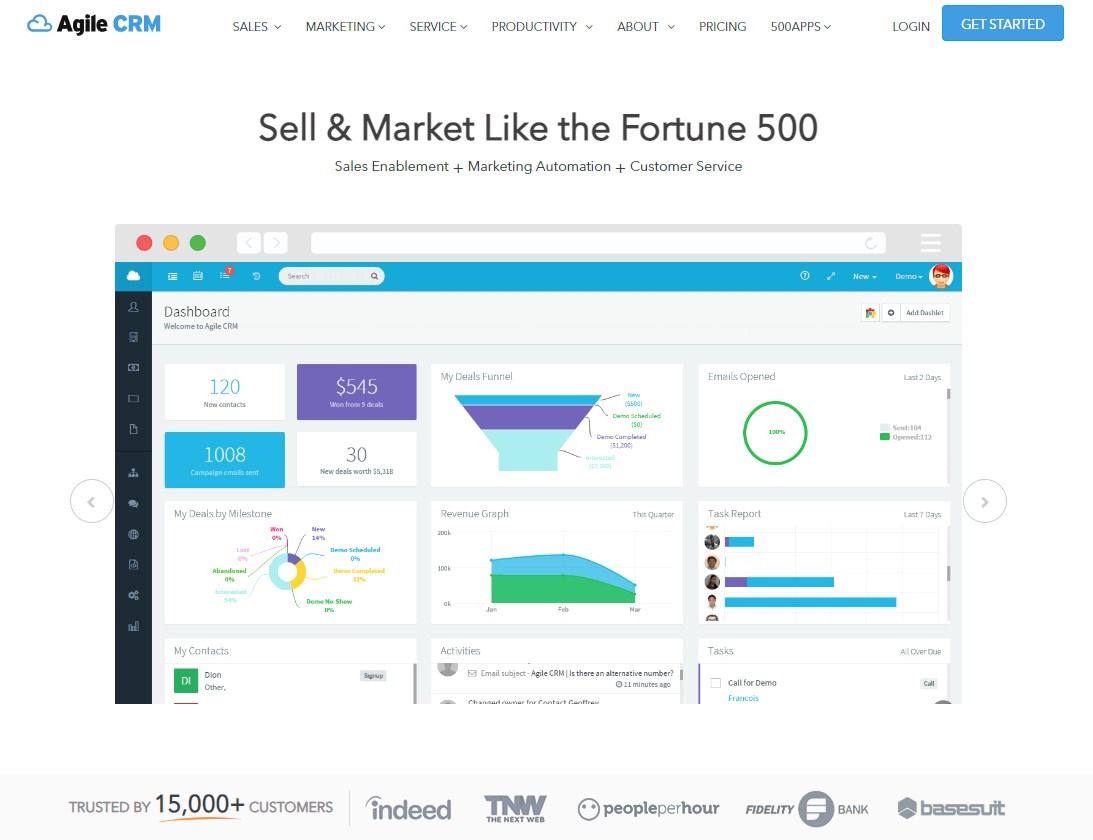 Agile CRM is a CRM and project management software designed to improve customer relationship management. Agile is one of the tools inscribed within the agile methodologies due to its simple, intuitive, and modern interface.
AgileCRM is a CRM and project management software that is ideal for small and medium-sized companies (SMEs) in the marketing and sales sector, which have stable business relationships with their customers and potential customers. Also, for those companies engaged in project management solutions.
Features:
Sales tracking
Contact management
Database creation
Marketing automation
Web analytics
Email, telephony, and helpdesk messaging.
Pricing:
Starting at $8.99 per month per user.
Has a free version for ten users.
They do not offer a free trial.
They do not offer a money-back guarantee.
Join AgileCRM!
---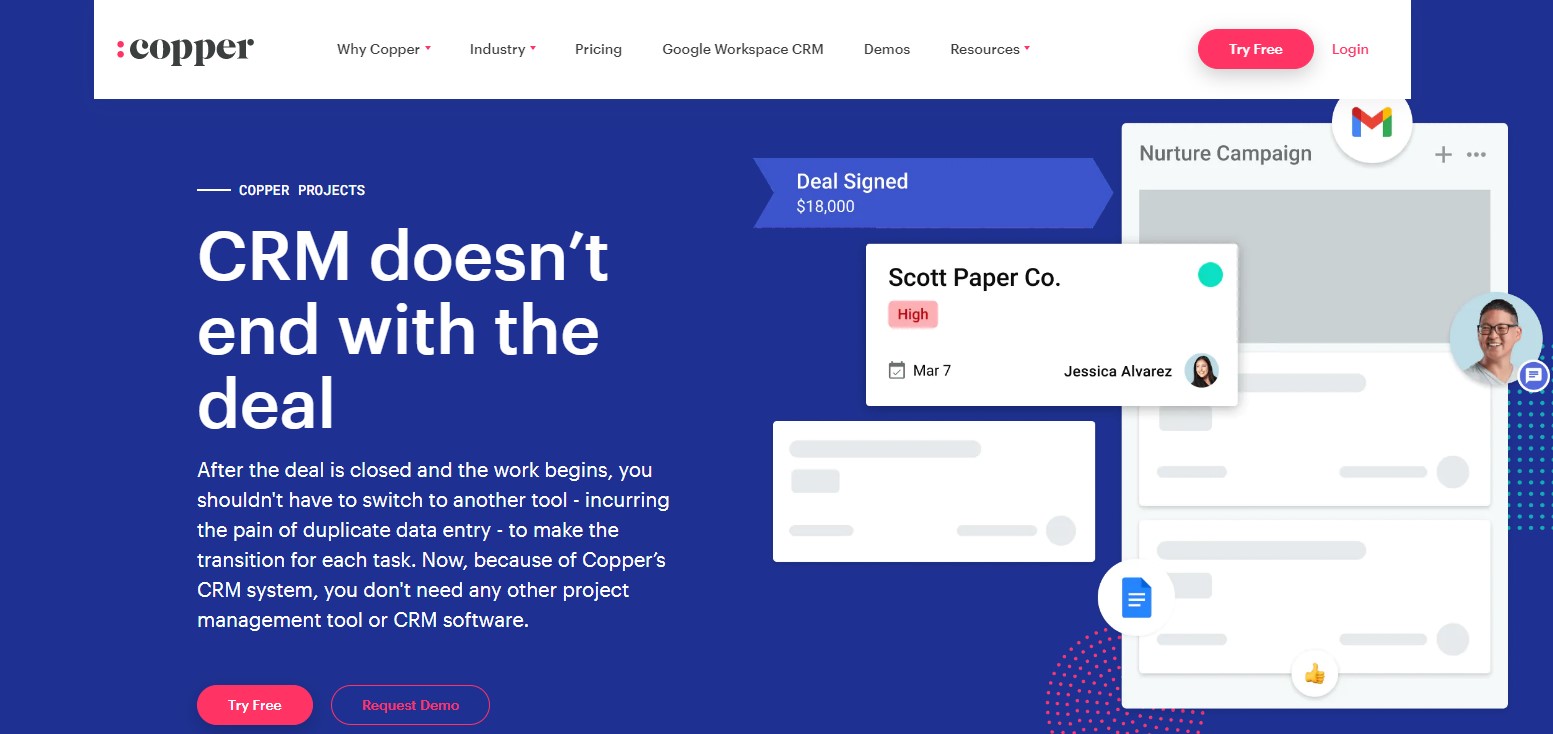 Copper is a CRM software that facilitates communication and work between companies and their customers. Thanks to a modern, fast and straightforward interface, with Copper, you ensure that your business grows in the right way, building lifelong customer loyalty.
Features:
Superior integration with Google Workspace, allowing you to work from your inbox.
Lead management.
Contact centralization, accessible from email.
Personalized email templates.
Automatic reminders.
Task and project management, once sales are completed.
Pricing:
From $25 per month per user.
They do not offer a free version.
Free trial for 14 days.
No money-back guarantee.
Be sure to try Copper!
---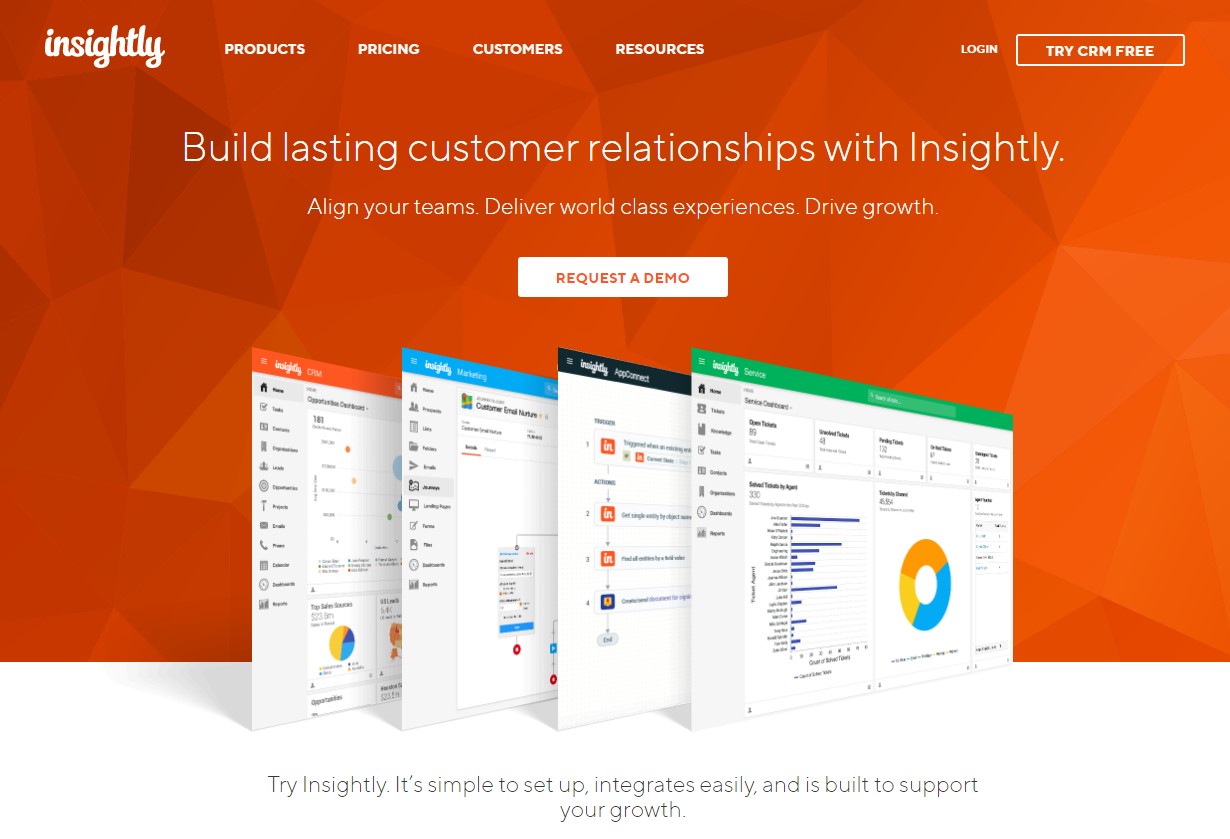 Insightly is a CRM and project management tool designed to meet the needs of small businesses (SMBs and freelancers). This solution facilitates, for example, the centralization of your contacts in a single tool so you can access them from any device. This tool integrates all Google Apps applications (Gmail, Calendar, Contacts, Drive) and is extraordinarily useful for improving internal organization and managing your external relationships.
Features:
Automation of sales processes.
Opportunity management.
Conversations and publications.
Personalization of the application.
Security and confidentiality.
Pricing:
From $29 per month per user.
Free version for up to two users.
Free trial for 14 days.
No money-back guarantee.
Try Insughtly now!
---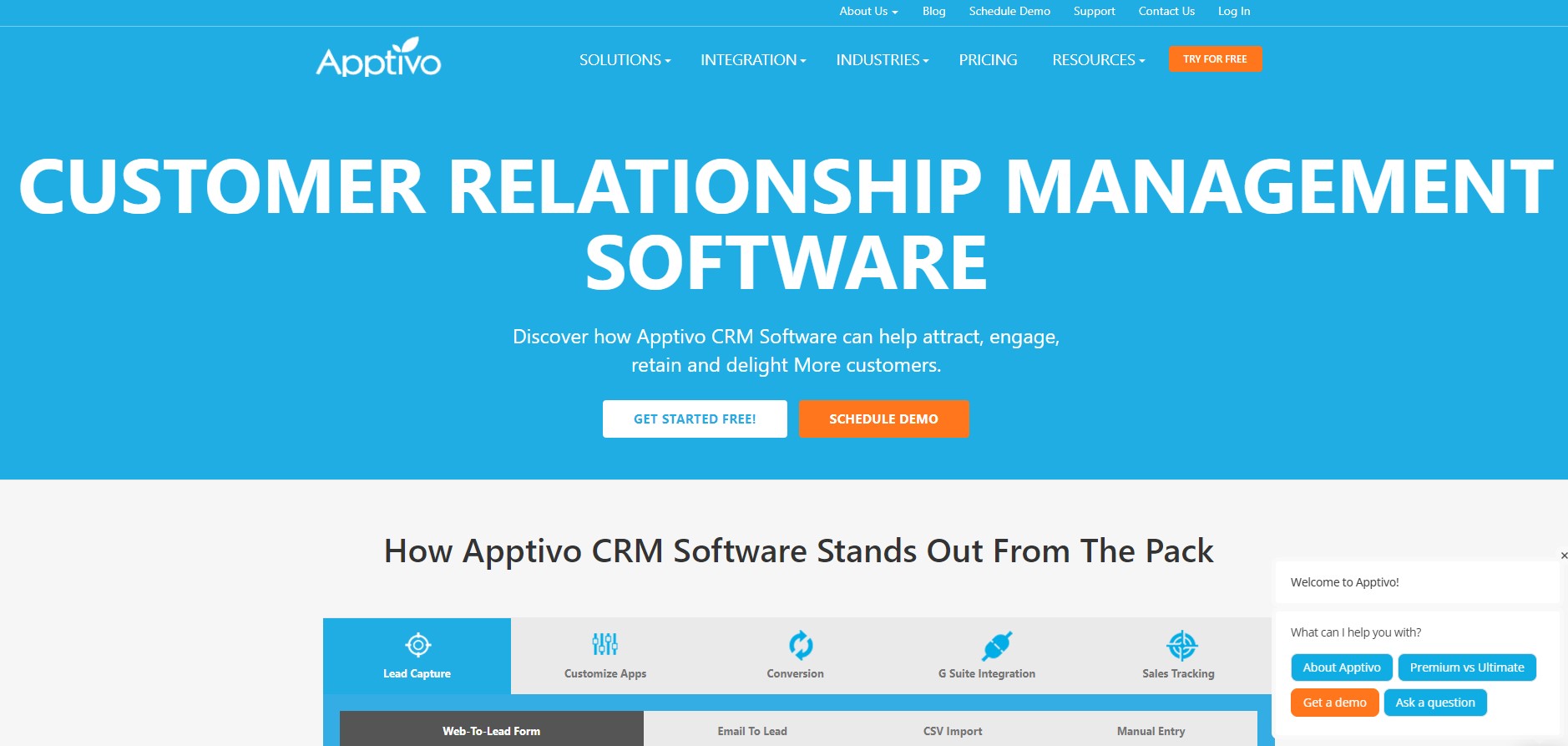 Apptivo is a powerful marketing and sales tool with various features such as lead management, opportunity pipeline with intuitive dashboards, campaign management, and flexible workflow tools, including marketing automation. It is fully accessible from your Android or iOS device and is integrated with Office 365 and G Suite.
Features:
All data is secure for everyday use.
Account management.
Opportunity management.
Performs maintenance and updates,
Ensures constant access to the latest versions,
Can be easily adapted for use by any company.
Pricing:
From $8 per month per user.
Free version.
Free trial for 30 days.
No money-back guarantee.
Start testing Apptivo!
---
Conclusion
Project management software and CRM (customer relationship management) involve tracking all aspects of a business, from planning, assigning, tracking, and task management to invoicing and many other activities.
The success of any website or business depends heavily on the structures in place to ensure smooth operations. All these activities need a proper system, from planning and task allocation to deadlines and team management.
Most of the described CRM project management tools have free previews, so you can test their functionalities before purchasing them.
What is your favorite CRM tool for project management?
Frequently Asked Questions
What is a CRM, and how does it work?
CRM stores information about current and potential customers, such as names, addresses, phone numbers, etc.
What are the different types of CRM?
The most common classification differentiates between operational, analytical, and collaborative CRM.
Why is CRM more than simply an IT project?
CRM platforms are on the list of the most essential and innovative corporate technologies available to companies. Why? Because of how these project managers use customer information to manage accounts, leads, and sales opportunities in a single location.
Is CRM and project management the same?
No. Project management systems are the best solution to ensure the synchronization of teams, projects, and tasks. And a CRM helps to manage customer contacts and invoices.
Can you use CRM as a project management tool?
Yes. A CRM project management solution helps with budgeting, task management, and the ability to attach key documents to a project. They also offer a variety of different ways to manage projects.