Want to create a better customer experience and manage like a pro your sales pipeline? Today we tell you everything you need to know about the best software for CRM (customer relationship management). Why using CRM tools can be the key to facilitating the day-to-day management and monitoring of your internal business processes data and information to establish a true collaboration between marketing and sales teams to optimize the relationship with your customers over the long term.
Find out the 29 best CRM software (CRM solutions) in 2023 that can help you make a difference in the market today.
Let's do it!
What is CRM software?
A CRM software is a Customer Relationship Management software that allows you to gather and centralize all the information generated from the company's various sources and channels in one place, such as emails, calls, messaging, chats, meetings, and other customer data. CRM systems offer workflow automation simplifying internal business processes, such as management of invoices, budgets, sales team support, contact management, and follow-up. In addition, CRM solutions aim to optimize the attention that businesses provide to their customers to increase satisfaction and conversion rate.
What is CRM software used for?
If you are considering why you should use a CRM software within your company, here are some of its most important advantages:
It improves lead management by continuously tracking your prospects' interactions through emails, chats, calls, and social media to address their concerns and needs better.
It creates a unique communication platform that allows you to connect all sales reps. They can access all customer information (name, age, email, address, sales number, score) from any device and thus strengthen customer service and contact management.
CRM systems give you the ability to develop email marketing campaigns quickly and easily with email templates, contact segmentation, personalized responses, and more to pique the interest of your audience.
It allows you to optimize your sales pipeline to make it easier and more dynamic for your customers with closer and more personalized follow-up methods that enable you to meet their needs effectively.
CRM solution helps you measure your marketing and sales reps team's performance to achieve your commercial objectives, including the number of closed sales, number of prospects captured, conversion rate, and unsuccessful sales. In addition, it shows you the weak points of the sales team process and suggests possible solutions.
It allows you to create more efficient internal processes through marketing and sales teams' workflow automation to enable an optimal collaboration to reduce the effort, resources, and time invested in closing better deals.
These are the Best CRM Software in 2023
There are many CRM system options available on the market to help sales teams to manage sales lifecycle; as we always say, choosing one or another will depend on your company's needs. To help you with this decision, today, we present the 29 best CRM software lists.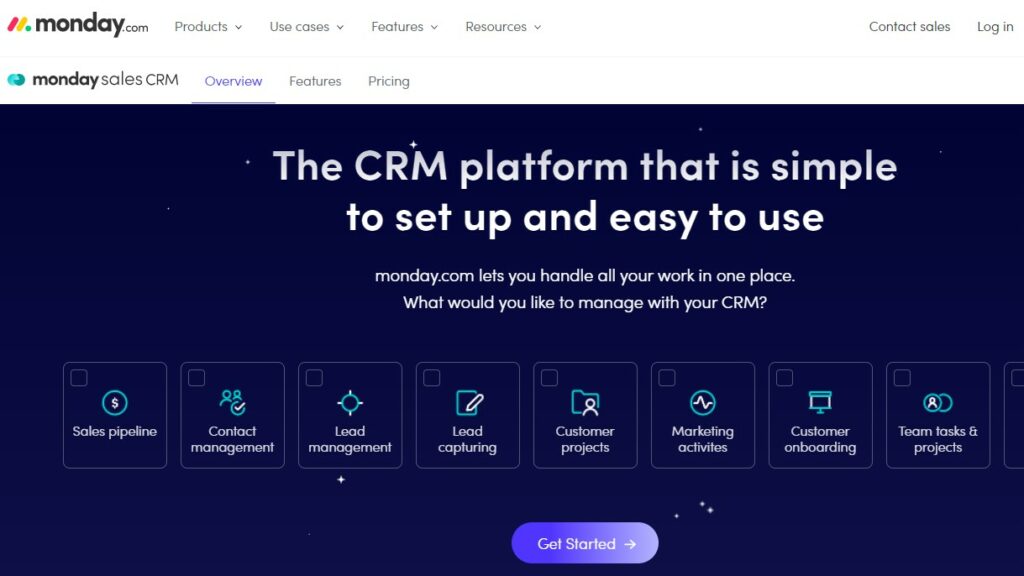 This is the integrated customer relationship management solution that the Monday platform offers its users.
Features:
This CRM tool gives you a full visualization of sales flow and leads.
You have a complete centralization of contacts, documents, and tasks in one place.
Desktop, mobile, and offline solutions allow you to optimize every interaction, offer, and activity.
Thanks to visual dashboards, there is greater clarity in the metrics that matter to the company.
Creates contact cards with all vital information regarding activities, documents, and offers.
Users: 152K.
Free trial: Free plan version.
Improve communication with your customers!
---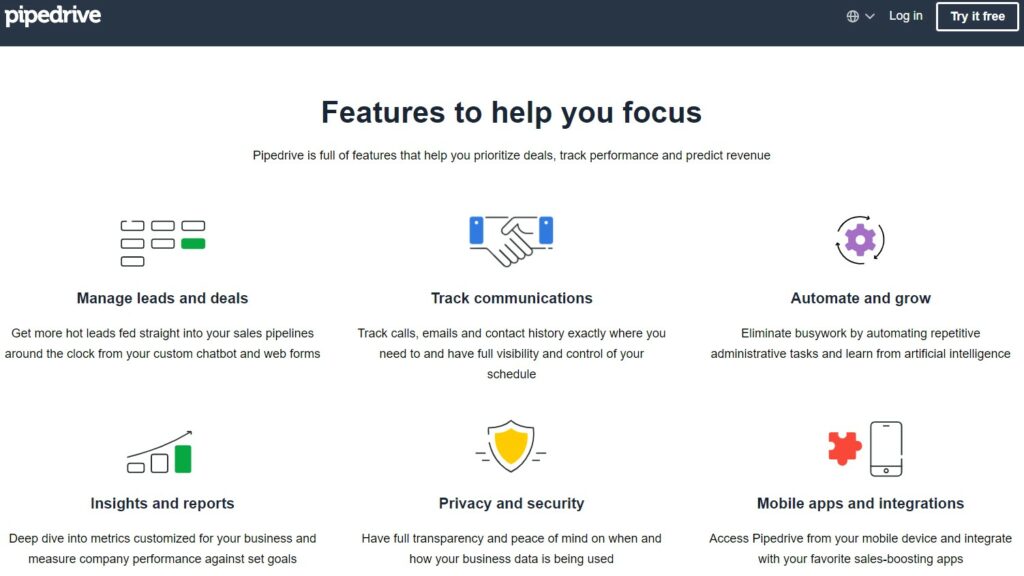 With a schedule/complete/track approach, Pipedrive is not only popular CRM software but one of the best software for CRM that helps raise the productivity of every department with workflow automation.
Features:
Ease of use: its drag-and-drop feature makes it easy to document the business you're closing.
High prioritization of tasks: scheduling calls, emails, and appointments to focus on making sales.
Pipedrive is one of the CRM tools synchronizing with Google and Microsoft business tools.
Centralizes all sales team information in a single place: notes, files, contact data, meetings, etc.
Value business performance analysis: opportunities for improvement and target projection through the reporting module.
Users: 100K.
Free trial: 14 days
Enhance interaction with your sales reps team!
---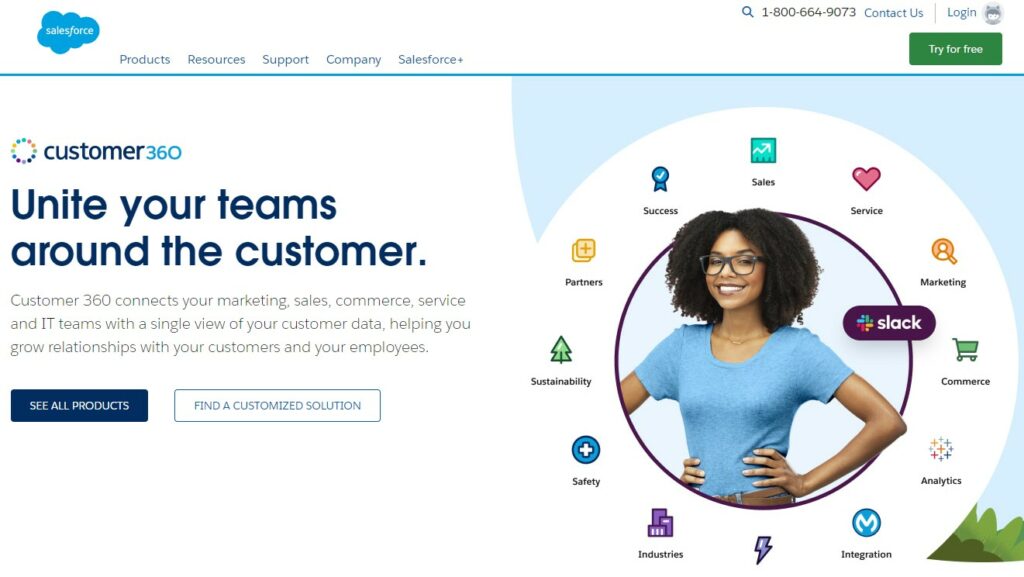 This CRM software, used by many sales professionals, stands out for its visualization dashboards to suit different kinds of companies regardless of their industry.
Features:
Creates a unified communication channel: all team members will be able to access corporate data from any device.
CRM tool has the option of customized reports on relevant events of the sales process for a total follow-up of each task, account, or contact.
Other tools such as Jigsaw make it even more attractive, mainly if you are oriented to sales processes for B2B companies.
Users: 150K.
Free trial: 30 days.
Get a 360º view of your customers and improve your customer satisfaction!
---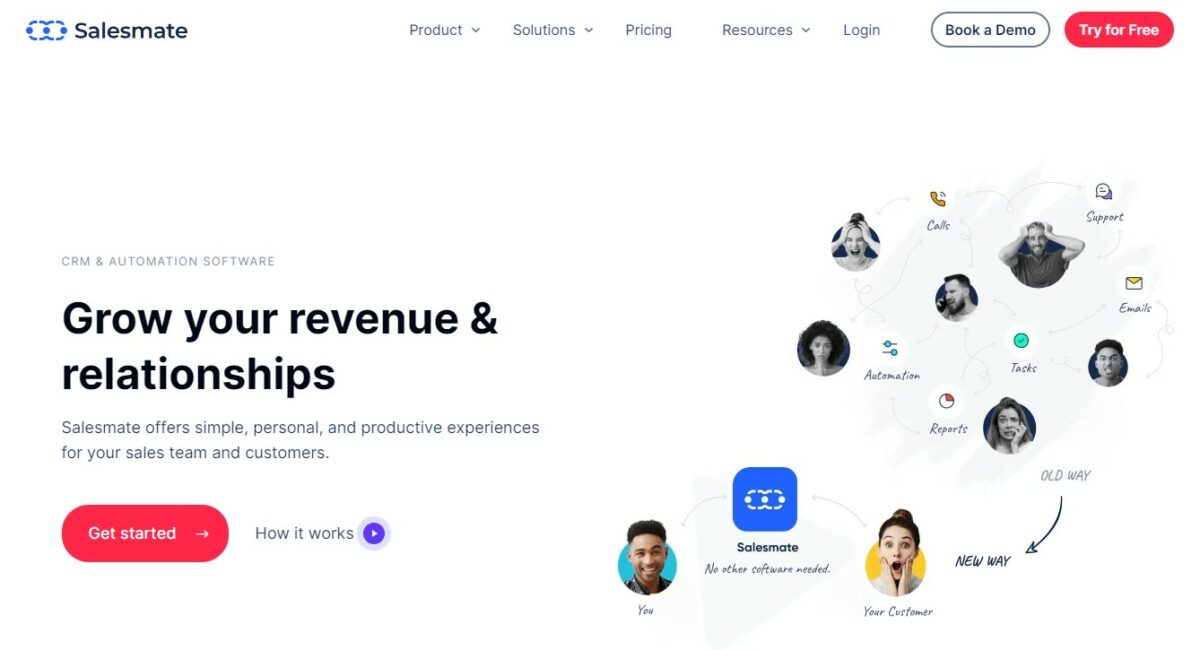 It is a business tool specially designed to simplify and customize customer relationship management to make it much more productive. It is also compatible with more than 700 applications.
Features:
Facilitates lead management through email marketing campaigns and text messages to pique the interest of more consumers.
It enables automation of sales processes for more outstanding tracking and control of leads, business, interactions, sales, etc.
It provides an in-depth view of each team's performance with task reports, comparative dashboards, sales forecasting, and goal achievement.
Users: 4K.
Free trial: 15 days.
Get the most out of your interactions!
---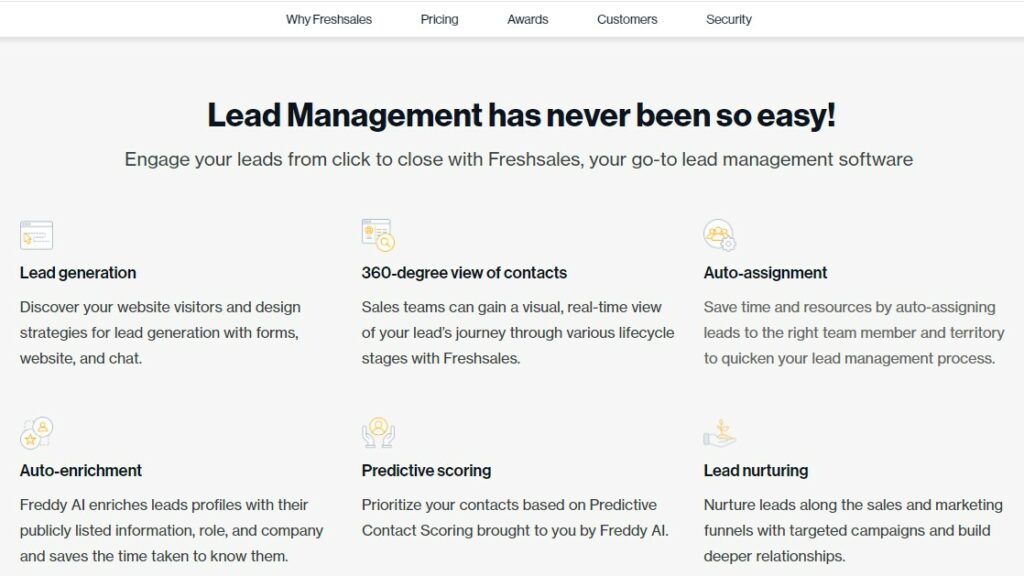 This CRM software is an innovative option on this list as it incorporates Freddy, an AI technology, to workflow automation that allows you to achieve your goals at a lower cost and time.
Features:
It allows you to discover the best leads, encourage engagement, close sales deals, and offer customers an intelligent and complete solution.
It has two different modules, Sales Cloud and Marketing Cloud, whose functions are focused on attracting customers, capturing leads, and finally closing the sale.
It offers a panoramic view of activities in real-time and scores customers to predict sales.
Users: 50K.
Free trial: 21 days.
A thoughtful way to attract customers!
---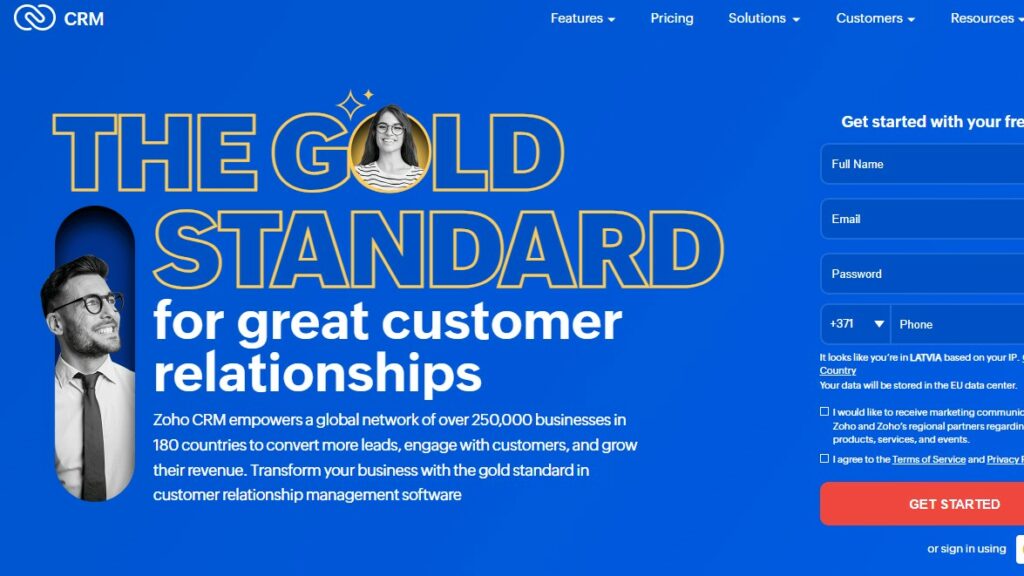 Zoho CRM system is a cloud-based CRM platform for customer relationship management with extensive omnichannel support: phone, email, live chat, social media, and meetings.
Features:
Zoho CRM Offers automation of sales functions and lead scoring.
Tracks website visitors to convert more leads.
It is one of the CRM tools that apply AI to data management: retrieve the information you want, take notes, predict the future of a sale and detect anomalies.
Integrates Google Ads to compare ad spend with sales revenue.
Users: 250K.
Free trial: Free plan version.
Create lasting relationships with your customers and improve your customer relationships!
---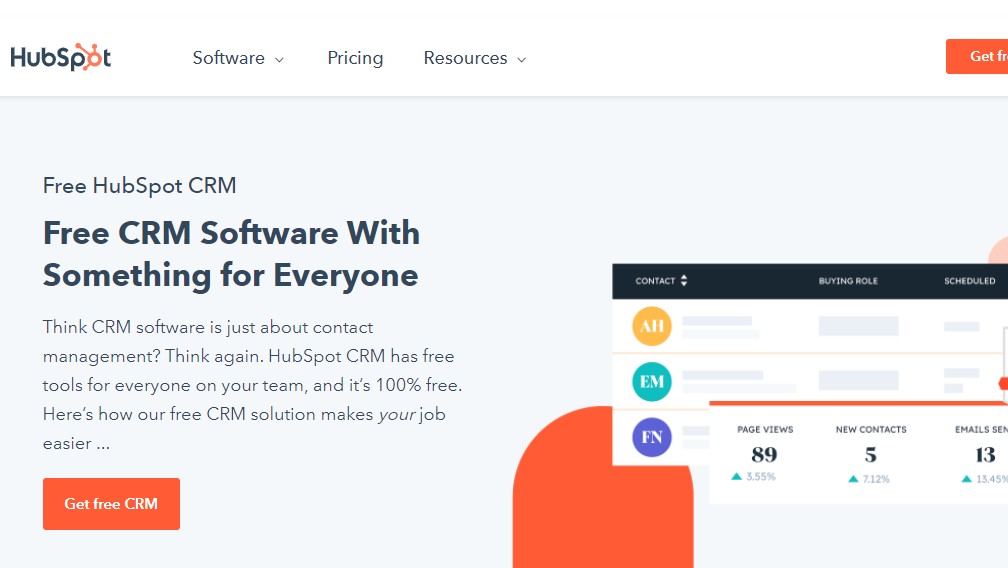 HubSpot CRM is one of the best software for CRM that allows you to make customer service more meaningful and proactive.
Features:
Creates tickets to track and manage customer issues and put a deadline on your team's activities.
This CRM system enables you to collect customer data and feedback to provide a better service and manage the sales pipeline.
Automates and route processes to ensure your sales and marketing campaigns are running at the right place.
Provides more engaging conversations with your customers and offers self-service opportunities through conversational bots.
Users: 135K.
Free trial: Free plan version.
Enrich your customer service!
---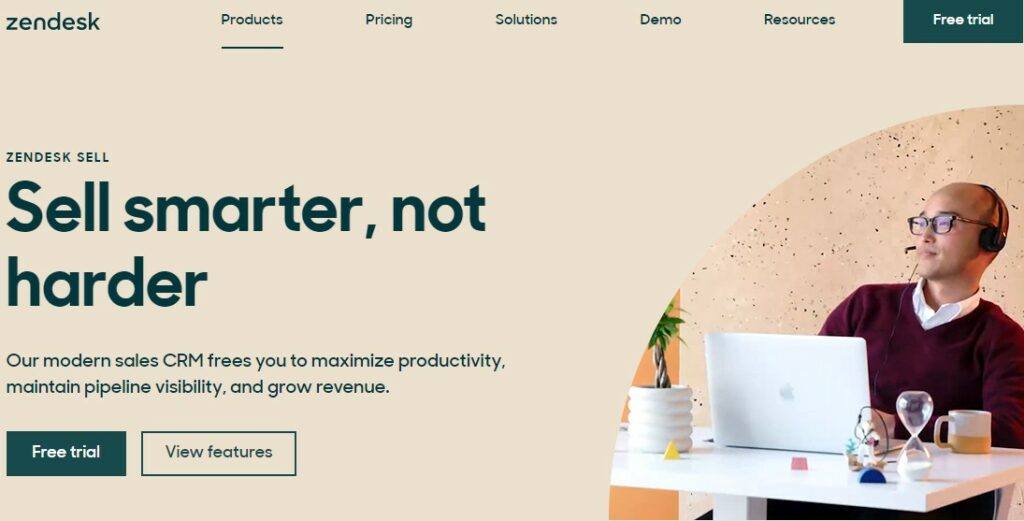 Zendesk is one of the best software for CRM as it is geared towards improving productivity, processes, and pipeline visibility for sales teams.
Features:
Creates a single channel for complete visibility into the progress of each team's activities to predict the effectiveness of sales strategies.
Configure triggers to automate email campaigns and responses to customers.
Zendesk allows you to identify bottlenecks in the sales process quickly.
It provides a report with all previous customer interactions with the company for personalized and assertive communication.
Users: 160K.
Free trial: Available.
Discover how to sell more and better and manage potential customers!
---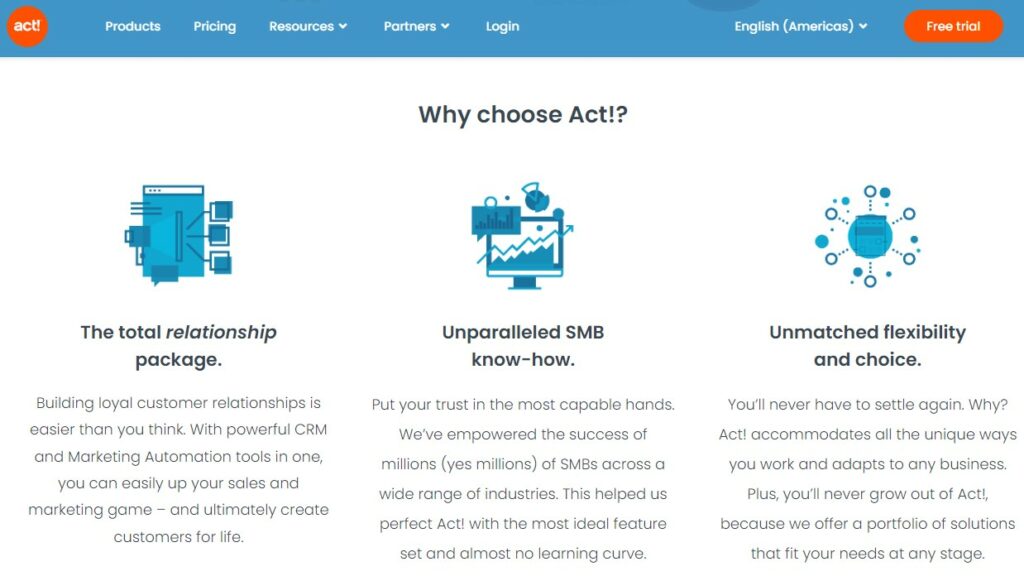 It is a business tool that automates customer relationship management to close bigger deals and simplify customers' lives.
Features:
Offers a unified communication platform including emails, and document notes that are easy to locate.
Allows you to create personalized email marketing campaigns to generate qualified leads by investing time in the most profitable deals.
Promotes dynamic work through simple work cycles to increase prospect and customer engagement.
It evaluates pipeline performance and ranks sales activities according to relevance.
Users: N/A.
Free trial: 14 days.
Sell without struggling for it!
---
One of the best CRM software to boost your sales performance and lead management for small and large B2B focused businesses.
Features:
Provides workflow automation as it eliminates manual customer data entry and automatically collects information from email, social media profiles, and more.
Improves communication with customers as it has an extensive database that finds the email address of a person or business in just seconds.
Creates a better automatic follow-up mechanism for customers and prospects, highlighting relevant information to speed up responses.
It has excellent adaptability, connecting to ERP or other internal systems.
Users: N/A.
Free Trial: Available.
Achieve proper customer focus!
---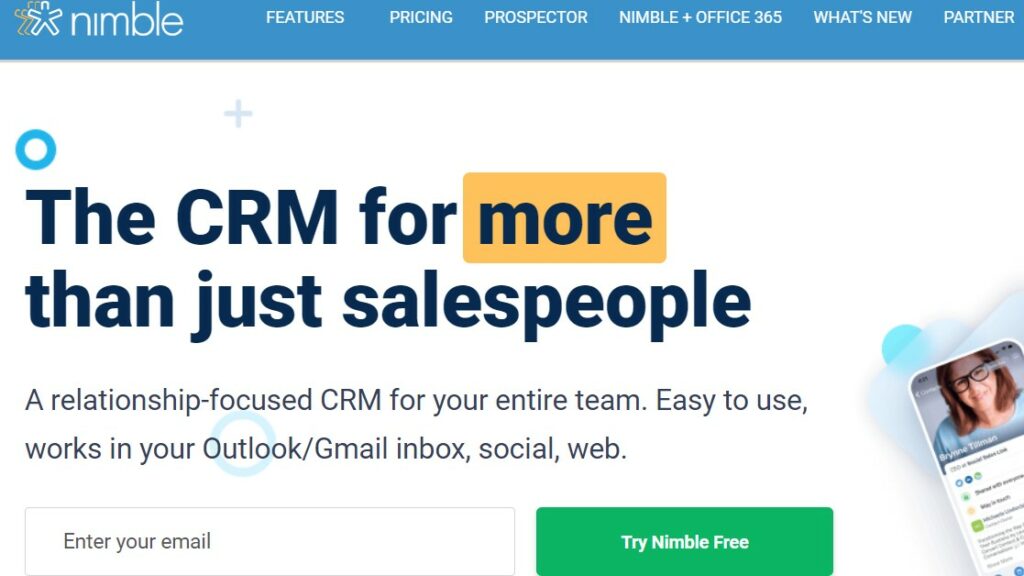 Nimble presents one of the best business tools to enhance customer relationship management, being easy to use and integrate into any organization.
Features:
Creates a unified channel that combines Outlook, Gmail, social media, and automatic appointment scheduling connections.
It establishes a dashboard with all contact information, notes, status, and conversation history.
Creates segmented lists of contacts to run marketing campaigns and do customer follow-up, indicating whether the email has been opened or not.
Nimble works with more than 160 existing work applications on the market.
Users: 140K.
Free trial: Available.
Invest in lasting relationships!
---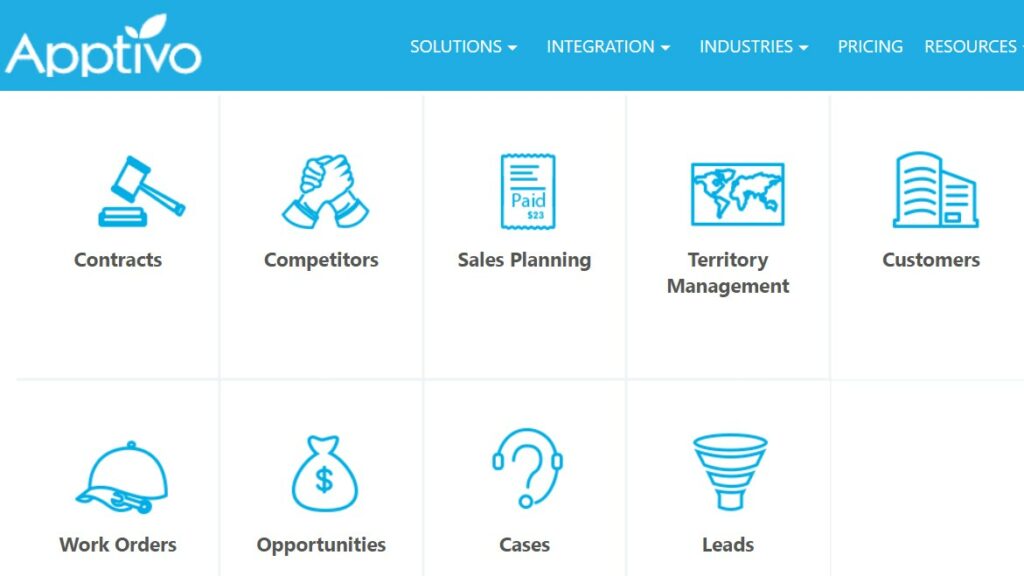 Apptivo is a business tool to attract more customers and streamline sales. Its innovative design makes it one of the best CRM software.
Features:
Its all-in-one application boosts organizational productivity and customer relationships, integrating with Slack, Office 365, and G Suite.
It has a simple system to store new contacts, add reminders or files and manage communications.
Manage customer data, sales tracking, team member activities, number of sales, and invoice generation to speed up payments.
Users: 200K.
Free trial: 30 days.
Earn customer loyalty and build customer relationships!
---
It creates a unified platform that aligns your marketing, project, and sales teams around a single view of your customers and positions itself as one of the best CRM software on the market.
Features:
Connects all prospect data, their stage of the business process, their activities with the company, emails, calls, and meetings to close more sales.
Generates complete sales processes, scans contact cards, sends emails, assigns tasks, and synchronizes external data from other tools.
Tracks email delivery and alerts when emails are opened.
Users: 150K.
Free trial: Available.
Create a real connection with your customers!
---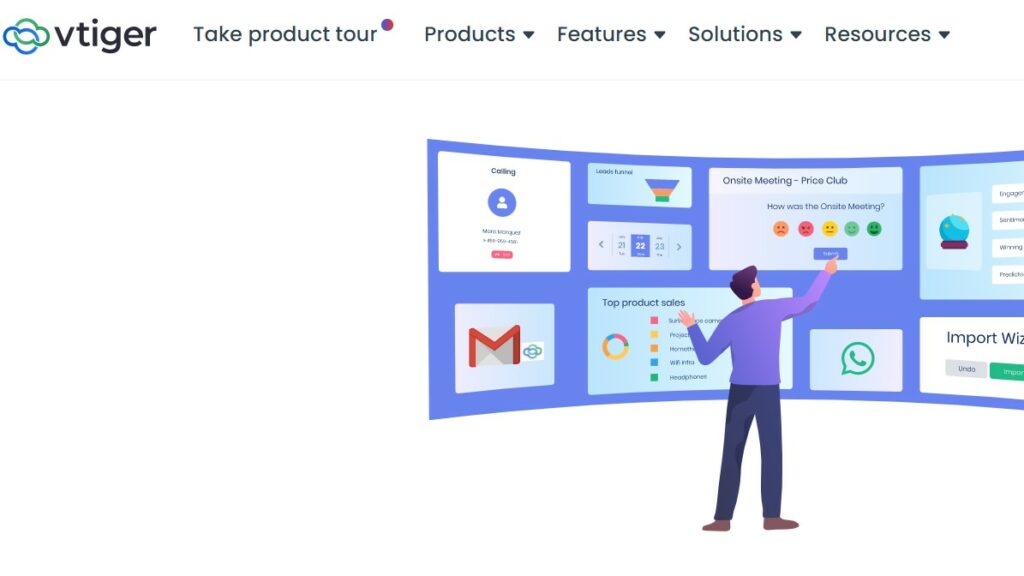 Vtiger is a comprehensive sales-oriented CRM software focused on automating customer support and service that adapts to all types of businesses.
Features:
Vtiger automates contact and sales pipeline management with numerous integrations: phone calls, email, or SMS, and more than 200 extensions available in its marketplace.
It enables automatic HelpDesk management with the conversion of customer emails into tickets.
It provides greater workflow automation so that you can control inventories and price catalogs. Also, it offers dashboards to monitor your sales performance in real-time.
Users: 300K.
Free trial: 15 days.
Discover the true meaning of customer service and automate your CRM process!
---
It is one of the most recommended business tools for customer relationship management for small and medium-sized businesses.
Features:
It offers four different dashboards for capturing and distributing customers with the right team.
It features an easy-to-navigate side panel with a detailed summary of the sales cycle, number of leads, contacts, and closed deals.
Provides the option to create events and comments to accounts or even upload relevant files to close a deal.
Displays the buying patterns of prospects to flag sales opportunities and increase conversion.
Users: 100K.
Free trial: 14 days.
Start doubling your sales with fewer sales efforts!
---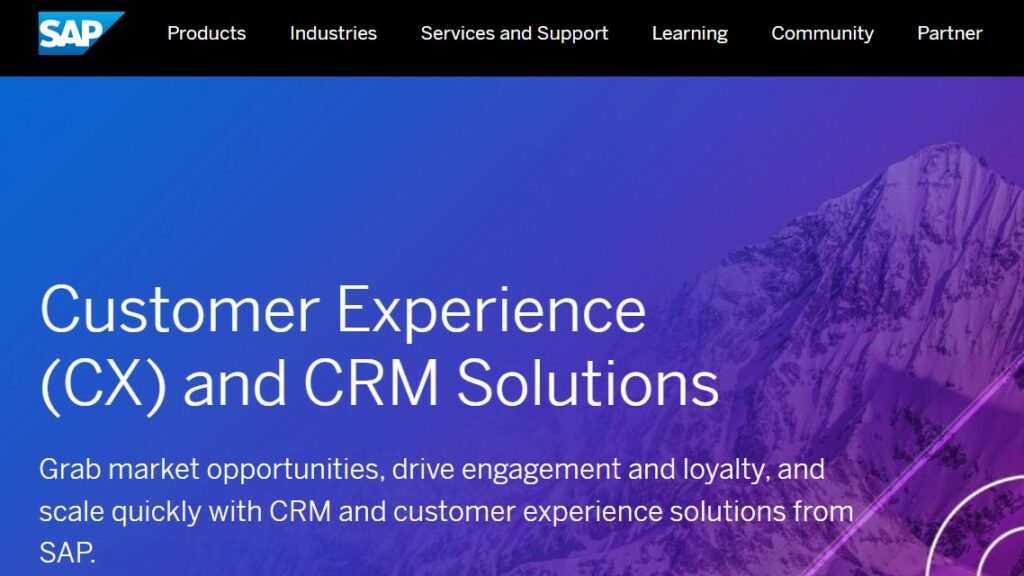 This is one of the best CRM software options as it helps businesses of all sizes and industries operate more profitably and adapt to an ever-changing marketplace.
Features:
Creates profiles that feed on different information sources to anticipate your customers' needs.
It delivers simpler shopping experiences with personalized call service and fast order fulfillment.
Provides digital commerce solutions that give customers the freedom to browse and shop where and when they want.
Sarp enables better sales forecasting and strategic identification through AI and marketing intelligence.
Users: N/A.
Free Trial: Available.
Start setting the pace in the market!
---
Keap is one of the best software for CRM that improves sales and marketing automation for small businesses.
Features:
It has pre-designed reminders and labels, automated emails, templates, predictive mailings, etc.
Automatically collects and organizes contact cards, landing pages, and social media comments for marketing or sales teams.
It provides information at any time with its mobile application for immediate customer follow-up.
Easy-to-integrate CRM software that works with Shopify, Quickbooks, and HelloSign to improve sales performance.
Users: 125K.
Free trial: 14 days.
Boost your sales and help boot your marketing efforts!
---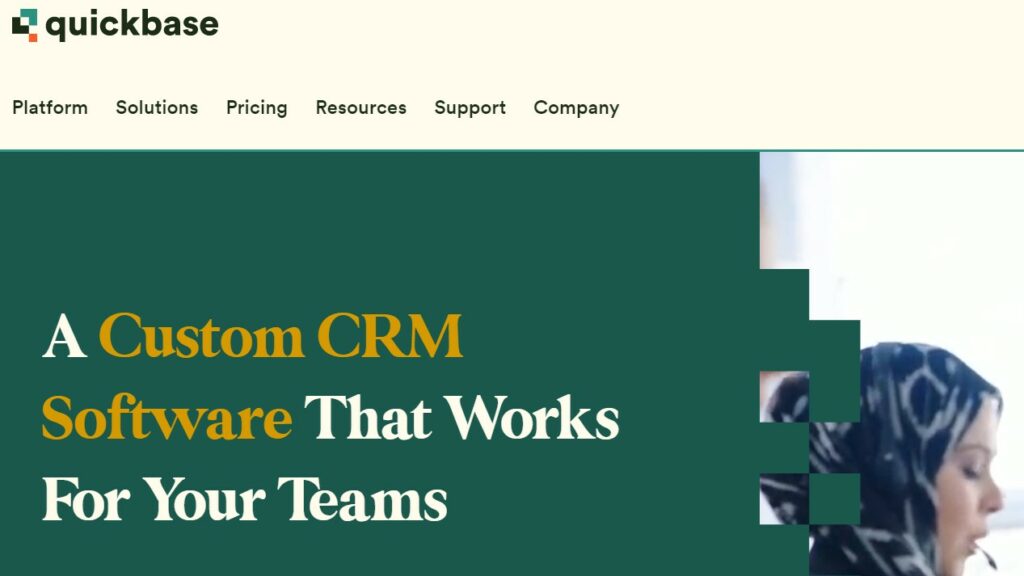 Quickbase's cloud-based CRM software features sales cycle customization rather than a pre-designed feature set.
It focuses on creating a flexible and agile platform to build your own sales software with customized reports, charts, and dashboards.
You can centrally share the information you need with your sales managers, team, and collaborators.
It is a customer relationship management software focused on companies of a specific size that easily integrates with existing systems.
Features:
Users: 6K.
Free trial: 30 days.
Get a tool designed for you!
---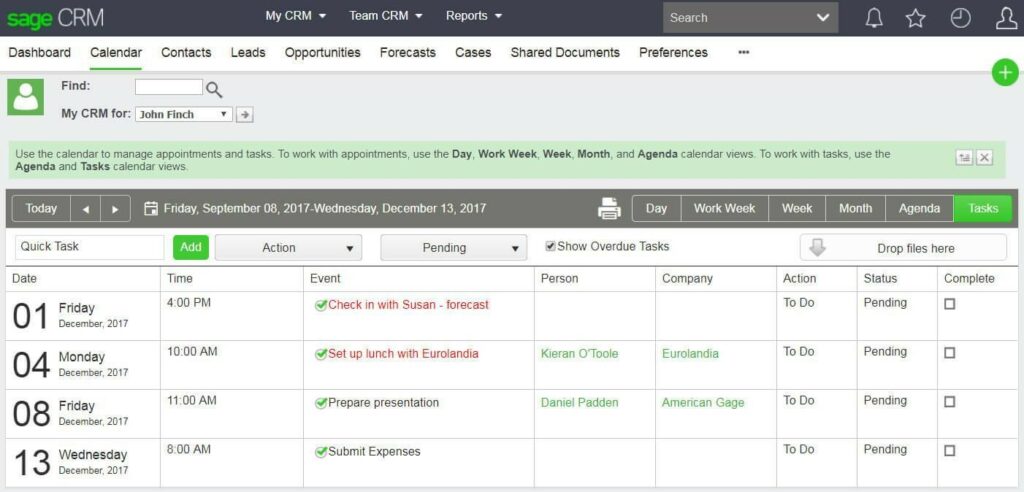 Sage is one of the most innovative integrated solutions for customer relationship management, offering a complete view of business communication, making it one of the best CRM software available.
Features:
It stores customer and prospect interactions in a single channel for coordinated and up-to-date tracking at every stage.
It allows executives to measure the progress of teams and the effectiveness of marketing strategies with intuitive sales forecasting.
You can choose between a fully integrated CRM solution or get only those panels that fulfill your business needs.
Users: N/A.
Free Trial: N/A
Focus on your customers!
---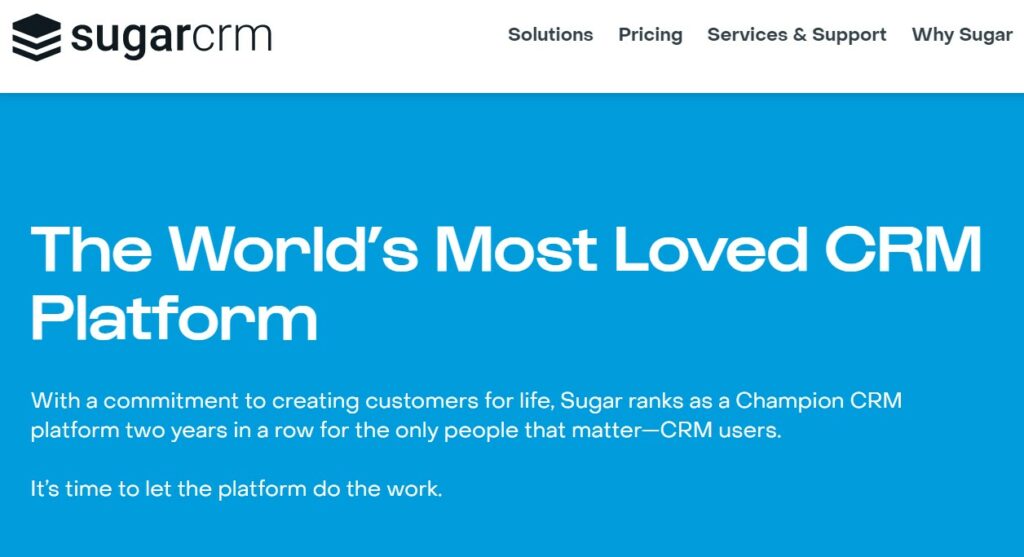 This software for CRM is perhaps one of the most complete that perfectly automates your marketing, sales, and customer service-related processes with very professional web tools.
Features:
It has an intuitive AI-based interface that atomically manages emails, social media, and Google Ads.
Offers an extensive catalog of email templates and landing pages to streamline marketing campaigns and engage and qualify the right prospects.
Creates a working module that allows for closer communication between the company and the customer to learn about and meet the customer's needs.
Users: N/A
Free trial: N/A
Make your customers' lives better!
---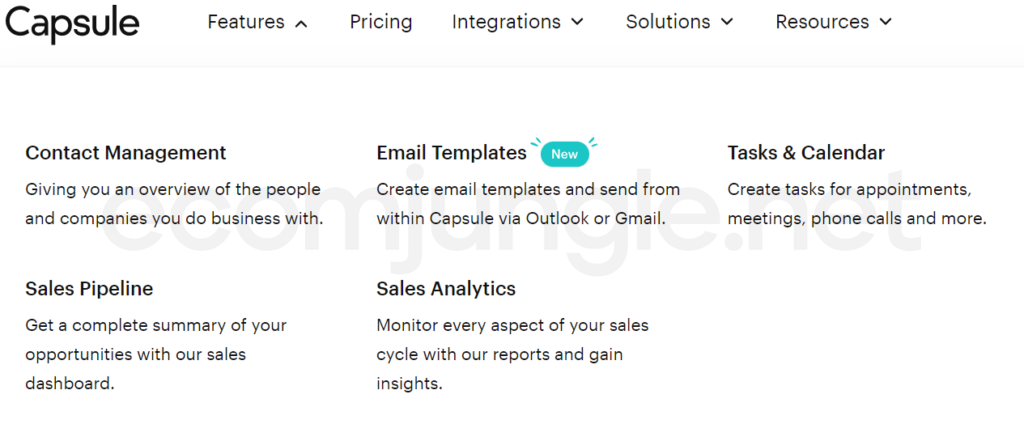 Capsule is considered by many businesses the best CRM software for its simplicity while offering powerful lead generation tools.
Features:
Reduces work time and amount of effort to close deals.
It provides innovative lead management as it locates the entire customer and prospect base in one place.
Allows you to track previous conversations with customers with one click.
It helps create customized pipelines for each type of business and highlights the points that demand more attention.
Capsule integrates with tools such as Microsoft 365, Google Workspace, Xero, and Mailchimp.
It includes security features such as user permissions and two-factor authentication.
Users: 10K
Free trial: 30 days
Build better business relationships!
---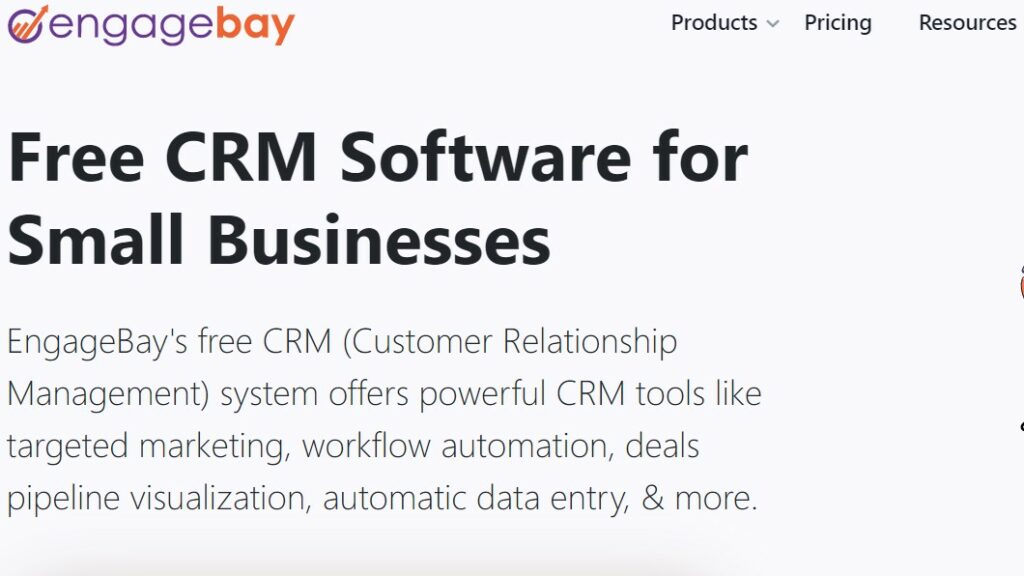 Undoubtedly an excellent choice among the best software for CRM to meet all your marketing, sales, and customer service needs.
Features:
Provides a powerful, fully customizable email marketing strategy that keeps your audience engaged.
It offers a complete view of every interaction you've generated with your leads and assiduously tracks critical metrics such as email opens, clicks, etc.
Automate your sales funnel by implementing advanced and accurate tools. In addition, it allows you to create promotions and offers.
Users: N/A
Free trial: Free plan version.
Expand your business vision!
---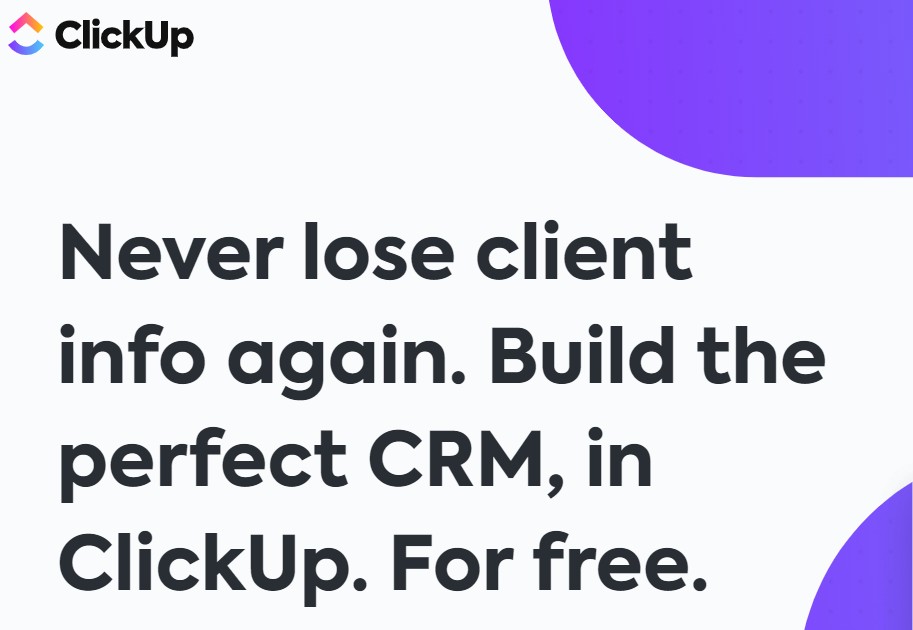 ClickUp is a CRM software that brings together the features of several applications to create proactive business processes, so you don't need to have several tools to do the same job.
Features:
It helps execute complex or simple sales tasks: reminders, documents, spreadsheets, and knowledge bases.
It has a chat module that allows you to communicate quickly and effectively with all team members.
You get accurate sales forecasting as it plans sales or marketing activities using calendars, timelines, and Gantt charts.
You can select the view for the different tasks: list view, tally view, calendar view, etc.
Users: 80K
Free trial: Free plan version.
Make your customers happy!
---
This is one of the best CRM software online, intuitive and pleasant, whose platform allows a simplified use of advanced functionalities. As a result, the solution becomes a powerful tool for any company's marketing and sales team.
Features:
Provides unlimited contact management: emails, lead cards, meetings, previous sales, etc.
It has the option of e-mail integration and a personalized follow-up of deals.
Includes the function of sending newsletters and statistics on achieving sales goals.
It automates marketing campaigns, social media management, and web messaging for immediate responses.
Users: 15K.
Free trial: Free plan version.
Unify the work of your teams!
---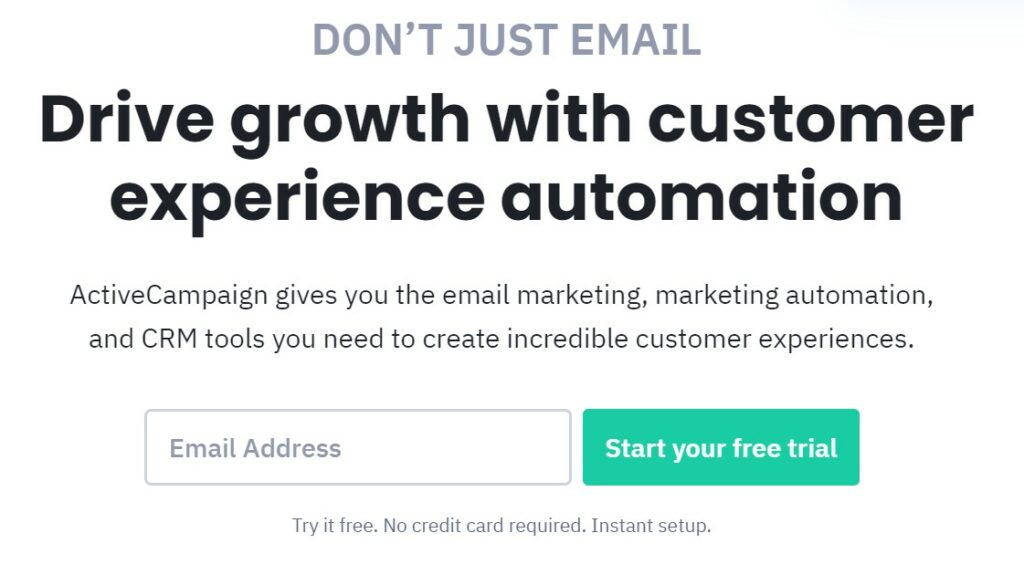 It is an all-in-one CRM software that takes full advantage of email as the automation of marketing and sales processes.
Features:
It simplifies lead management by creating custom forms to collect more emails, landings pages, and email and social media marketing strategies to engage your audience.
Monitors what people are doing on your website.
Quickly get 1-on-1 support and training with the library of video tutorials and help guides.
It helps you migrate your current information for free.
Provides advanced segmentation tools to group your contacts by location, age, and almost any behavior.
Users: 150K
Free trial: Available.
Bet on an efficient form of service!
---
Its innovative design and outstanding functionality postulate SharpSpring as one of the best software for CRM, enabling businesses to achieve higher revenues.
Features:
Create a better sales funnel and design automated sales processes, forms, and lead generation landing pages that motivate customers to buy.
Manage and track email marketing campaigns, social media, and Google Ads to assess their impact and indicate areas for improvement.
Delivers personalized chats to engage prospects, with more dynamic interaction based on customer buying patterns.
Users: 10K.
Free trial: N/A.
Stay connected with your customers!
---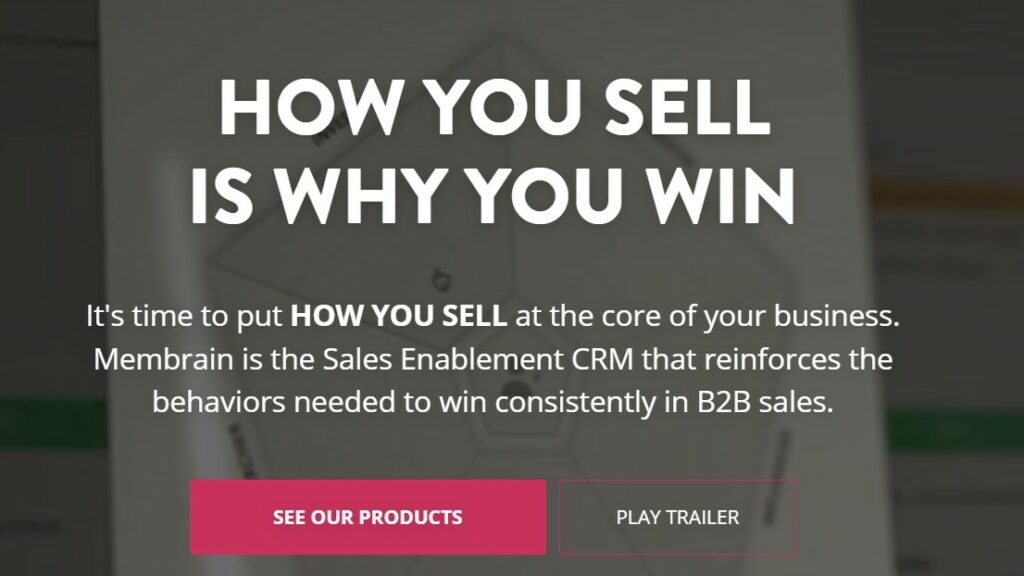 We have included Membrain in our list of the best software for CRM, as its functionalities allow B2B companies to explain and develop the complexity of their services optimally.
Features:
It makes it easy to search for lead information by simply entering your email.
Create contact lists or special groups to interact more quickly and effectively with your prospects.
Creates innovative pipelines for assigning tasks and allows synchronization and data import from other tools like Google and Microsoft.
It provides multiple email templates for continuous follow-up with prospects.
Users: N/A.
Free Trial: N/A.
Expose your sales results!
---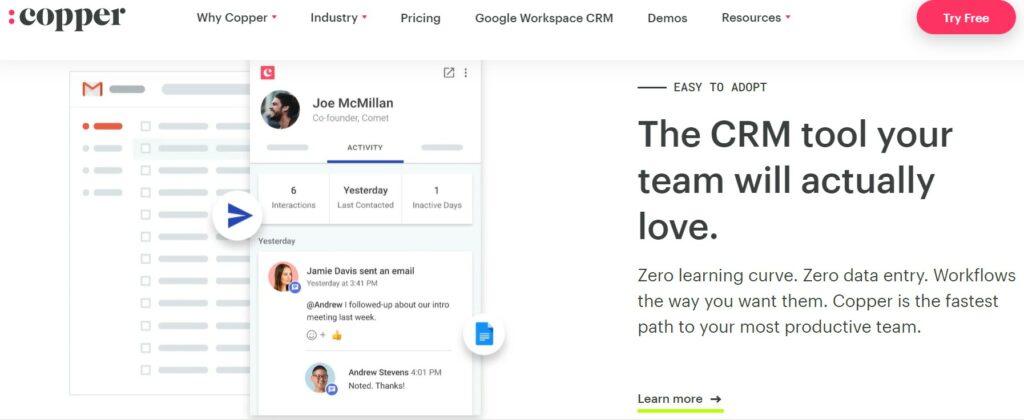 It is a CRM software that facilitates communication and work between companies and their customers, providing a modern, fast and straightforward interface.
Features:
CRM system offers a fast integration with Google Workspace that allows working from the inbox.
Copper facilitates lead management with the centralization of contacts, accessible from email.
It has a wide variety of customizable email templates to initiate quick campaigns.
Shows automatic reminders that facilitate task and sales management.
Users: 30K.
Free trial: 14 days.
Enter the new era of sales innovation!
---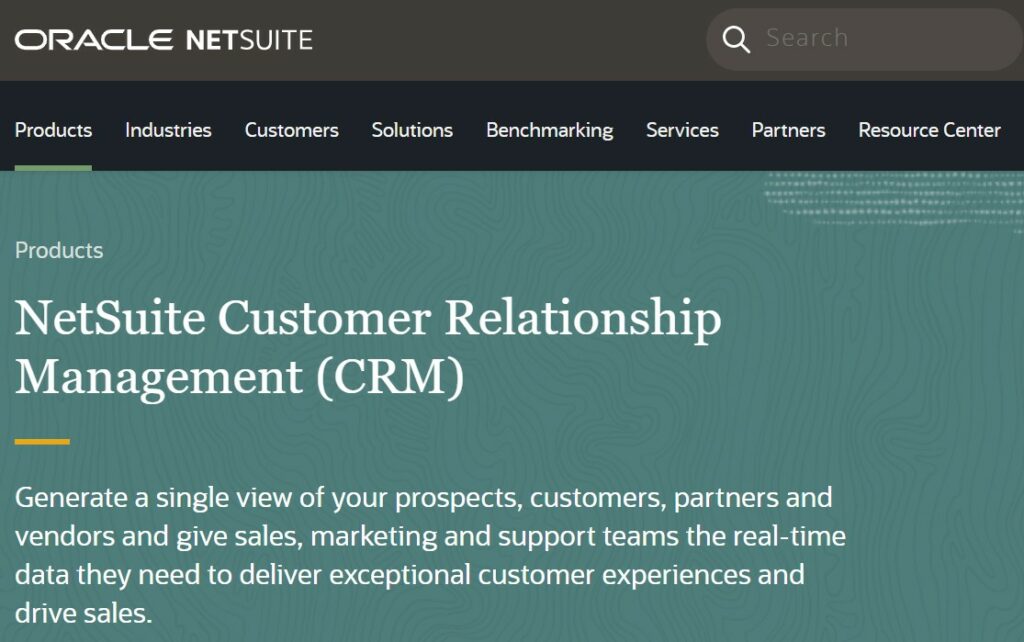 NetSuite on the right CRM software that gives you a detailed 360-degree view of your customers so you can close more sales. In addition, all your customer data is accessible to all team members.
Features:
Allows you to view all customer transactions and interactions, automatically cross-sell and upsell to existing customers. It also lets you know what they buy, need, and want.
Displays pending orders, service issues, or overdue invoices to optimize performance.
Create high-quality reports on the execution of each task and flag activities that can be eliminated or improved.
Users: 20K.
Free trial: N/A.
Get a perspective from every angle!
---
Final Thoughts on CRM solutions
So far, in our countdown with the 29 best CRM software, regardless of the tool you decide to choose, make sure you know in depth what their features are and how they can help you boost your business. Take control of your sales process, manage the sales pipeline, understand your potential, and increase the productivity of your business.
Once you find the best CRM software (customer relationship management systems) for your company, the opportunities are endless: from identifying your improvement points to helping you select your ideal target audience.
Did you like this CRM tools list? Do you have recommendations for these or other tools?
Don't be shy, let us know your opinion in the comments!