Startups are an adventure full of challenges. You must manage a large amount of information, maintain optimal communication, and synchronize your sales and marketing teams to provide the best experience to your customers. But how to achieve all this without dying in the attempt? Use a CRM.
Today I will tell you what they are, how they work, and even their plans and services.
Let's get started!
8 Ways Using A CRM For Startups Can Put Your Business on The Road
A Customer Relationship Management (CRM) is software that helps startup businesses boost their sales process and plan the best strategies to create quality relationships with their customers and thus increase business revenue. Check this article for more information on how to choose the best CRM system for You!
1. Better Organization of Customer Data
CRM software for startups helps to have an up-to-date database that is always available to meet customers' needs. In this line, Zendesk found that around 64% of customers started using a new channel for customer service.
How does it do this? Collect, organize, store, store, and distribute all documents, such as contact cards, customer records, and more.
2. Improve Time Management
CRM tools automate recurring tasks, reduces manual effort, and connect teams' work in an efficient sales process. The best part? Don't lose quality by increasing the number of customers. Learn more about CRMs for project management
3. Get Sales Teams Connected
CRM solutions centralize the different communication channels so that teams can share relevant information on all activities.
Tip: Ask for their integrations should connect your calls, SMS, social networks, and chats to be connected so that you can enhance your work platform.
4. Analysis And Detect Clients' Behavior
CRM solutions include AI and machine learning that provide activity reports, and analysis of customer behavior, to detect lead acquisition opportunities.
5. Competent Lead Generation to Conversion
These tools offer vital customer data, the record of each interaction, customer status (lead, new, recurrent), and previous purchases to boost sales reps' work. If you are a freelancer, these solutions can also help you with customer conversion; learn more about CRM for freelancers.
6. Boost Your Marketing and Sales Tactics
Sales CRM collects customer data and analyzes behavior patterns to discover what your customers want and need. So what do you do with that data?
They do something cool and valuable – they link your products to the fulfillment of those needs, so sales reps can better explain to your customers why they are the winning choice. But unfortunately, according to HubSpot, 40% of companies don't use a CRM tool.
7. Keeps You in Control as You Grow
The main goal that startups aim for is sustainability, maintaining control, stability, and above all, quality of service as the business grows through an efficient sales pipeline. Without help, it can be chaos, and your business will crash before it even gets off the ground.
To create a work cycle that allows you to keep the reins, although a large amount of sales data are the CRM tools.
Read more about CRM software and its benefits!
8. Better Customer Relationship Management
Quick question, what does a customer want when they contact your company? The person who attends them knows who they are and about the product or service they have purchased. If you add that they know their complaints or previous queries, you have hit the jackpot!
Thrivemyway states that 72% of businesses that use CRM have access to better customer data. It allows you to offer personalized attention, in which the customer feels genuinely accompanied.
Top 12 Best CRM Software for Startups In 2023
If you have customers, then a CRM solution may be right for you. It's as simple as that. Check out the 12 best CRM for startups!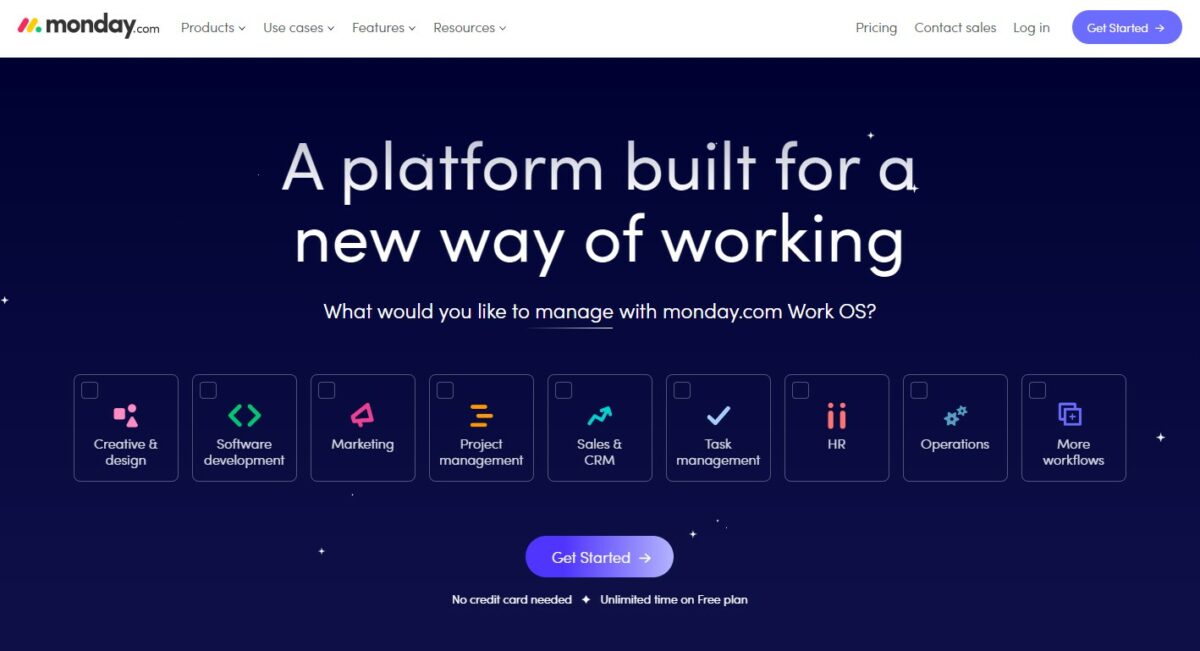 Monday is one of the best CRM software for startups. A cloud-based solution focused on improving sales teams' workflow through applications that allow them to plan and implement better sales processes in seconds. Why can it benefit startups? It reduces manual work and connects teams.
Features:
Sales and marketing automation.
Design an easy sales pipeline.
Unlimited dashboards
Lead management
Customer projects
Marketing tasks and sales analysis
Project management tools
Advantages:
Dashboards offer 360º visibility into each task.
The sales CRM offers multiple integrations with other work applications.
Sales activities tracking dashboards help meet deadlines.
Disadvantages:
Its number of functions can be overwhelming and complicated at first.
It might take time to understand each CRM system function.
Pricing Per Month:
Trial period: 14 days
Basic: $10
Standard: $14
Pro: $24
Corporate: Custom.
See Monday in action!
---

Pipedrive offers a CRM for startups that aim to streamline sales cycles. Its strong point? This tool provides powerful functions for assigning, distributing, and organizing sales team tasks so that your collaborators can focus on revenue-producing tasks, "the customers," and not waste time filing documents.
Features:
Sales automation.
Marketing automation
Customer data and lead management
Customizable fields
Sales forecasting
Multi-channel communication
Advantages:
The CRM system is compatible with Cloud, Web, Mac, Windows, Android, and iOs.
It offers you email templates, drip marketing campaigns, etc.
It helps you create landing pages and forms for lead capture.
Disadvantages:
Many of the tool's features are only available for pro plans.
Email functions are essential.
Pricing Per Month:
Trial period: 14 days
Basic: $9.90
Advanced: $19.90
Professional: $39.90
Enterprise: $59.90
Try Pipedrive now!
---

HubSpot presents CRM software for startups to get rid of annoying spreadsheets. Does it work? The workflow and sales automation is optimal, allowing you to have all your contacts in a single contact base that you can access in one click.
Features:
Document organization and storage.
Inbound marketing strategies
Automated and personalized sales activities streams
Contact and lead management
Integration with third parties and social networks
Advantages:
It's one of the best CRM for startups as it offers educational resources.
It helps create scalable strategies that facilitate company growth.
HubSpot teaches how to develop inbound marketing strategies to capture leads.
Disadvantages:
Their pricing is not as affordable.
Technical support takes a few minutes to respond.
Pricing Per Month:
Trial period: 14 days.
Starter: $45
Professional: $800
Enterprise: $3,200
Give HubSpot a Try!
---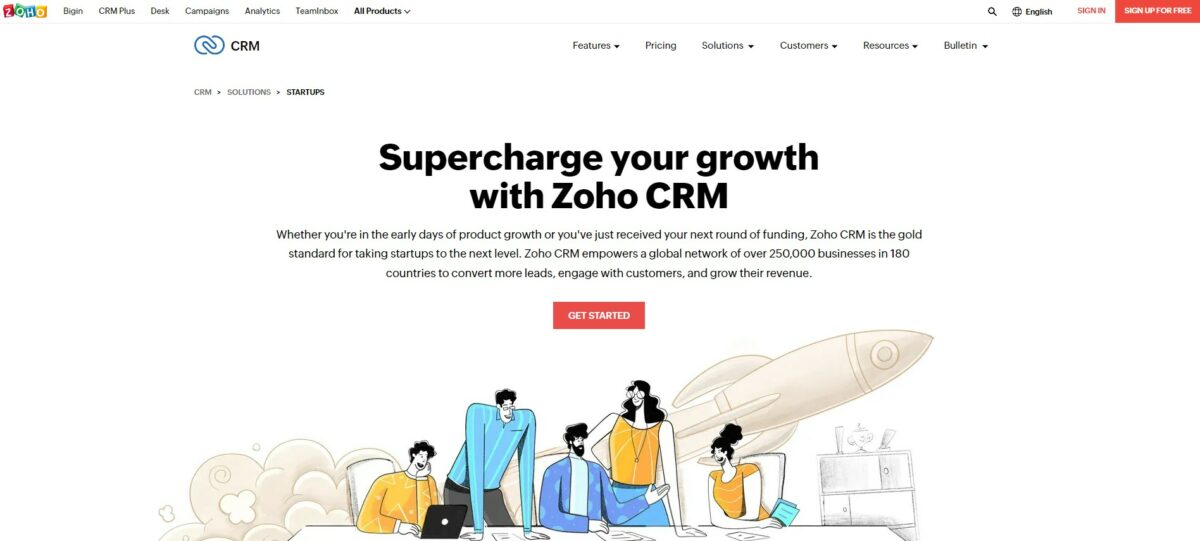 Zoho CRM solutions for startups focus on showing the big picture of lead and customer interactions to team leaders and members. Why is it useful for you? It lets you track all activities, sales, marketing, customer service, orders, and inventory.
Features:
Multi-channel marketing and communication
Segmentation and lead qualification
Automated routing
SLA management
Multiple collaboration tools
Advantages:
Zoho CRM software integrates with multiple third-party tools.
It is an excellent option to track your email marketing campaigns
Very useful for prioritizing sales cycle activities
Disadvantages:
Technical support takes a few minutes to respond.
Zoho CRM system requires prior training to use it.
Pricing Per Month:
Trial period: 15 days
Standard: $12
Professional: $20
Enterprise: $35
Ultimate: $45
See what Zoho can do!
---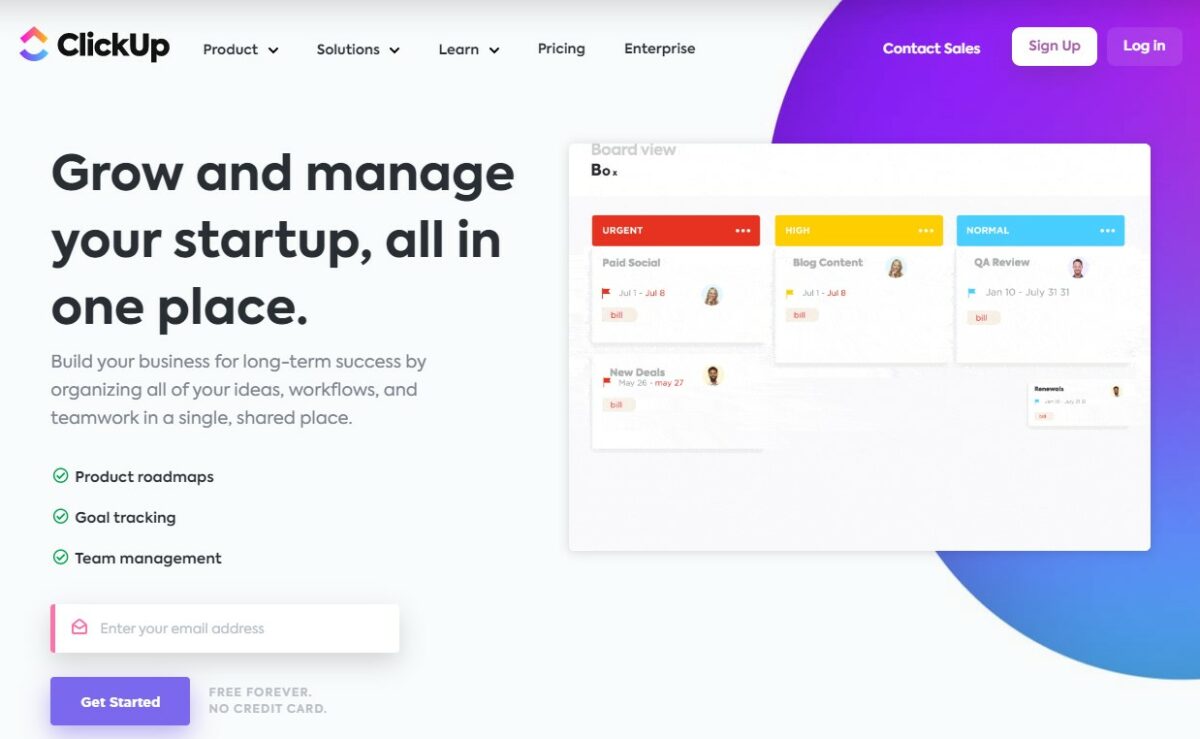 If you're looking to sync your calendars, keep your documents organized, and your email inbox up to date, ClickUp CRM software works for you. The best part? You can create custom fields in your Pipedrive according to your company's needs.
Features:
Unlimited document storage
Auditing and problem detection
Task and marketing automation
Channel and customer management
Sales forecasting
Advantages:
It allows you to create workflows in seconds with its drag-and-drop option.
I like that you can turn an email into a task.
I consider it one of the best CRM systems for startups because you can plan your subsequent releases with its roadmaps.
Disadvantages:
Ticket allocation can take a few minutes
Many options are available only for paid plans.
Pricing Per Month:
Trial period: available
Unlimited: $5
Business: $12
Business Plus: $19
Enterprise: custom.
Get started with ClickUp!
---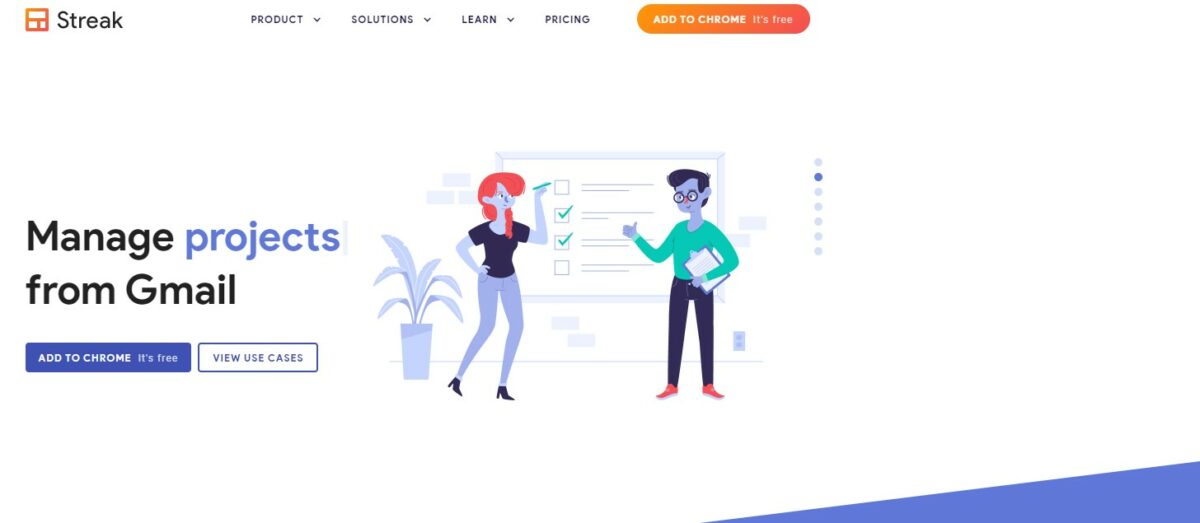 Streak is a solution designed to maximize the management of your emails. Its goal? So that you track all your transactions, sales, assistance, and bookings in one place to improve customer relationships.
Features:
Marketing campaign management
Workflow creation
Task assignment
Interaction tracking
Customizable reports
Sales automation
Advantages:
Email tracking notifies when an email the lead opens.
It offers mobile access and social media integration for maximum connectivity.
Streak gives you performance reports based on your goals, becoming one of the best CRM for startups.
Disadvantages:
Technical support is only available in English.
You must watch several videos and tutorials to familiarize yourself with the tool.
Pricing Per Month:
Individual: $15
Pro: $49
Enterprise: $129
Boost your email here!
---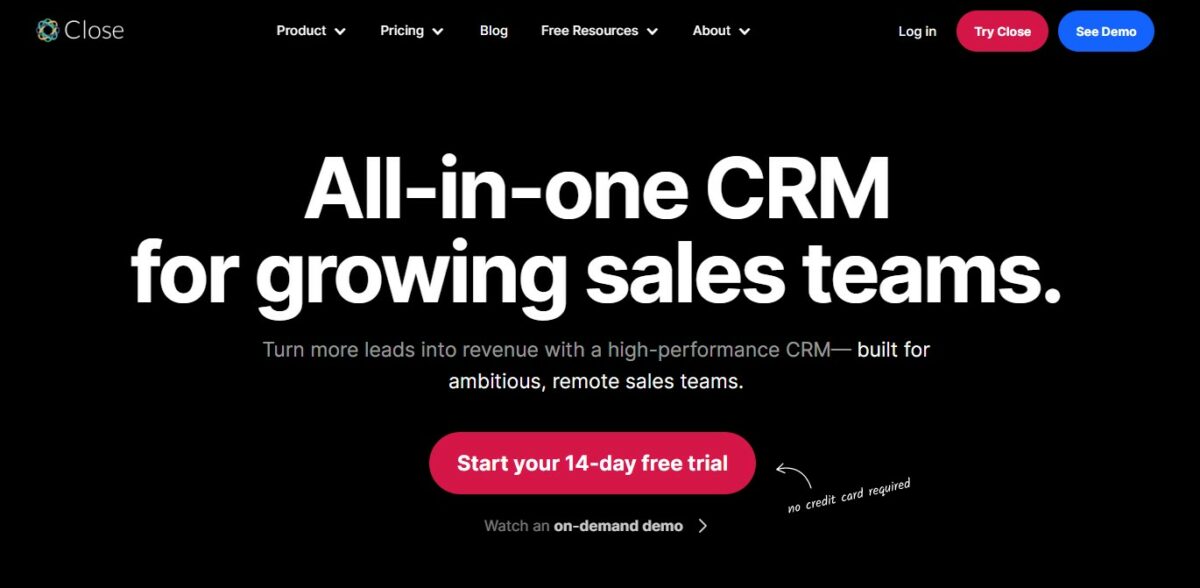 Close is a cloud-based CRM solution that proposes to help startups close more deals. That doesn't sound bad. Through a multi-channel communication platform, Close connects your calls, SMS messages, and emails in one place for more substantial relationship building.
Features:
Business process automation
Activity dashboards
Marketing automation
Personalized fields
Multi-channel communication
Opportunity reporting and statistics
Advantages:
One of the best CRM for startups as it allows you to prioritize sales activities
Segment and classify your customers.
It has a self-service portal to boost customer service.
Disadvantages:
Its search filters can be better.
You might need to rely on other tools for data import.
Pricing Per Month:
Trial period: 14 days
Starter: $29
Basic: $69
Pro: $99
Business: $149
Close better deals!
---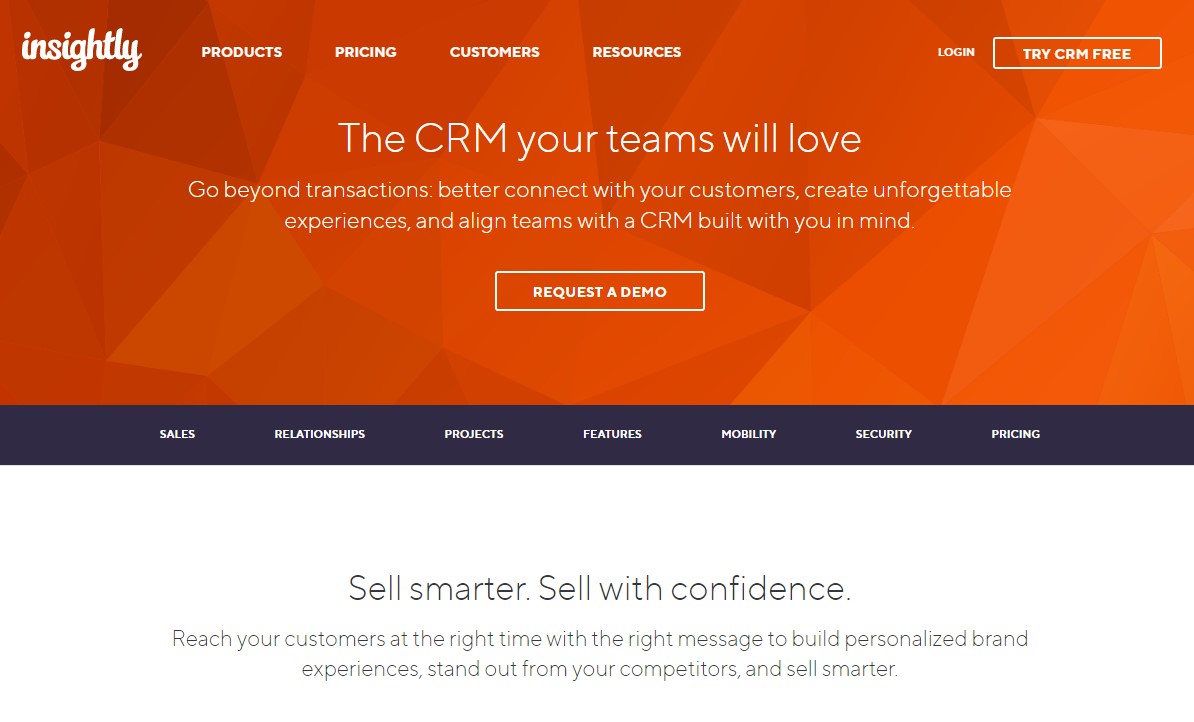 Insightly is a tool that bets "all in one place," ideal for its multiple integrations with Gmail, office 365, and other business tools. Its strength is a customer management and administration so that you can monitor the progress of your sales pipeline.
Features:
Customer tracking
Lead routing
Workflow and Marketing Automation
Automated send, track, and send emails
File and calendar management
Advantages:
It is reliable and easy to use to measure team progress.
I like that you can document all your activities with clients.
The pipeline creation is excellent, as is the contact synchronization.
Disadvantages:
The CRM software Integration with social networks is not so good.
Pricing is not so affordable.
Pricing Per Month:
Trial period: available
Plus: $29
Professional: $49
Enterprise: $99
Get an insightly view!
---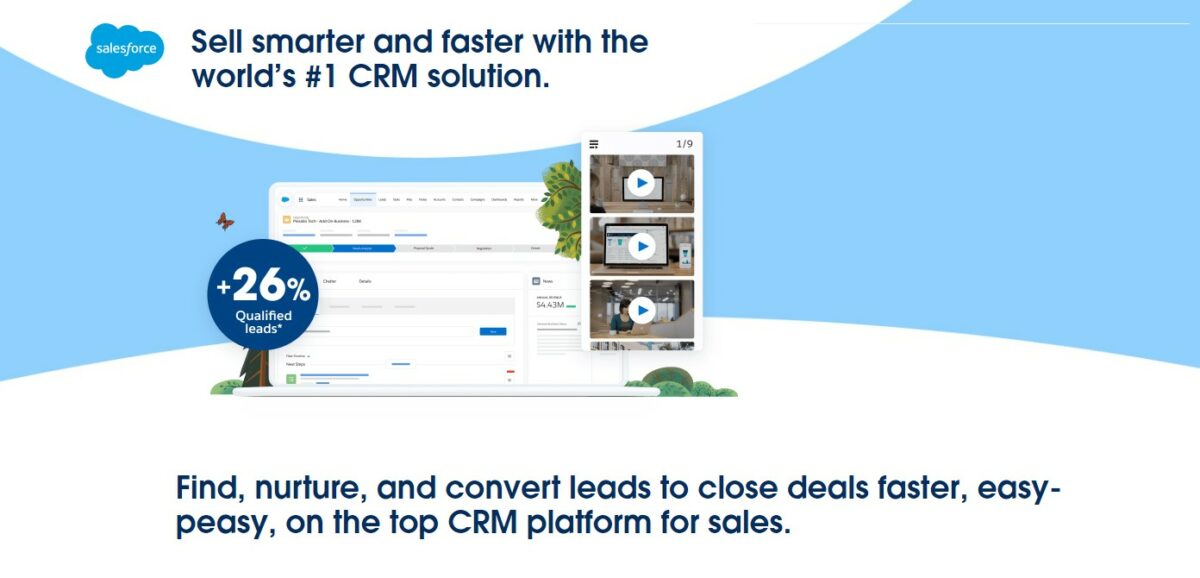 Salesforce CRM platform offers a complete set of features designed to streamline sales processes, connect different teams, and provide real-time monitoring of each activity. Its goal is to focus efforts on attracting more leads and increasing conversion rates.
Features:
Automation of recurring tasks.
Customized dashboards and charts
Lead and customer management
Detection of sales opportunities
Collects and synchronizes relevant information from inboxes
Advantages:
It gives you optimized tracking and monitoring of your sales.
Keeps emails, calls, and previous meetings with a lead or customer at hand
It offers a mobile version
Disadvantages:
The learning curve is slightly slow.
You might be overwhelmed by its features at first.
Pricing Per Month:
Trial period: available
Essentials: $25
Professional: $75
Enterprise: $150
Unlimited: $300
Watch more!
---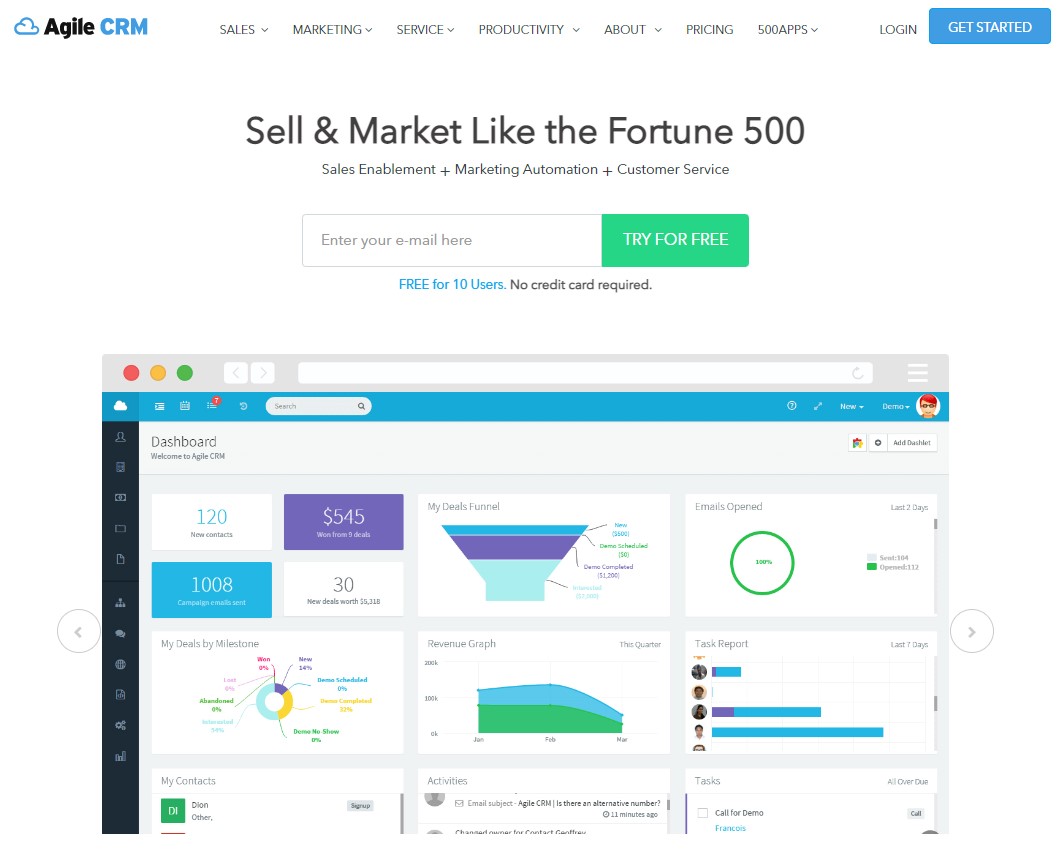 The CRM tool allows you to automate task management and qualify and segment your contacts to refine your email marketing campaigns. Plus, Agile offers an intuitive and dynamic CRM platform to elevate the quality of your customer service.
Features:
One-page contact management
The sales CRM tracks the stages of each deal
Voicemail automation
Calendar and meeting management
List and dashboard creation (drag and drop)
Advantages:
Agile offers over 500 working applications. It is a cheap CRM for startups in price-performance ratio.
It lets you send up to 5000 emails in one click, so you can see why it is one of the best CRM for startups.
The CRM platform integrates with Google, Shopify, and Stripe.
Disadvantages:
The free version is limited.
I suggest you watch several tutorials to familiarize yourself with the tool.
Pricing Per Month:
Trial period: available
Starter: $8.99
Regular: $29.99
Enterprise: $47.99
Get to know agile!
---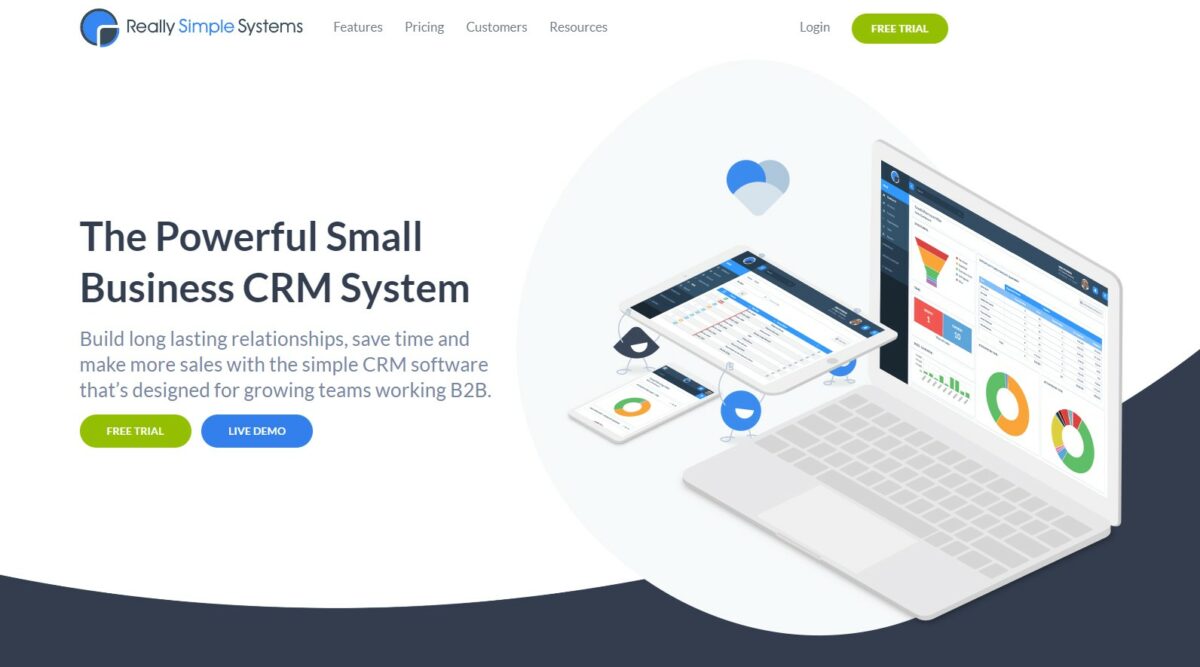 Really simple systems, the best CRM for saas startups, is pretty neat if you ask me as it helps startup businesses provide optimal customer support without the hassle. What do I like? That although it bets on a simple design, it is very responsive.
Features:
Real-time tracking of marketing activities.
Monitoring of all interactions with customers
Unlimited document storage
Event, task, and calendar management.
The CRM integrates with 15+ business tools (zappier, Office 365, Google).
Advantages:
It has a library of email templates.
The solution provides statistics on the results of your campaigns.
The CRM software gives you graphs and dashboards of lead and customer interactions.
Disadvantages:
Opportunity reports do not include contact information.
As your company grows, the price to use the CRM platform increases.
Pricing Per Month:
Trial Period: available
Starter: $14
Professional: $30
Enterprise: $46
Try it now!
---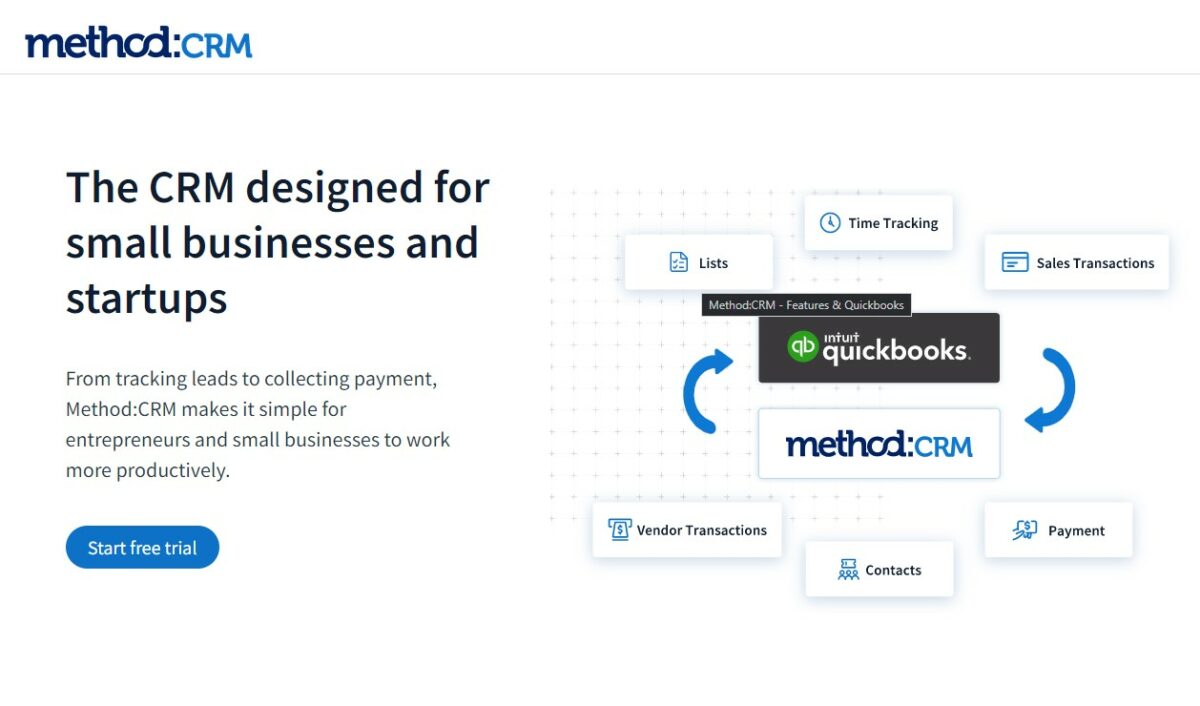 Method is a CRM with a specific goal to help QuickBooks users to establish agile and efficient task management to increase their sales. How does it do that? This solution drives platform customization to create an easy-to-comply sales pipeline.
Features:
Customizable fields
Lead, contact, and customer management
Assignment and prioritization of tasks
Self-service for customers to view and pay online Displays each customer's purchasing preferences
Marketing automation
Advantages:
The CRM software helps you track sales opportunities that QuickBooks does not offer.
Your customers can quickly view estimates before they click to checkout
You can create emails with elements such as videos or images.
Disadvantages:
Customization of the tool requires coding knowledge.
The initial plan only includes contact management.
Pricing Per Month:
Trail period: 30 days
Contact management: $21
Pro: $37
Enterprise: $64
Let's find the method!
---
That's All For Today!
So far, with this review on CRM for startups, I hope it shows you how to choose the best option for your business. Undoubtedly all the tools mentioned offer excellent advantages for your sales process, but you should keep testing and discarding until you find the right one.
A final tip: keep in mind what you need; although CRMs cover a wide range of functions and needs, not all are the same. So, make a list of what you need and how you want to set the software so you can evaluate all your options.
Did you like this article? Do you know of another CRM tool that should be on this list?
Let me know in the comments!
Frequently Asked Questions
What Is A CRM For Startups?
A CRM for startups is software that establishes an agile, centralized, and efficient work process. It stores, organizes, and hierarchizes contacts and unifies the communication channels into a single track to personalize customer care.
What Are The Three Types Of CRM?
There are three types of CRM according to their primary objective. Operational: focused on the organization of business processes. Collaborative: designed to drive teamwork; Analytical: examining customer behaviors and trends.  
Are CRM Systems Important For Startups?
Yes, a CRM tool is essential for startup businesses, as they help create lasting relationships with customers through a personalized sales pipeline to gain customer trust and achieve customer loyalty. 
Why Do Startups Need CRM?
Startups need a CRM tool to have 360° visibility of the business process, orders, purchases, customer interactions, and percentage of converted leads so that each team member has at hand essential customer information.
How Can CRM Benefit A Startup?
CRM tools offer multiple benefits to startups. First, they have complete and real-time access to every activity and contact with customers to improve the customer experience throughout the entire selling process.