Are you in the process of creating your e-commerce website site from scratch? Don't know what technical metrics can help your website rank better? Are you worried about how to structure your content? A SERP analysis can clear up these and other doubts!
Yes, analyzing the results pages helps you to identify the technical metrics that the search engine takes into account to position a page at the top. Like what?
The ideal length of the text, the relevant keywords per topic, and how many of them you should include.
The best thing? You have a more concrete view of your market, your competitors, and what your target audience is interested in to provide a better response to their search intent.
Stay with me; I will guide you step by step so you can perform a SERP analysis in no time. Let's get started!
What Does SERP Stand For?
It means Search Engine Results Page and refers to the results pages displayed in order of importance according to the metrics of a given search engine for a particular keyword: usually Google, but also Bing, Baidu, or Yahoo.
It is the battlefield where the SEO positioning fight takes place between the different websites to climb up the rankings.
SERP Analysis – Meaning & Purpose
What Does It Mean to Analyze Search Results?
A SERP analysis refers to studying and understanding top-ranking sites' features and repetitive patterns. It gives you an outlook on the ranking difficulty for a website.
There is evidence that 67.60% of all the clicks on SERPs go to the first five results on the first page, explains Serpwatch.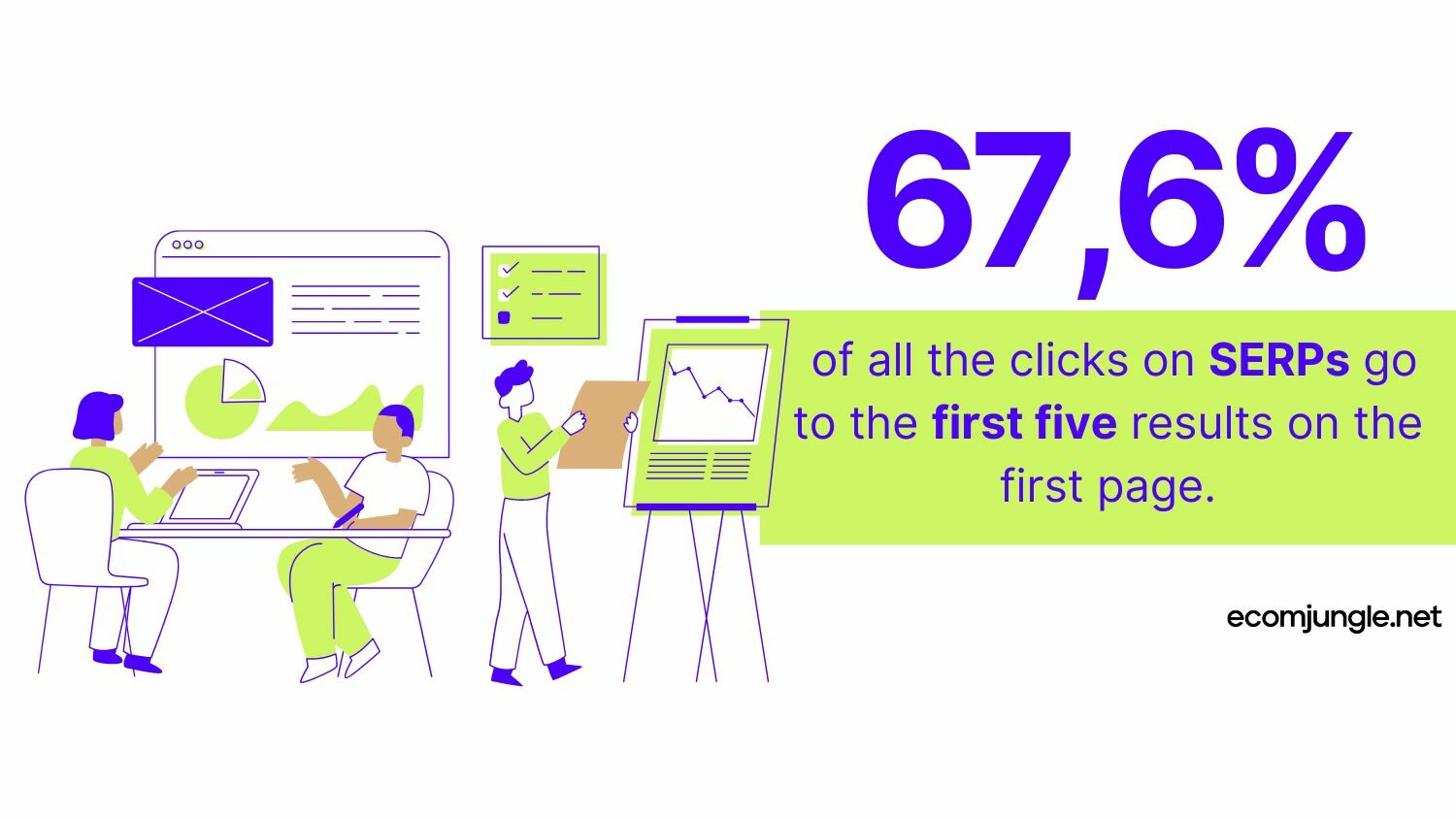 You must try that your eCommerce appears on the first results for your target keywords.
For example, your niche is skincare. You could try to rank in the organic search results for terms like skin care products, beauty skin creams, and beauty skin cosmetics.
But, if you enter these words now, you may notice that your site does not appear in those first Google search results, which means that you will not attract potential customers to close deals.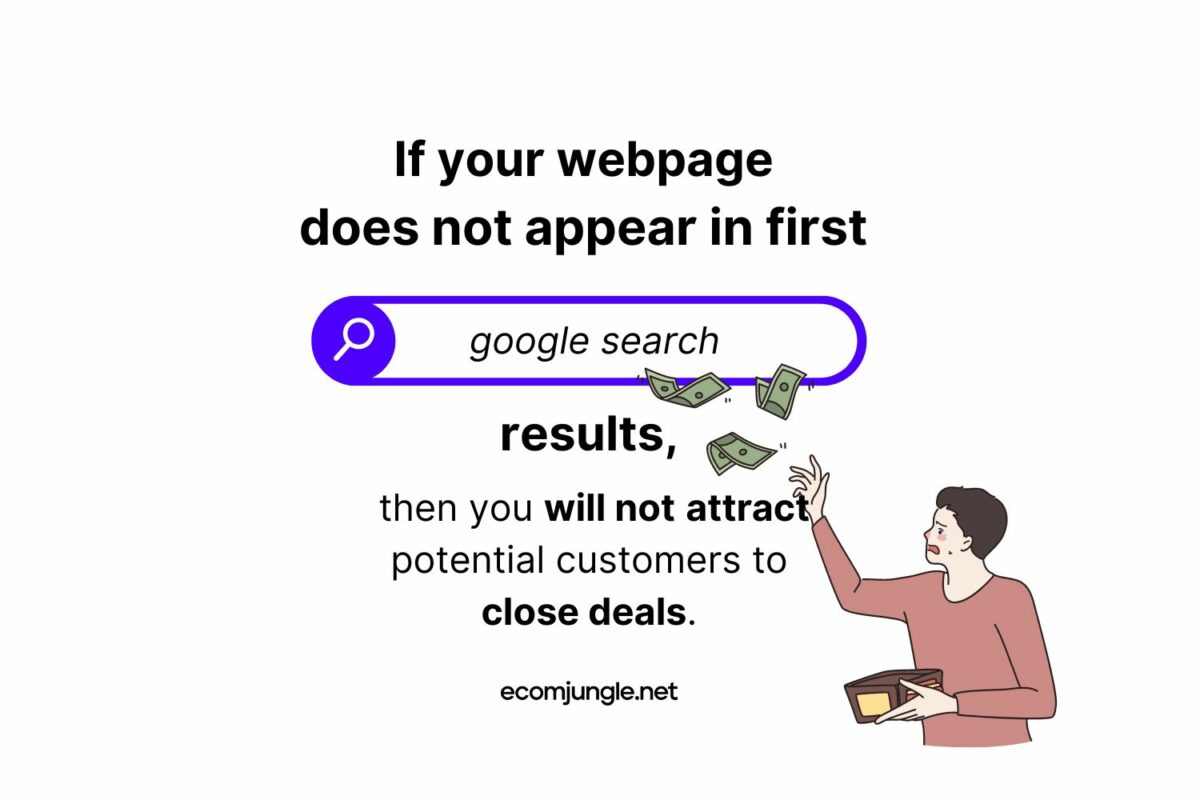 How do you scale to generate more traffic and conversions? You've already guessed it by doing a SERP analysis!
Purpose Of Analyzing Search Engine Results
The idea of SERP analysis is to identify the similar characteristics or SERP features between the sites in the top results; you will be able to understand what these sites have done to rank high.
A SERP analysis lets you know what the search engines value, what they consider relevant, and how they respond to the user's search intent.
Remember that in the result, appear different SERP features to simplify user queries, such as related searches, snippets, images, and "people also ask," that you can take advantage of to achieve better positioning.
You can use SEO tools, like Surfer SEO or SE Ranking, which are excellent options for performing a SERP position analysis.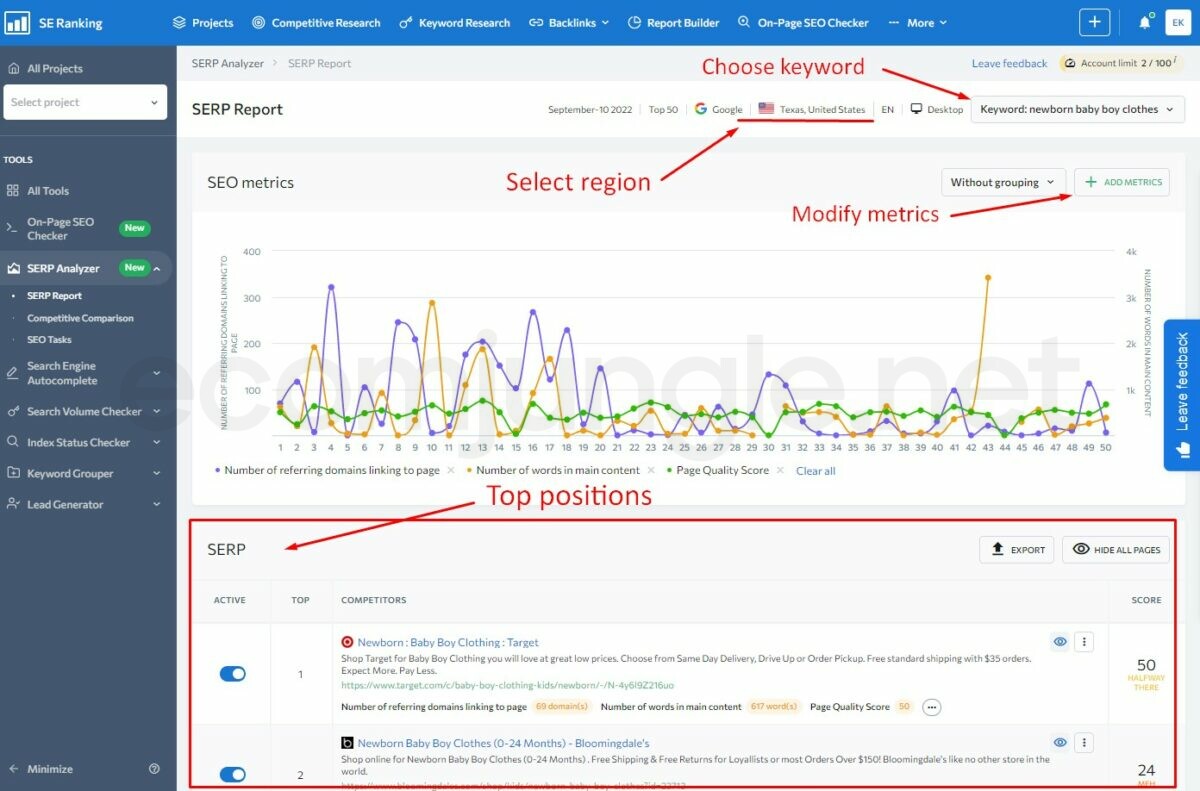 Now that you know what SERP analysis is let's see its advantages for your eCommerce website.
7 Main Benefits of Carrying Out SERP Position Analysis
If you perform a SERP analysis, you can know which elements you should cover in your eCommerce site to improve your ranking opportunities.
Here are one by one the benefits of taking a closer look at those SERP features:
You understand your competition; with a SERP analysis, you know what they are doing well.
You can find relevant keywords that your competitors have not considered, which can solidify your SEO efforts.
It's a big part of good eCommerce keyword research, as you can confirm that you have selected a search term relevant to your niche and its organic traffic opportunities.
Find out from which sites you can get backlinks for your website. According to Serpwatch, 73.6% of websites exchange links with each other to raise their rankings.
A SERP analysis gives you better ideas to improve the content creation, both the type, format, and ideal angle for each topic or region if you bet on local SEO.
You will know how long should be a blog post and the page text and how many keywords to include on each page.
SERP analysis helps you optimize the different elements, metadata, feature snippets, etc., to improve the overall web performance and better cover a topic.
It's time to take action; let's go through the necessary steps to perform a SERP analysis. Keep reading!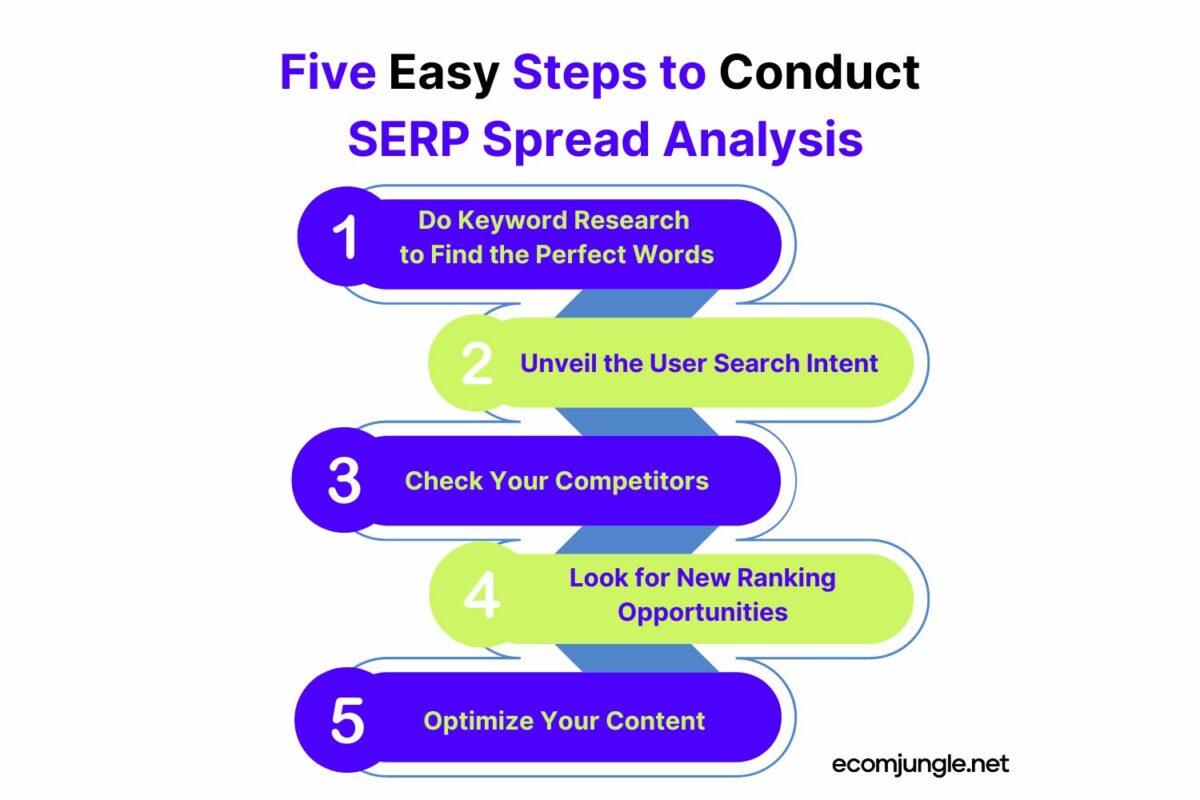 Five Easy Steps to Conduct SERP Spread Analysis
Step 1: Do Keyword Research to Find the Perfect Words
Keyword research is the process and art of finding, grouping, and selecting the correct search terms for each page of your website.
Well, you have done your homework and have your list of words you want to rank for. It's time to enter those words one by one into search engines. What for?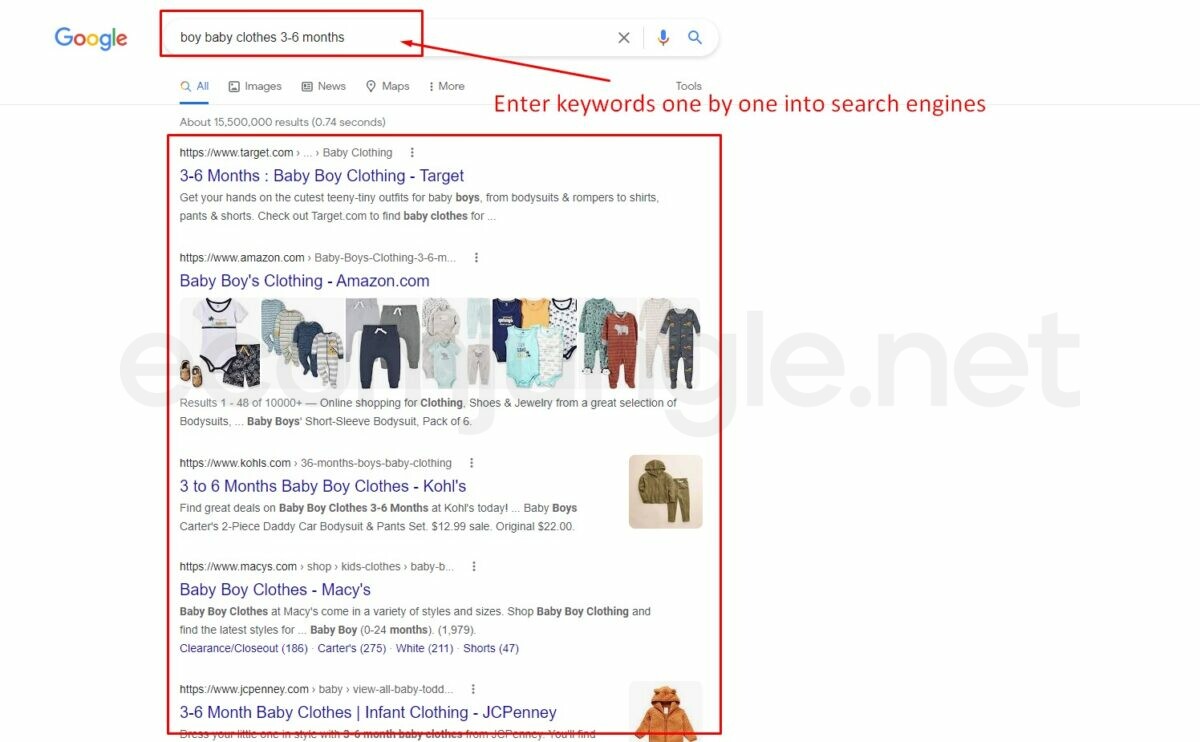 By performing this step, you not only discover your competition, but you'll also see what appears in SERP and what type of content is ranking, so you can know what google shows and users expect to find and see.
In addition, Google SERP analysis can ensure that the group of words you got at the end of your keyword research is relevant to your business, type of products, industry, and audience. Ensure users enter them in their queries to find products and services similar to yours.
To help you with this first step, you can use a keyword research tool like SE Ranking Keyword Tool, Ahrefs, etc.
Let's see what's next!
Step 2: Unveil the User Search Intent
The second step of a SERP analysis is to detect the search intent behind each keyword, i.e., what has motivated the user to make this query, and what answer expects to find in the results. Why is it useful for you? Ensure that this intention matches the content and topics you want to address on your pages.
In the case of eCommerce, it helps them to publish content for each stage of the sales funnel and better drive the user towards the purchase.
Let's say you sell digital cameras, and you want to position a page for the word: digital camera maintenance; you should see if readers are interested in a video tutorial, a step-by-step guide, care tips, etc., according to what you observe offer the top-ranking web pages.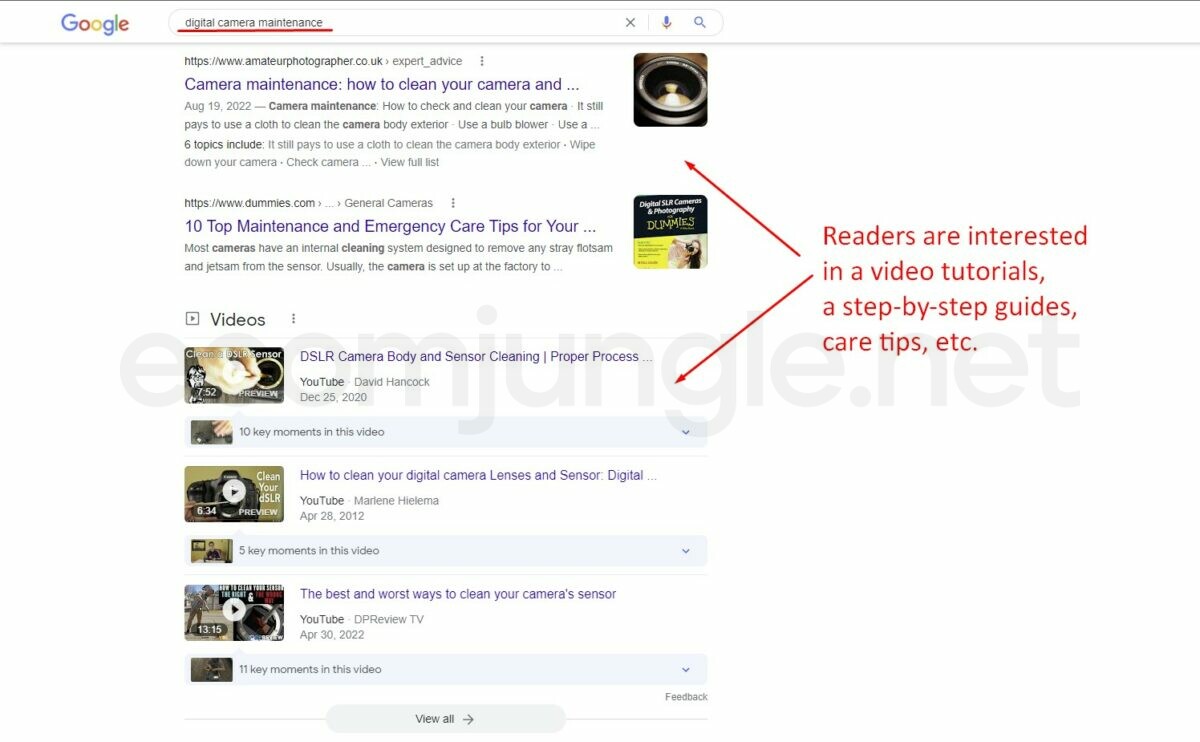 Step 3: Let's Check Your Competitors
Yes, in this step, you have to perform a competitive analysis; it aims to visualize who is leading in the SERP for your target keyword and unveil against whom you will compete.
In addition, a competitive analysis helps you understand how the search engine measures and values the content of these sites, the type of content, format, or angle, which according to its technical metrics, has more relevance and responds better to the user's search intent.
I recommend two of my favorite SERP analysis tools, Surfer SEO and SE Ranking; both are very easy to use. See for yourself.
Surfer SEO is a very easy-to-use and content-oriented SERP analysis tool; you only have to enter a keyword. I like it for its options to segment the results. You can even filter your search by country, which gives you a more accurate analysis, especially when targeting local SEO.
The tool helps you analyze the most critical features of the content of the pages in those top positions. Let's say you have a baby clothes store. You could query the keyword "newborn boy."
Immediately the SERP checker tool presents you with a graph showing the variation of positions of that search term, the number of times it appears on a page, according to the length of the text.
In addition, Surfer SEO gives you a performance and content quality rating of the sites in those top positions, which is ideal for helping you choose the best path to follow in your SEO strategy.
By focusing on the content of the web pages, this SERP analysis tool offers you the list of results for your keyword and its variations; you can know keyword density and total text length per page.
It is handy to boost your content creation process because you will know if, for that specific topic, a 500 words text or a 2000 words text works better.
What are you waiting for to use Surfer SEO?
---
SE Ranking is a tool with a more technical SERP features perspective. When you enter its interface, you have to click on the SERP Analyzer on the screen's left panel. And click on the green new audit button to start.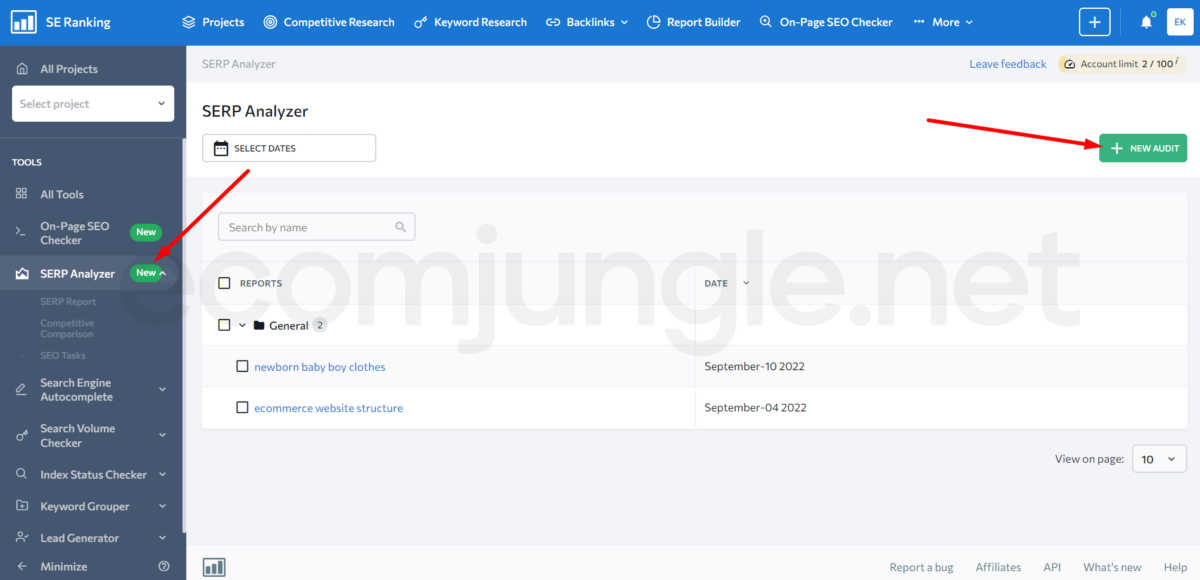 A SERP analysis tool that bets on accuracy as it allows you to do the SERP analysis for a keyword by a search engine, country, region, language, and even delimiter how many sites you want to examine.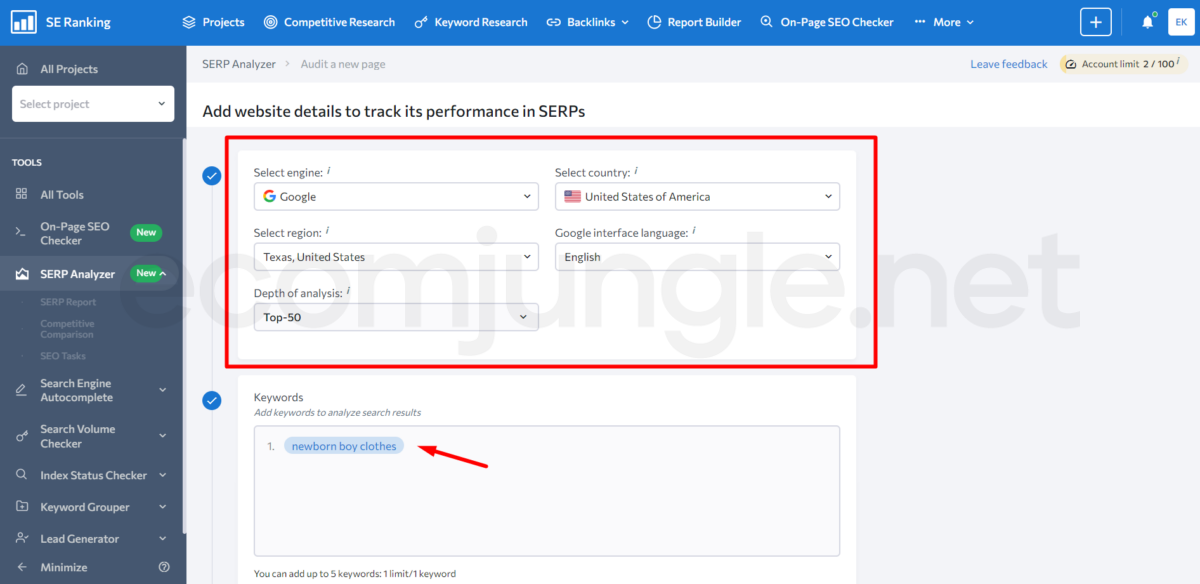 Once you have entered the keyword and defined the search parameters, click on "start analysis."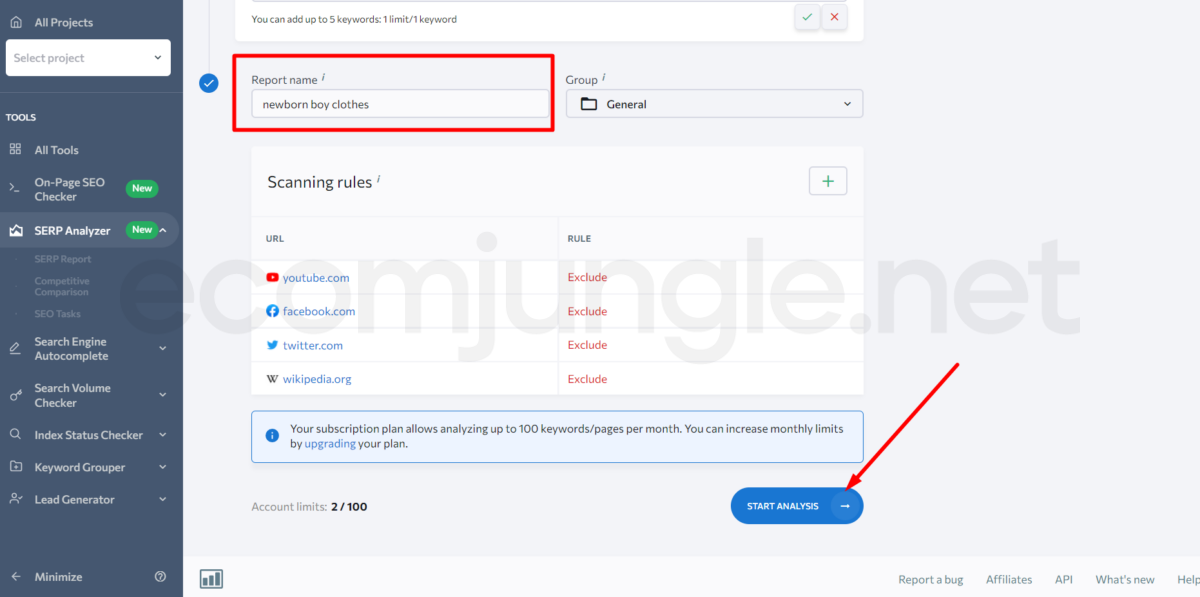 Within seconds SE Ranking offers you graphs with metrics such as the traffic generated by the sites, backlinks, and site quality scores.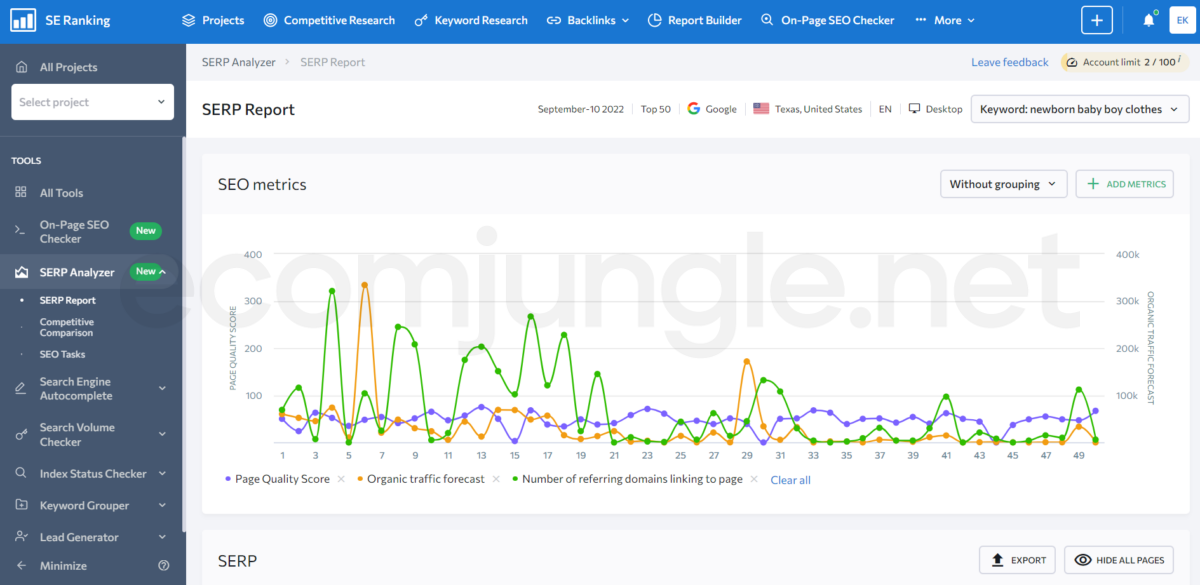 However, I love this SERP analysis tool because you can add the metrics that are important to you in your analysis. Just click on the add option on the right side of the screen to see the list of options.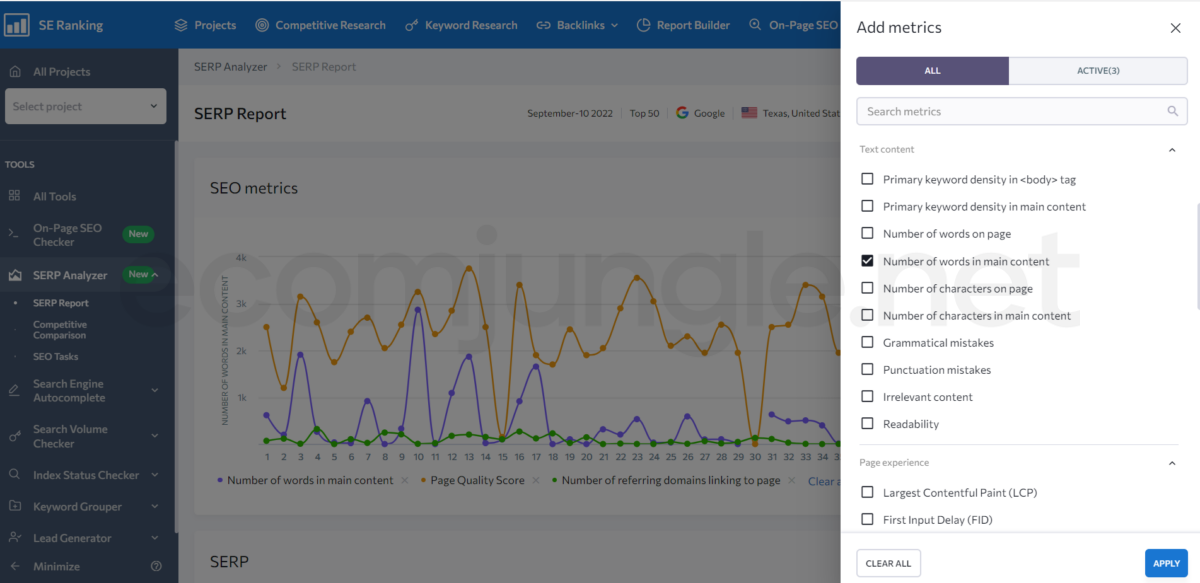 Once you have entered the keyword and defined the search parameters, click on "start analysis."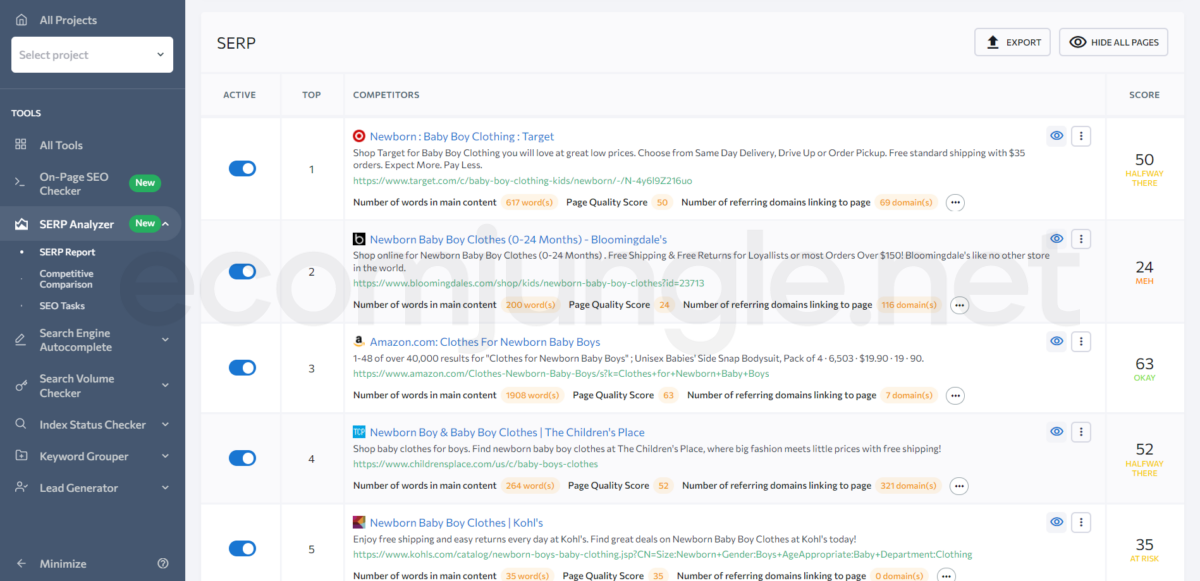 Within seconds SE Ranking offers you graphs with metrics such as the traffic generated by the sites, backlinks, and site quality scores.
Have you already tried SE Ranking?
Pro Tip:
Check if the sites in the top positions are market leaders or high authority sites online because you may need to direct your SEO efforts toward other less competitive words to climb up little by little.
Step 4: Look for New Ranking Opportunities
You must understand that to get to that first page of results; your eCommerce website needs much more than a well-written text; your ranking depends on other factors that you must take into account:
Check the keywords your eCommerce business ranks for and review your opportunity to appear as featured snippets.
Once you have looked at your competitors, is all their content similar? Try to look for a different angle, new and more entertaining, and easier to digest for the audience.
See if there are other keyword opportunities in your niche that you could rank for that your competitors have left out: images, videos, related search, etc.
Step 5: Optimize Your Content
Finally, you must implement what you have learned in the previous steps and start optimizing your content to respond to specific search intent.
Keep track of your keywords; run SEO audits periodically to ensure that everything is working correctly and that Google can find your site.
Pro Tip:
If you already have existing content on your site, keep it updated periodically to increase your chances of ranking. It shows that your site is active.
To Sum It Up!
If your goal is to appear in the top positions, remember that a fundamental aspect is understanding SERP features to choose the right keywords and analyzing their search intent, difficulty, opportunity, and suitability according to your objectives.
A SERP analysis of the keyword you choose can give you valuable insights into what kind of content you could highlight and prioritize. If when you did your keyword research, you found a search term that fits your eCommerce business, but images appear, maybe you should focus on positioning images. If videos appear, perhaps these are the ones you should prioritize; and if you have a restaurant, perhaps you need to get good reviews on blogs and booking websites so that your potential customers find it.
Have you already performed a SERP analysis? Any doubts or questions about SERP analysis?
Please don't be shy and leave me your opinion below!
Frequently Asked Questions
What is the SERP position?
SERP position is the order in which search engines return the set of results after a given query for a specific keyword. This ranking takes into account the quality metrics of Google.
What is a SERP example?
SERP features refer to the set of additional elements or features offered by the search results page, i.e., not only the ordered list of meta titles and meta descriptions of the sites but also snippets, images, video carousels, etc.  
What is the difference between SERP and SEO?
The SERPS are the results pages displayed by the search engines, sorted by relevance. But SEO is the set of techniques that helps the search engines understand a site's content to achieve better positioning.