Are you an entrepreneur? You must know that the product roadmap is a critical activity that managers and product teams should complete. It allows you to describe a product's vision and projection, track progress, coordinate sales activities and take advantage of client feedback. Many product roadmap software options are available to simplify your work but deciding which integrated solution will make it easier for your products to succeed in the marketplace can be a complex task.
Today, look at 7 of the top-rated product roadmap software to compare each tool based on their key features and services plans. Then, find out what they can do for you!
What Is Product Roadmap Software?
A product roadmap software is an intelligent tool that summarizes the objectives, milestones, and deliverables a project team intends to achieve within the established schedule. This software gives us a high-level view of the product strategy and its essential components. It also summarizes the project's purpose and objectives.
Product managers use this tool to ensure that the project stays on track and that team members complete their goals and manage tasks on schedule. With the product roadmap software reviews, each team member can see where and how they can contribute to the product life cycle.
Achieve prioritization and seamless work management!
What should Product Roadmap tools do?
Both startups and large corporations should not do without using software tools for the product roadmap. It allows them to establish a methodological schedule at each stage of the project, increasing the probabilities of achieving the objectives set in the given time.
How? Thanks to "backlog," perfect management designates the functionalities or tasks considered necessary and sufficient for the realization of the project.
A product roadmap software should help companies to have an agile and maximum control of the product backlog:
It allows agile teams to perform proficient time management with a clear view of product progress.
It facilitates the management of resources to allocate to each deliverable in the new product development process.
A roadmapping software simplifies risk management throughout the critical phases of the process.
It shows product managers the possible changes based on periodic reports.
The most significant benefit of product management roadmap software is the strategic vision it shows internal and external stakeholders. In addition, it links the broader product and business objectives with the development tasks, so everyone's on the same page.
Why Do You Need the Best Product Roadmap tools?
If you have never created a product roadmap before, you probably wonder, is it vital?
And although not all projects necessarily need one (perhaps as they progress over time), if the work links to a specific timeframe, product roadmap software vendors are the best option to communicate the overall objectives and structure, agile teams.
Here are the benefits of using them:
Product roadmap tools facilitate setting business objectives: your product roadmap should show an approximation of where you are in the market, where you are heading, and what needs you will fill.
They display the product launch's task lists, budget, allocated resources, sprints and objectives, milestones, reports, and timelines.
Product roadmaps tools help to get support for your project: having these deliverables defined can be helpful to know who to invite and provide a better overview of the project to the other key contributors. Hence, all of you are on the same page.
They help manage other vital contributors' expectations: You create your product roadmap to share important information that other contributors need to know regarding the deliverables, milestones, and launch schedule.
Whether it's a campaign, such as planning a virtual event, or a long-term initiative, such as a new software release, implementing agile methodologies is key to launching a good product.
These are the Best Product Roadmap Software in 2023
There are many product roadmap tools capable of perfectly meeting the expectations of project management that help you in project planning, piloting, and monitoring. Meet the seven top-rated product roadmap software out there: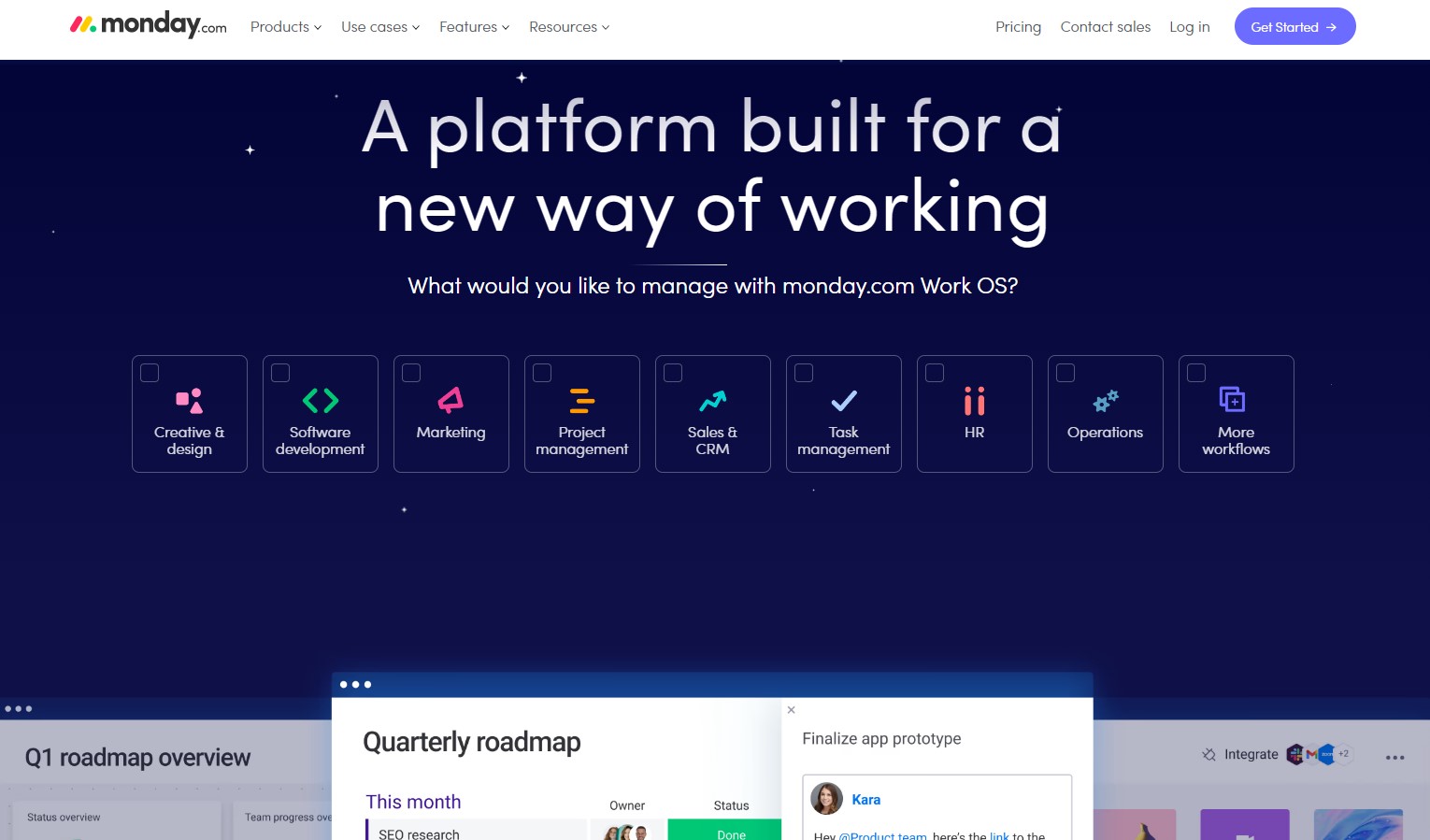 Monday offers one of the best product roadmap software, which stands out in the market for efficient project management. The solution helps product managers improve product planning, coordination, tracking, and profitability.
Small business owners and digital marketing experts describe it as a practical, organizational, and collaborative tool that offers an eye-catching spreadsheet, which is very flexible, intuitive, and easy to share, unlike a standard spreadsheet.
Features
Monday product roadmap tools are intuitive, with integrated drag and drop functions so anyone can easily use the application to organize their daily tasks.
Its product strategy grouped task objects into status columns to track project progress.
In the Pro and Enterprise version, it is also possible to integrate into your product roadmaps a time log in a separate column to see how much time you spent on a task.
You also can have a calendar view shared with the rest of the product teams to organize in advance for future products.
To facilitate new product management, you have more than 200 templates to create product roadmaps in seconds.
Pricing Per Month
Standard: $8
Pro: $10
Enterprise: $16
Free trial: 14 days
Less effort, more results!
---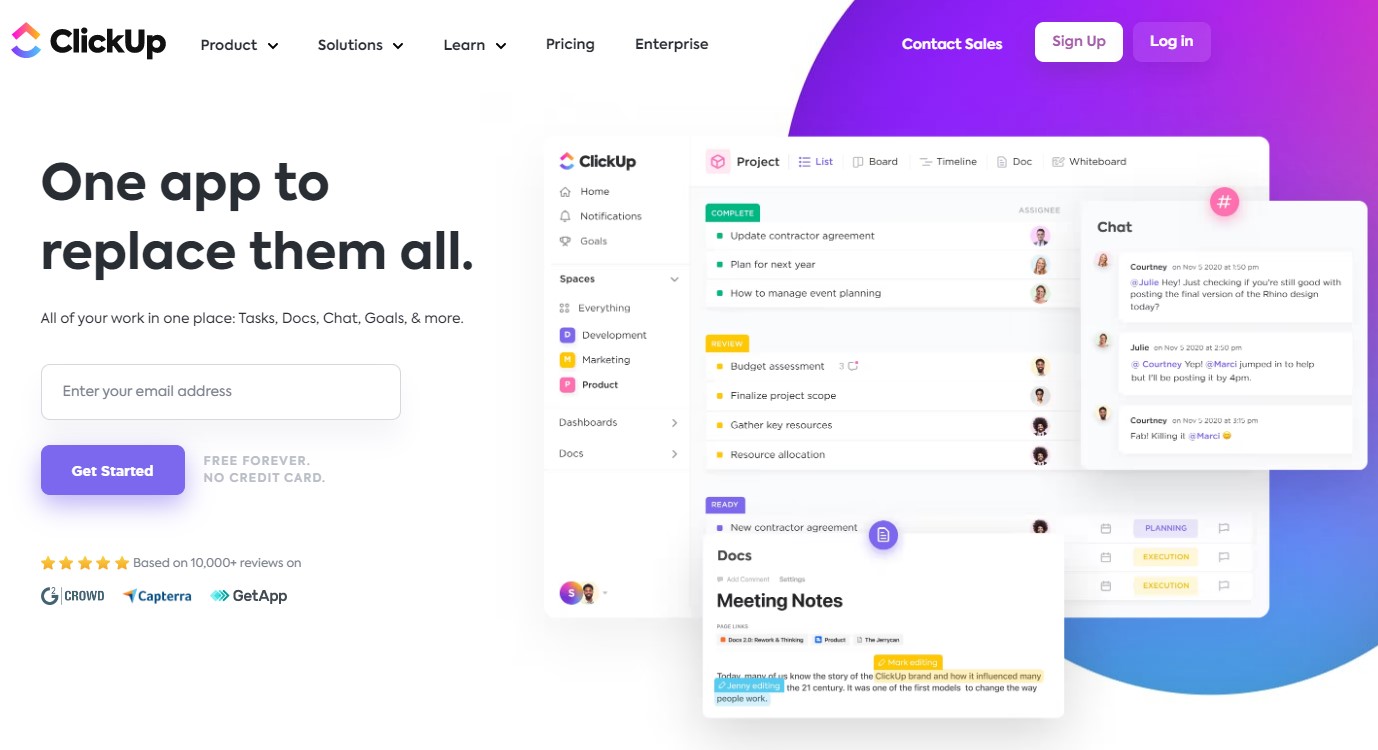 ClickUp is a complete product roadmapping and project management software that allows you to take care of various jobs, such as tagging and editing. It stands out from other tools because you also get Gantt charts, milestone tracking, and critical path analysis features.
It offers innovative and free product roadmap tools with drag and drop features to reduce exhausting efforts and makes users more focused on their progress using professional charts and graphics. Finally, you have an impressive map that you can use to track your product teams' completion of tasks.
Features
The user interface includes brainstorming features that create beautiful mind maps to ideate new products.
Its roadmapping tools facilitate schedule builds on a Timeline or Gantt Chart
Map out details and attributes on a List or Table view
The product roadmap tool creates a sprint system that maximizes your engineering team's talent.
The roadmapping software supports all devices and operating systems
It has the function of tracking the completion of your projects and the possibility to choose the most relevant view to visualize the different tasks to be done during a defined time for an entire team.
It is one of the best product roadmap tools available, as you can create color and status codes to classify tasks and gain efficiency quickly.
Pricing Per Month
Free plan
Unlimited: $5
Business: $12
Business Plus: $19
Enterprise: custom pricing
Free trial available
Align your team and your goals!
---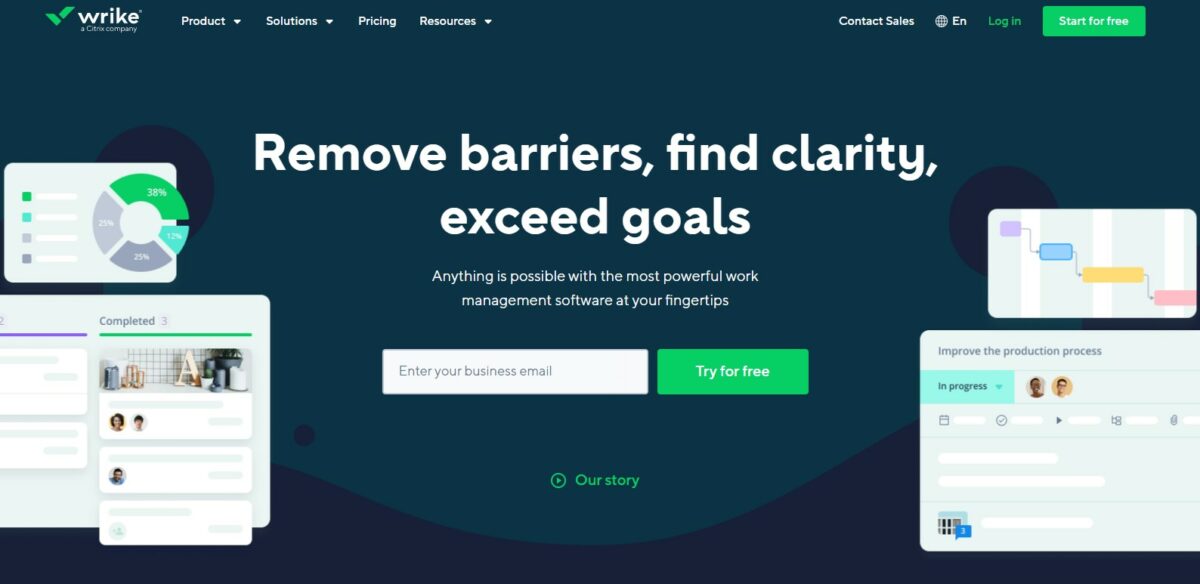 Wrike is a project management tool for modern enterprises; the solution provides an efficient view of the progress of product teams' projects. The user interface allows you to streamline processes, generate tracking dashboards, and collaborate on tasks in real-time on a secure platform.
It is a cloud-based tool that drives productivity and collaboration. The project management platform helps teams prioritize, manage and report on the status of their projects, enabling them to max work and reduce time. Let's see all the features it has!
Features
Wrike tools create visual roadmaps for you to plan projects using their predesigned roadmap templates quickly.
It assigns tasks to a team while defining tasks, sub-tasks, deadlines, and milestones for product managers.
Its product roadmap tools synchronize these projects with specific groups and schedules.
Wrike allows you to work as a team in Agile, Gantt / Calendar, or Kanban board mode.
The roadmapping software provides real-time collaboration within a task.
It offers intelligent analysis and management of project data,
The product roadmap tool enables the customization of project management spaces per team.
Pricing Per Month
Free plan
Professional: $9.80
Business: $24.80
Enterprise: custom pricing
Free trial available
No more barriers!
---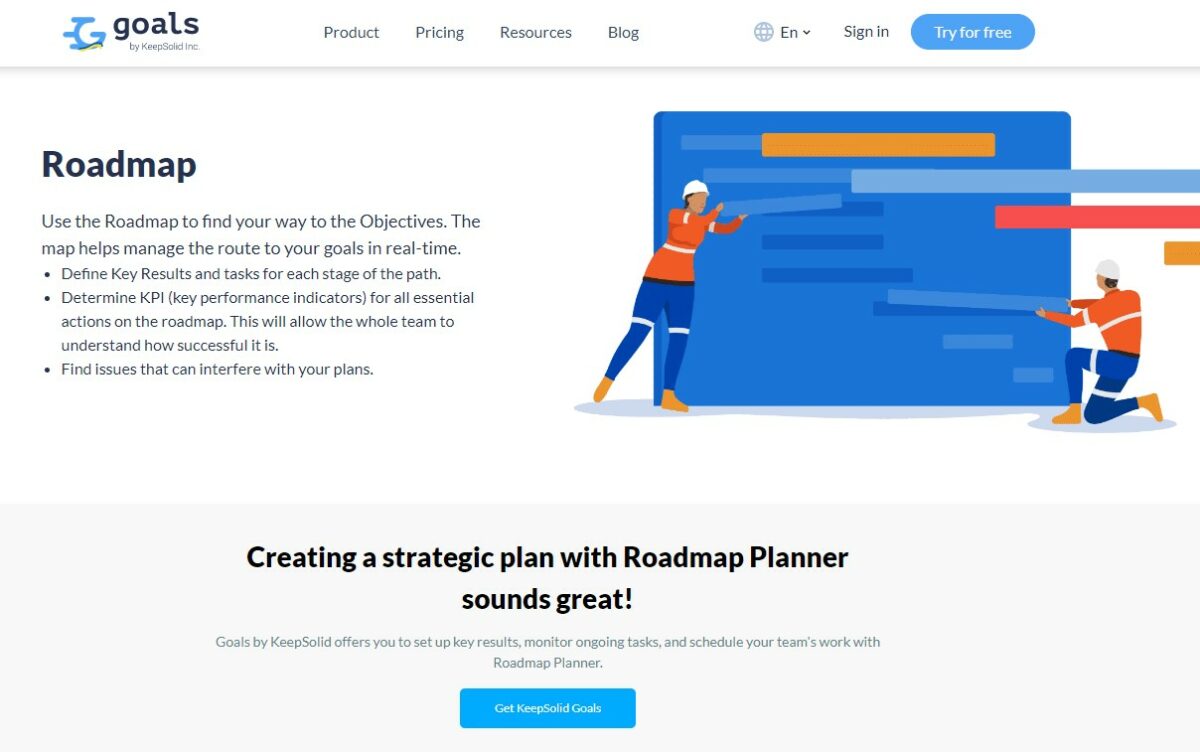 Roadmap Planner is one of the best product roadmap software that helps you stay focused on the strategy of new projects to expand your portfolio. Its different product roadmap tools are ideal for large companies, as it allows you to integrate teams automatically and indicate the tasks to be performed by each one, on the date and in the way your business requires.
Your development team can also sketch and plan new ideas with its interaction platform that facilitates decision-making based on facts, anticipation, and problem solving, with a visualization of possible problems. In addition, its user interface is an excellent tool for mapping out your ideas, no matter your niche.
Features
Its task management and collaboration tool analyze your resources and objectives to show you the best way to achieve your goals.
Its project management platform creates an agile environment that makes managing your resources easy since budget planning is vital to calculate the total amount to invest in your products.
The roadmap tool filters, prioritize, and order your list of activities to create a more efficient and focused work cycle toward your business goals and customer feedback.
The roadmap planner keeps you update with your task status as it develops and displays mind maps and integrates KPIs so you can see your progress from different angles and anticipate setbacks.
Its task scheduling software allows you to set deadlines for task completion and keep your product team one step ahead, even creating multiple roadmaps.
The product management tool enables you to work with sprints to establish a structure of different levels to measure your success one step at a time.
Pricing Per Month
Initial plan: $9.99 and custom pricing
Free trial available
Design your path to success!
---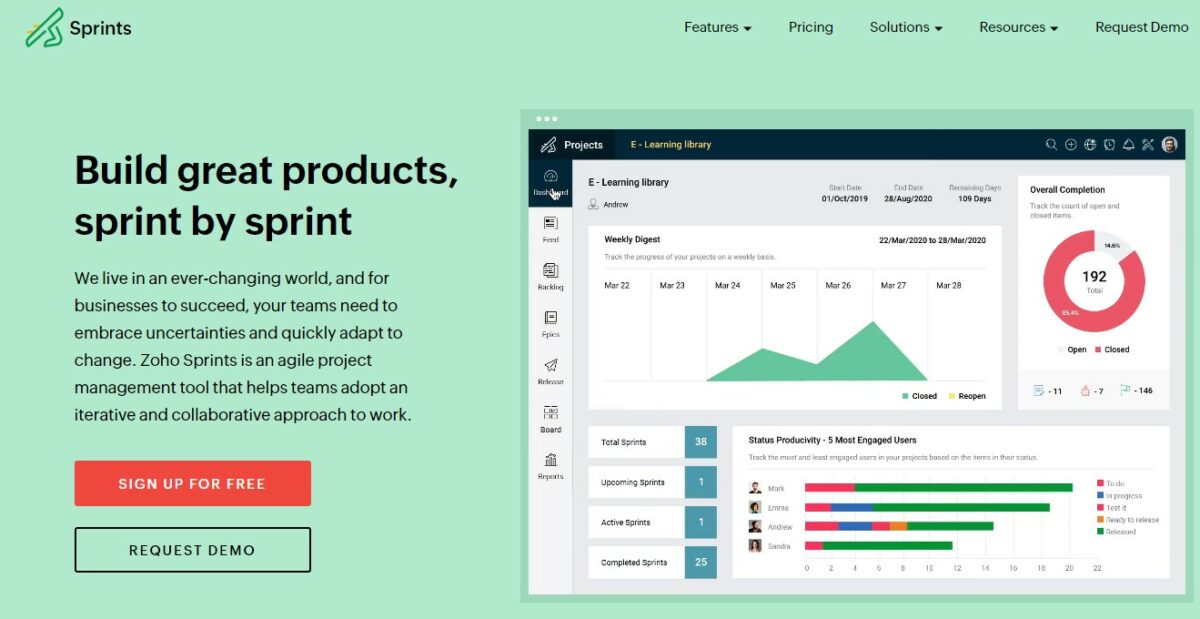 Zoho Sprints is Zoho's product roadmap tool, a cloud-based project management tool that helps you plan and develop products from start to finish focusing on your customer feedback.
Zoho Sprints is a product management tool that integrates with Zoho's regular operation, enabling hybrid project management teams and making it easy to incorporate information from Excel spreadsheets to facilitate collaborative work.
Features
The product roadmap tool facilitates task management through breakdown structures based on milestones, task lists, and dependencies.
A drag and drop interface creates a Gantt chart and Kanban board that facilitate the establishment of dependencies between tasks.
Its collaboration tool helps you control deadlines from task timers, timesheets, and project schedules, making it perfect if you are a project manager.
Zoho presents estimation and budget management thanks to integration with Zoho Books or Invoice.
The road map tool creates graphs and reports, basic and advanced, on the progress of project tasks and the status of possible errors.
Its modular product management platform integrates with Google Calendar, Google Task, OneDrive, Microsoft Office 365, Slack, etc.
Pricing Per Month
Plan 100 users: $5
Plan 101-200 users: $4.17
Free trial available
Constantly renew yourself!
---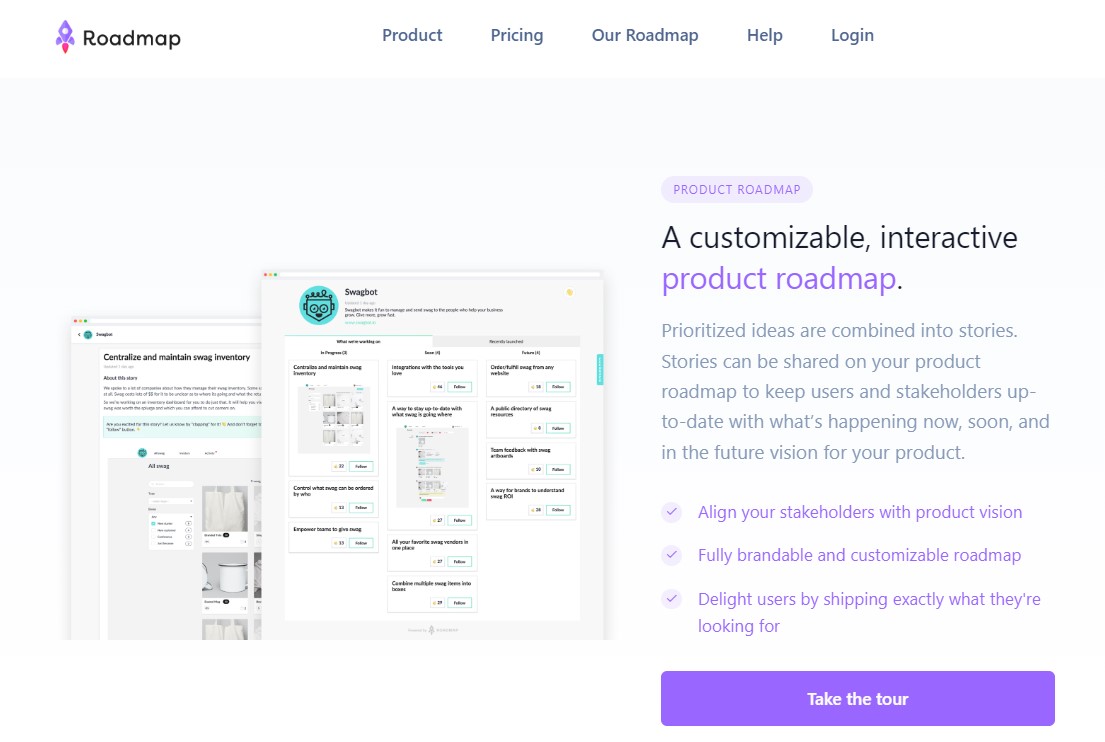 The product management roadmap software allows you to create attractive roadmaps tailored to your company's needs by adapting to your employees' feedback and, more importantly, user stories. Its project management features contain unique functionalities to create your roadmaps based on qualitative and quantitative input from your product teams.
The product roadmap allows you to organize a set of integrated data to prioritize ideas and tasks to create a product that captures the public's interest. In addition, the digital tool will enable you to combine several product roadmaps styles to get a complete overview of product features and make more impactful presentations.
Features
The roadmap tool presents you with various feedback channels that integrate customer insights on the product so that your activities are well focused.
It provides interactive roadmaps for users with real-time updates on product vision and expectations.
It is one of the unique roadmap tools in 2023 as it notifies you by email of product news and feedback from over 3000 users.
It provides you with a custom domain and HTTPS
The product roadmap software offers API access for efficient workflow for maximum connectivity anywhere.
Price Per Month
Starter: $19
Pro: $39
Enterprise: $79
Free trial available
Build the right product!
---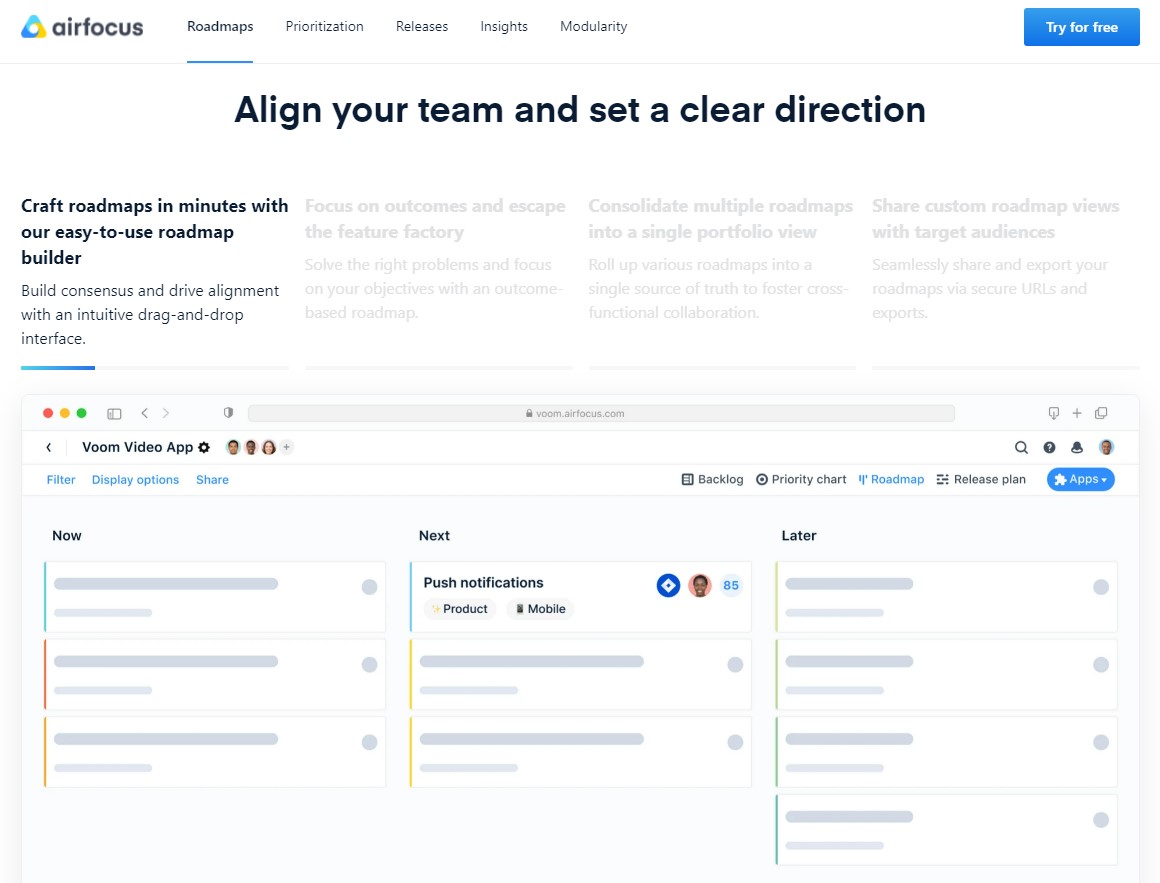 It is a project management tool focused on building exceptional products; its advantage is prioritizing tasks and constructing clear roadmaps that put it among the top-rated product roadmap software.
The Airfocus software offers you excellent and easy work with a platform with different panels that simplify the import of essential data for your project. It also presents you with several views to see the big picture. Finally, its impressive graphics allow you to efficiently organize and prioritize your tasks. Let's take a look at its advantages!
Features
It offers your product team an attractive task prioritization chart and roadmap templates so you don't get left behind.
The product management platform creates visual roadmaps that show your product strategy and objectives with a Kanban board to see better when you need to move forward.
It makes communicating, capturing and sharing your strategies in your roadmap easy.
The product roadmap tool gives you access to multiple users and collaborators for sketching your new product.
It provides different mechanisms to share and export data in a flexible and advanced way.
The software integrates with different applications that are simple to use but are an added value.
Its roadmap tool allows you to plan and communicate your short- and long-term product strategy and the initiatives to achieve your vision.
It provides you with 24/7 email and chats support.
Pricing Per Month
Essential: $15
Advanced: $49
Pro: $89
Enterprise: custom pricing
Free trial available
The new era of product management!
---
Conclusion
We know that devising and planning the development of new products can cause headaches when you don't have the best tools. Still, fortunately, you can streamline the process with free product roadmap software and skyrocket it with their premium versions. Easy to work with product roadmaps make the whole process of product planning and design a fun, engaging, and enjoyable task. If you need software that helps you measure your success and create roadmaps in a few clicks, don't hesitate to try all the options mentioned in our list. You won't be disappointed!
So far, our best product roadmap software list. We hope this information is helpful for you and that it helps you find the tool that best suits your business model.
Do you have experience with product roadmap software? Do you recommend us other product roadmap tools?
So, please share your experience below; we want to know your thoughts.