I'm sure you've already gone through hundreds of sites on the internet talking about how to do your keyword research, tips, advice, tutorials, and more, but most of them fail to tell you precisely what the next step is. What comes after?
The path to follow depends specifically on the goals you defined at the beginning of your keyword research process. You have different options, from mapping your website, building a more solid site architecture, generating ideas for your blog posts, designing your content marketing strategy, mapping the customer journey, and many others.
Join me today as I present a specific guide with step-by-step indications of the possible actions you could put in place to develop your eCommerce website or SEO strategy.
Keep reading!
What Was the Goal of Your Keyword Research?
When you started your keyword research, you did it with an initial purpose; you wanted to achieve something specific. It would be best if you returned to that original idea that motivated you to research. Why? So that subsequent actions are focused in that direction.
To help you remember why you did keyword research, here are the frequent goals that people set:
Know your target audience.
Know how to structure your website.
Implement an SEO strategy.
Know what your audience is interested in, the type of content, problems, solutions, etc.
Understand your niche or market.
See the competitive landscape.
Get ideas for naming your products, site, or brand.
You have to be as specific as you can in defining the goal of your keyword research; that's the key to making your decisions.
How Do You Go from A Keyword List to Decisive SEO Actions?
After completing your keyword research, you must turn them into the foundation for all your search engine optimization efforts. Hear me out! It goes beyond including a keyword phrase a couple of times within your page's text but uses them in the perfect places on your website to have a solid structure.
Organize Keywords in The Topic-Related Lists
Once you have done your keyword research, I suggest you organize your chosen keywords into topic-related lists. Make small groups according to the specific theme covered by each one. Try to hierarchize from the broadest to the most specific ones.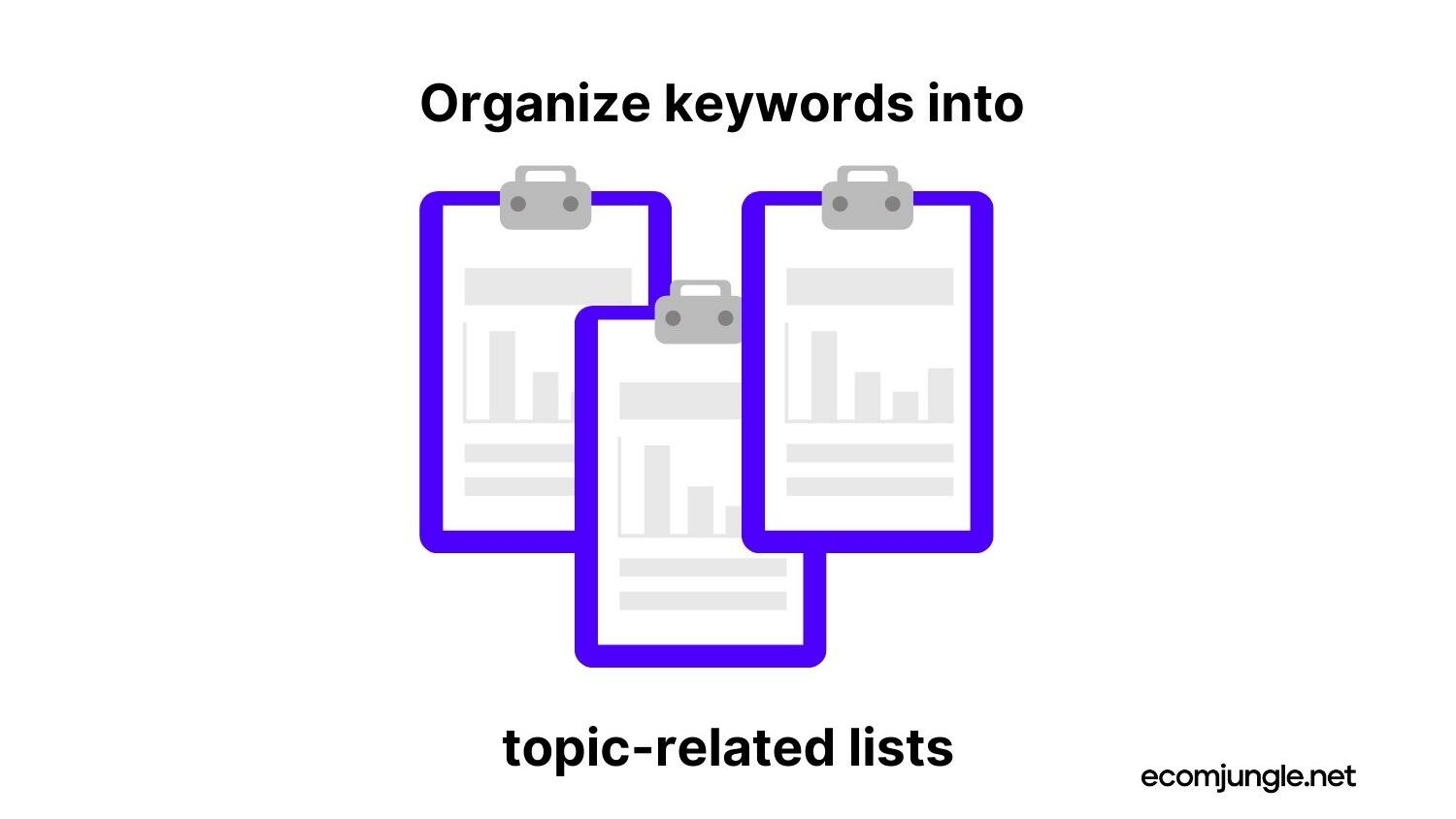 It will help you look deeper at what you can do with those keywords and what interest your audience.
If you want to learn more, see step 5 of my article on keyword research for eCommerce websites.
What To Do After Keyword Research?
Once you have defined your goal and organized your related keywords, you will know what different directions you can take into action. It will undoubtedly depend on what you aim to achieve in your web development or SEO strategy planning.
Possible directions when you finish your keyword research:
Design Your eCommerce Website Architecture Around Them.
Keyword Mapping Your Website.
Create a solid product category tree.
Design a Content Marketing Strategy.
Map Customer Journey using keywords.
Generate Blog Posts ideas.
Create Blog Post Categories.
Optimize Existing Content and Create New SEO-Friendly Content.
Plan Guest Blogging Strategy.
Build a helpful tool that people will find organically.
Make adjustments to your Google Ads campaigns.
Show The Keyword Research Outcome to Your Team
Showing what you have found in your keyword research to your marketing, sales, or other team helps you get their perspective, brainstorm ideas, then get an accurate picture of the opportunities they have that help them keep their feet on the ground.
Often, entrepreneurs are surprised by their search possibilities or how people reach their products and services. It helps them to have a compass to know where they should go with their project.
Pro Tip:
I recommend that you don't just send the results of your keyword research to your team by email; it will indeed remain unnoticed in the inbox. No, the idea is to create a dynamic of ideas, and for that, the best thing to do is to schedule a meeting where you prepare a presentation and explain to them how you could apply this research.
Design Your eCommerce Website Architecture Around Them
Your keyword research can become the core of your website; you can use it to create a much more solid web structure, meticulously planned so that you can meet search engines' metrics.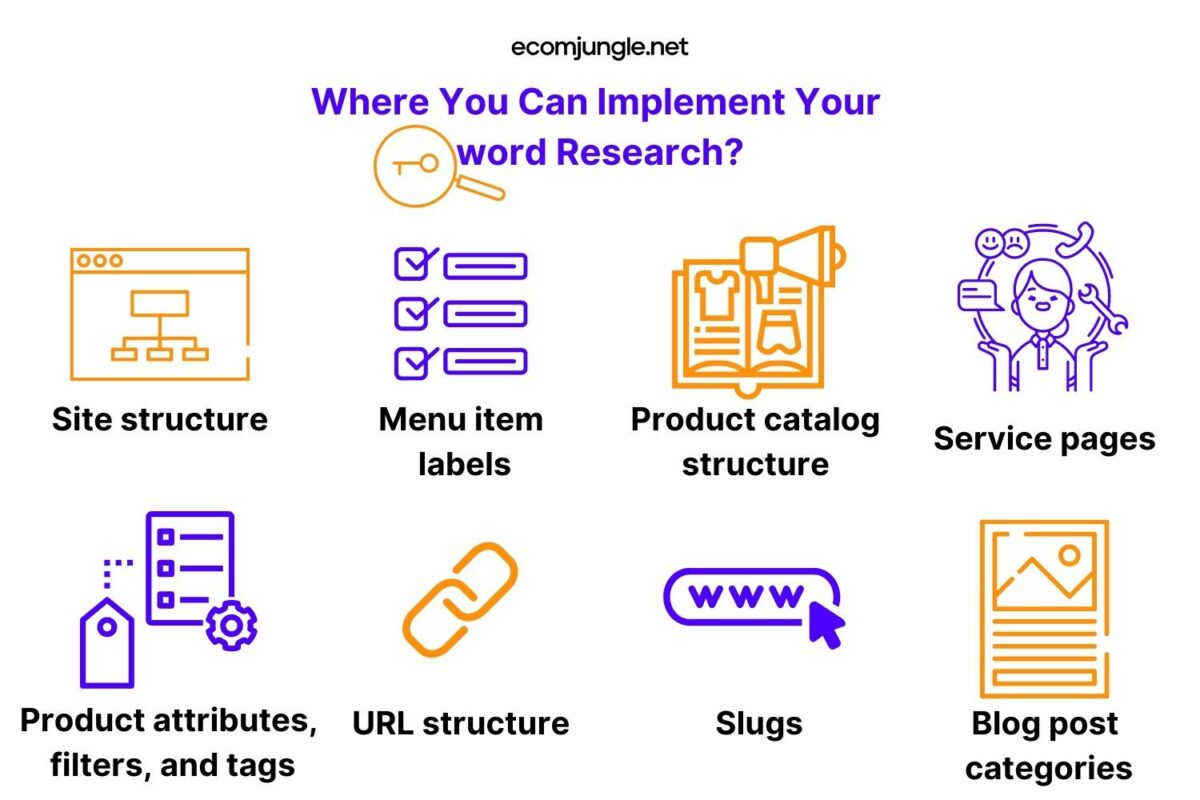 Some places where you can implement your keyword research:
Site structure: the placement of the elements that make up a website, a header at the top, a logo, a navigation menu with different categories of what's on the site, the body of the page, and the footer are called structures.
Menu item labels: use them to create a navigation menu or sitemap that organizes the content of your website. It offers different options to facilitate user navigation.
Product catalog structure (categories and subcategories): This displays your virtual portfolio; make categories that include search terms to make it easy for the user to find.
Service pages: incorporate target keywords and their variations in the name of your services according to the different needs of your buyer personas.
Product attributes, filters, and tags: include them in the alt attributes of your product images, filters, descriptions, and tags so that Google understands what they encompass.
URL structure: this is the specific address of the resources found on the internet. The most important thing is that your name is clean and clear and quickly tells the reader what they will see.
Slugs: it is a readable and valid form for the URL of a publication or web page. So if you include your specific keywords here, it is easier for the search engines to show you for users.
Blog post categories: keyword research help you organize your site and let the user know what topic each category covers and what blog post interests them.
Check this article for a specific explanation of how to use keywords for SEO on your eCommerce website.
You must determine the best place within your website to use those groups of related keywords in a hierarchical, semantic and logical order. It helps you to know which specific terms go in each section of your page so that you don't incur the cannibalization of your keywords.
In addition, it is a crucial step in creating SEO-friendly content. Often pages include a target keyword and one or two variations of it. However, it depends on the length of your text.
Pro Tip:
Create an excel spreadsheet where you list target keywords by topic, go from general terms to specific terms, and assign them one by one to categories, titles, meta descriptions, tags, attributes, filters, etc.
Create A Solid Product Category Tree
Good keyword searches can help you improve the structure of your catalog and create new categories or subcategories that you had not considered, enhancing your site's navigation. The customer can find what they are looking for easily. It has an impact on your search engine rankings and conversion rates.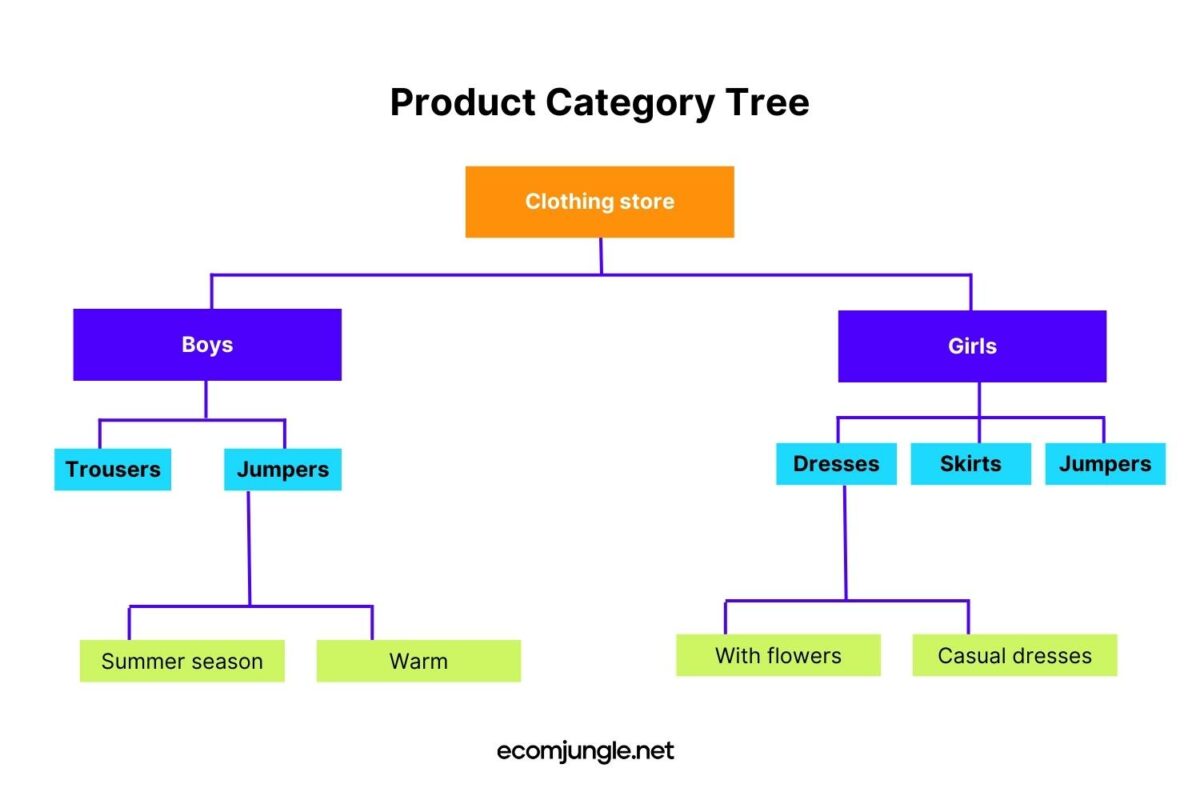 Design a Content Marketing Strategy
You can use those keywords to focus on creating and distributing relevant content, such as articles, eBooks, and social media posts. You better understand how you educate, inform, entertain your target audience, and solve a problem.
Why is keyword research important in digital marketing?
It lets you know how to approach a topic, how deeper to dig, to become an authority on the subject.
Map Customer Journey Using Keywords
Effective keyword research helps you understand and design the buyer's journey from product information search to purchase. This map enables you to respond to each user's search intent (navigational, transactional, commercial, etc.) and plan a better content strategy for each stage.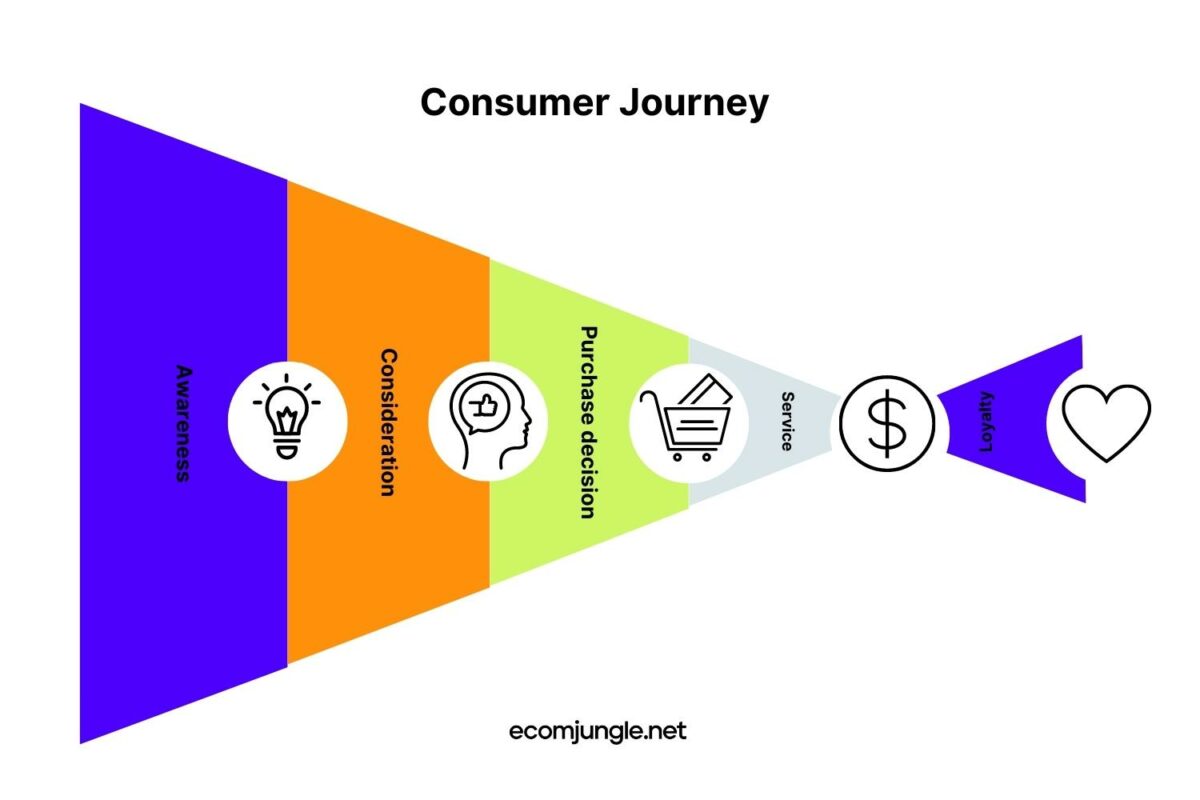 Consumer journey includes:
Awareness: when the customer discovers he has a need and starts looking for how to satisfy it.
Consideration: they already have a solution but are weighing the options available.
Purchase decision: this is your moment to close the sale.
Service: where you provide the solution, confirm delivery, answer questions, etc.
Loyalty: depending on the level of satisfaction and personal customer experience.
Generate Blog Posts Ideas
You may have encountered different types of words in your keyword research, from short-tail and middle-tail to long-tail. These can give you ideas to create posts focused on answering a specific user's search. Why? So you can generate quality traffic to your website and grow organically.
Create Blog Post Categories
Now that you have eCommerce blog ideas, you should organize and create categories and subcategories for those posts using the keyword phrase that best applies to each topic. In this case, you will need broader words like short or middle-tail keywords. To help your audience find all searches related to a topic.
Optimize Existing Content or Create New SEO-Friendly Content
According to SERPwatch, organic traffic can grow to 106% upon updating and republishing old posts.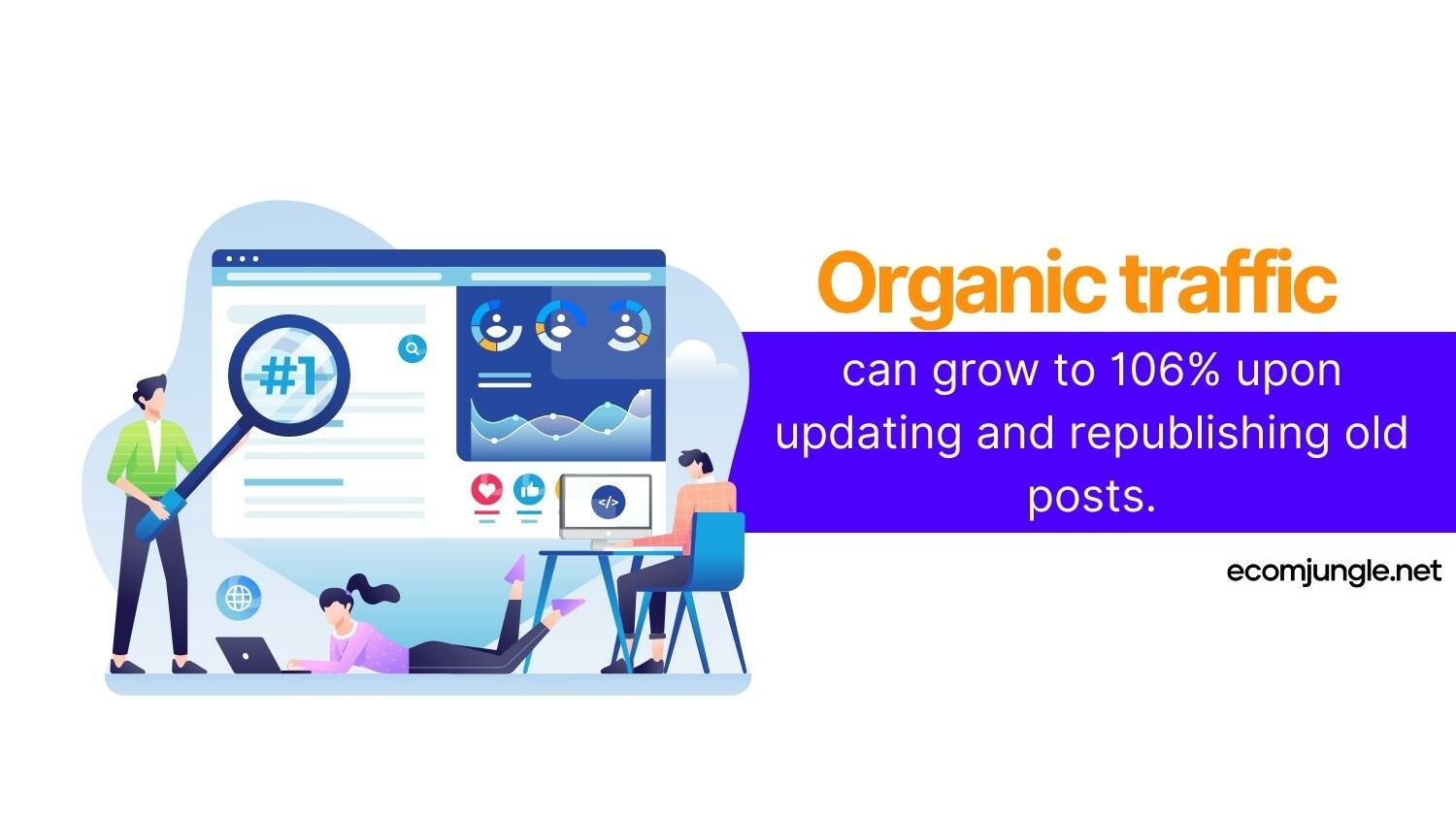 Keyword research helps you get better content ideas, detect information gaps in which the topic has not been addressed, and improve your chances of ranking on top search results. You will also have a picture of the type of content, text length, and angle you will cover.
Guest Blogging Strategy Plan
The keywords not only help you to have ideas for blogs and their categories, but it allows you to plan the structure of topics to develop. It will enable you to publish content orderly and logically, and what keywords you will use in each post.
You can also create guest posts to build a good backlink structure to your website, which is crucial to becoming an authority on a topic.
Product-Led SEO – Build A Helpful Tool That People Will Find Organically
It is a newer concept in the SEO world, and I found it very interesting; why? Because of your keywords, you can build a unique tool to boost the growth of your website. The general idea is to obtain a base of expert and general knowledge to create a product that allows the user to access your articles from different perspectives or standard terms for your niche.
For example: suppose you have a focused site that sells tires; you can guide your user's access by models, sizes, and types of vehicles from general terms, such as brand name, to technical aspects, such as size or type of traction.
It makes it harder for competitors to copy your SEO strategy.
Make Adjustments to Your Google Ads Campaigns
You can improve your google campaigns, look at which paid terms are performing better, include those with low competitiveness and good search volume that can drive traffic to your site, or decide to remove those that are not working in your favor.
Improve Bad-Performing Landing Page Performance
If you realize that some of your web pages are performing poorly, it's time to add new keywords to improve your ranking opportunities and drive traffic to your site. This change comes with adapting your site's content towards these new keywords.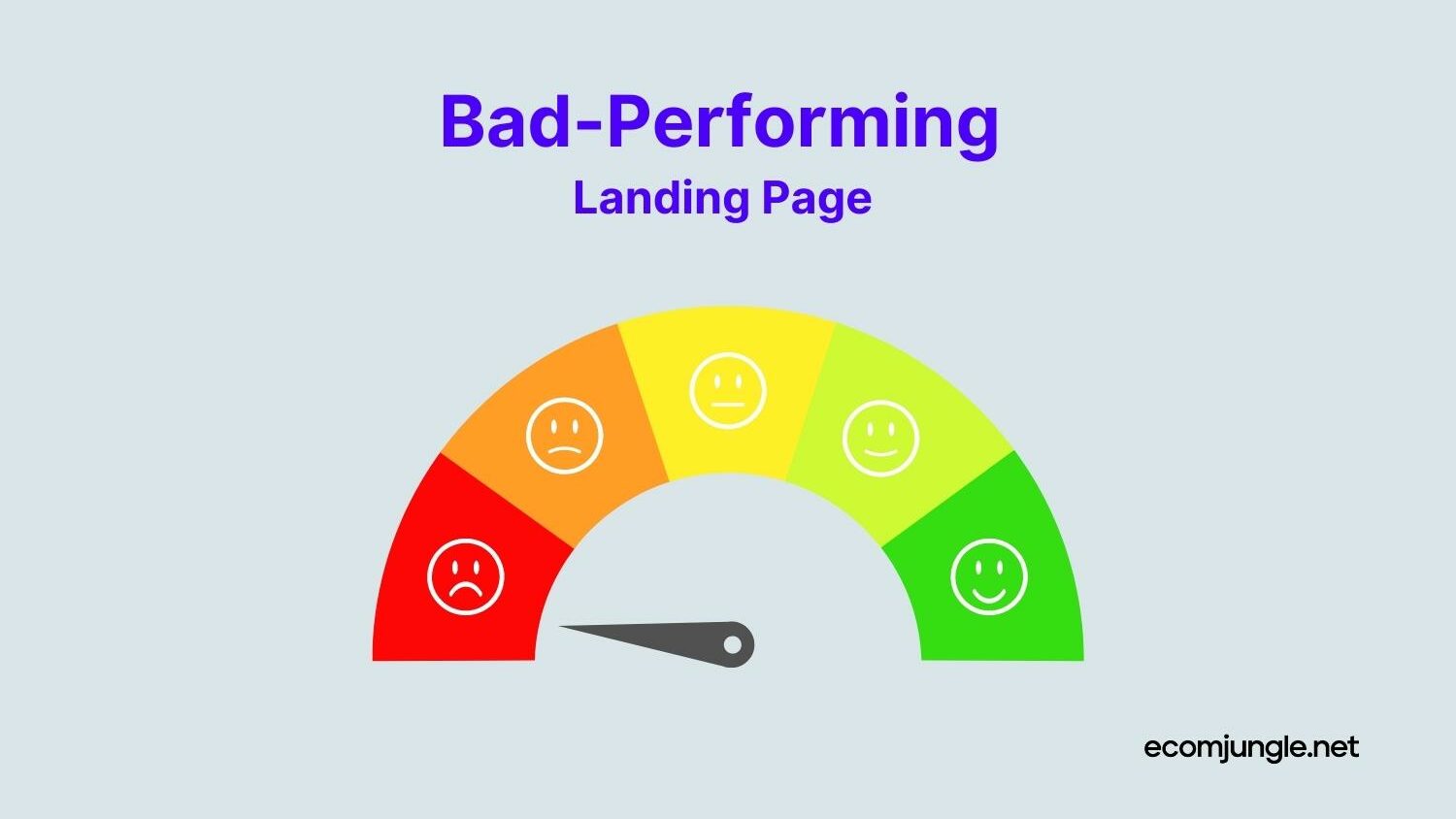 Let's see how the general idea is to implement an SEO tactic!
See The Big Picture
In the long term, you need to have the big picture in mind, where or how you will implement your keywords in your SEO strategy. In your search, you will find thousands of keywords, which offer you hundreds of topic ideas that you will not be able to address in a single campaign, so you need to be focused.
Select & Organize Your Target Keywords
It's time to select keywords ideas you will work with that align with what you hope to achieve and the SEO actions to take. List them according to your proposal, and make a list of those that will be for your web architecture, for topic ideas, for blog posts, categories, or will be included in SEO-friendly content, etc.
If you have already selected them, you should check their ranking opportunity!
Check Your Ranking Opportunities
The first step to creating content is to prioritize the keywords used in your page, blog post, landing page, etc., and be clear about your target keywords and what user needs you will cover.
The important thing is that it hits the nail on the head, provides the user with quality information to keep them coming back, and you become an authority on the subject.
What do you do to create quality content? Prioritize the use of keywords.
Prioritize Your Keywords: Using A Keyword Research Tools
Even when keyword search volume is essential, I suggest you focus on the keyword difficulty index to prioritize them.
Why? This index tells you which words are closer to rank 20, 30, or 40, so if the keyword tools find words with similar search volume, your best option is to choose the one with lower keyword difficulty because you will be competing with fewer sites for that place.
While you won't start on the first page of search results, you could reach a position on the following pages, even the third page, and believe me; it's a perfect place to start. Why? You are closer to advance.
An excellent way to find suggestions is to use keyword research tools like SE Ranking, Semrush, Ahrefs, or Google Keyword Planner, among others. Just entering your seed keyword will offer you a list of search terms variations.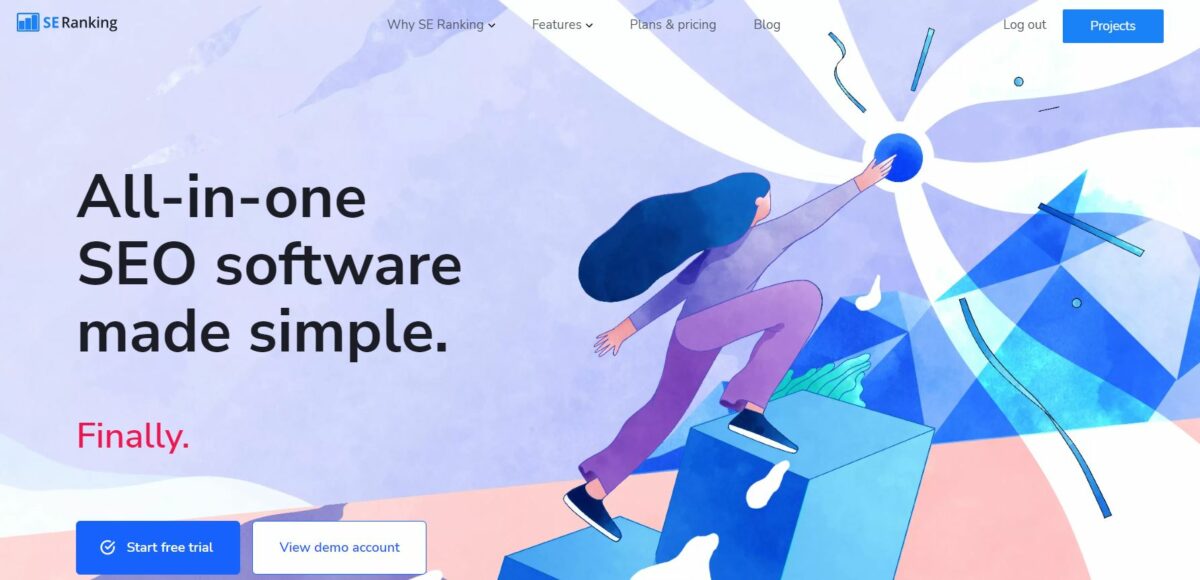 Avoid Keyword Cannibalization
You must assign a keyword to each page, landing page, or URL that you will not use or repeat on your other pages.
It allows the search engine algorithm to understand your site's topic and that you want to rank for that particular keyword in search results.
Otherwise, your pages will compete with each other, losing both ranking opportunities and time and money.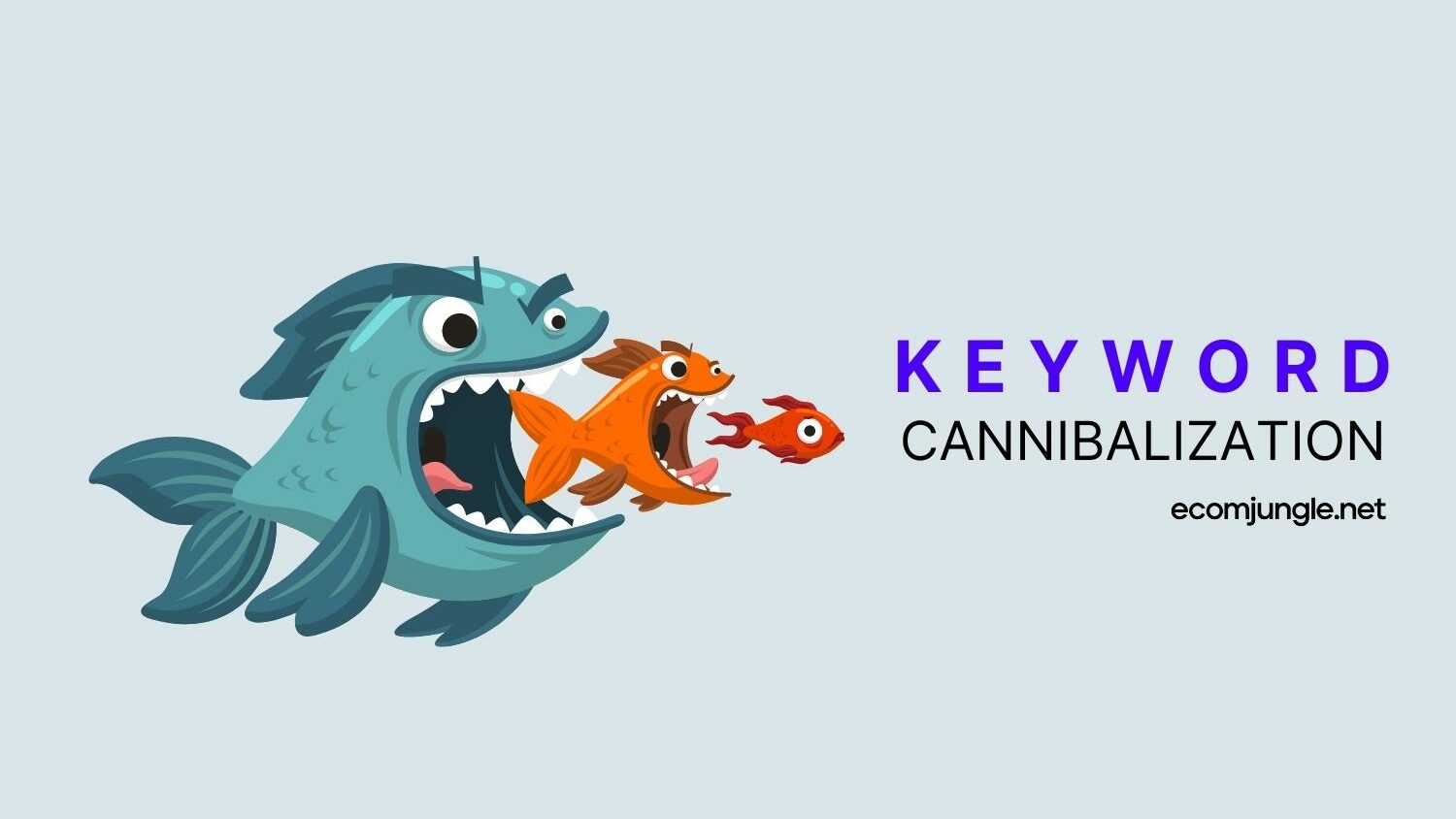 Don't Make Spammy Content!
You must use your keywords to create relevant, engaging, highly credible content that complies with the search engines' legality parameters.
You must place the links in the right place to generate traffic organically and include necessary blog comments.
I invite you to read my SEO-friendly content article to discover more tips for its creation!
Keep Tracking Your Results!
Keep in mind that search engine optimization actions demand continuous work of updating, refining, and adjusting the metrics of the algorithm to stay relevant.
There is evidence that 5.7% of pages get in the top 10 Google search results in the first publication, according to Ahrefs.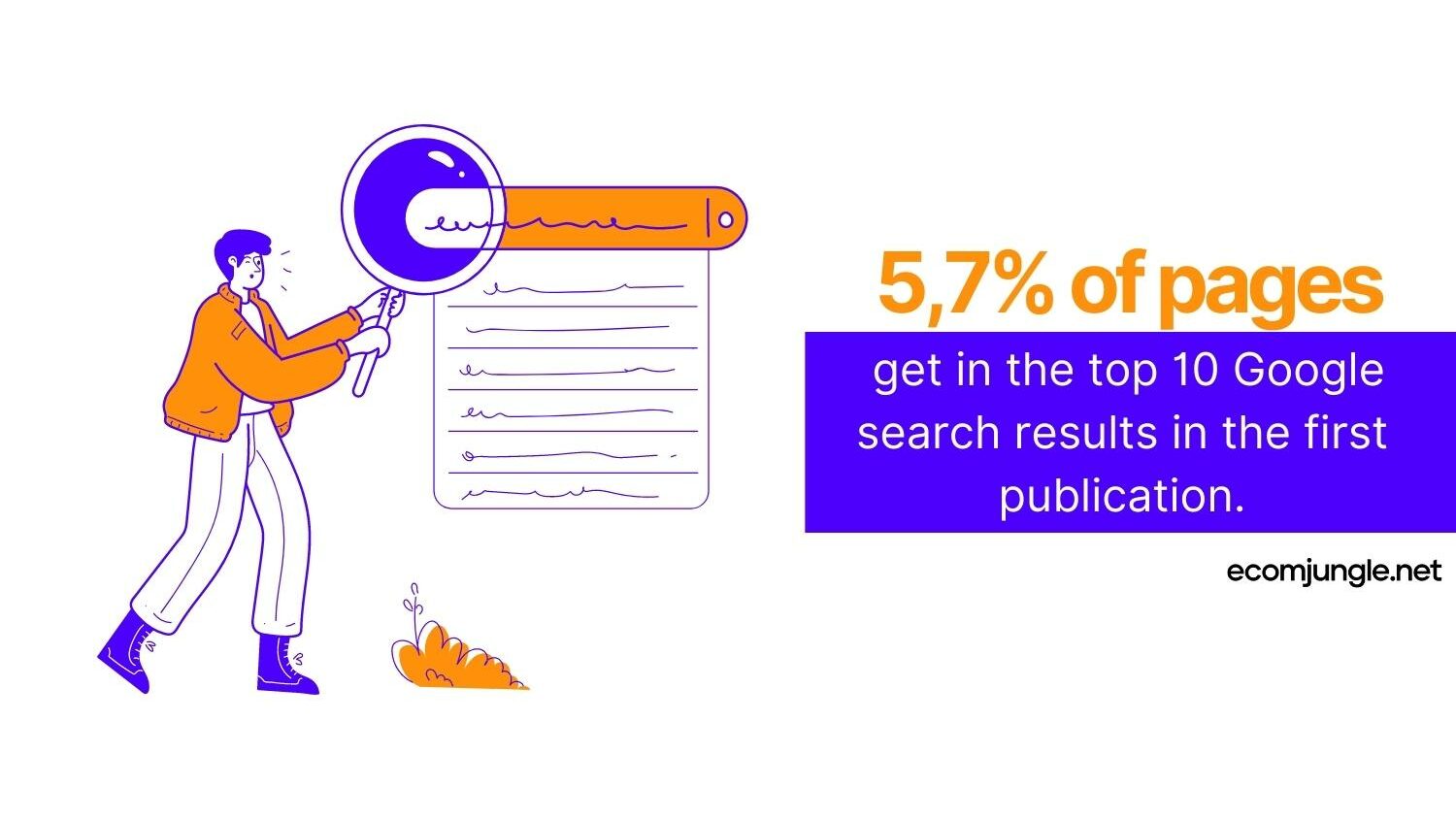 How do you know if you are on the right track? Different keyword tools available in the market can help you, such as Acuranker, SE Ranking, Google Search Console, etc.
They point out every detail of your website performance, such as keyword search volume, link building, internal links, and everything that may limit your visibility, to correct it and keep generating traffic.
The best part? You can set up periodic reports to send automatically and view your performance by weeks, months, and quarters.
Find out more about the best rank-tracking tools this year.
It's A Wrap!
I hope you get how important keyword research is if you want to get organic traffic to your website. However, your job goes beyond selecting the best keyword suggestions for your business.
Instead, it would help if you put them into action, including them in the right places on your website. Then, use them as the central objective of creating fresh, functional, and valuable content for the search engine to answer a particular user search intent.
Did you like this article? Did you have any questions about what path to follow?
Hey, leave me your opinion in the comments!
Frequently Asked Questions
What Do I Do with Keywords?
Once you finish your keyword research, you must incorporate them into your website, prioritize them according to their search volume and difficulty, and structure your sitemap menu, categories, and filters. Also, you should include them in your URL, content, home, and meta tags. 
Why Is Keyword Research So Important?
Keyword research is vital because it helps you to know the terms that make it easier for users to find your site's monthly search volume and difficulty. In addition, you can structure your website and its content according to search engine results to get a better position and generate more traffic.